Yes, you can get paid for your opinion — and actually get paid pretty well.
But … the most lucrative ways to get paid for your opinion take more time and effort than simply answering surveys.
In this post, I'll break down several legit ways to turn your ideas, opinions, and feedback into real income. Combined, these methods are worth thousands of dollars a month.
Ready? Let's do it!
1. Take Online Surveys
The easiest and fastest way to get paid for your opinion is to sign up with various online survey companies.
These won't make you rich, but are an easy way to make extra money. Plus, you can do them in your downtime like when you're waiting in line or watching TV.
Here are some of Side Hustle Nation's favorites:
If you're consistent with these, they could be worth $30-50 a month.
2. Participate in Focus Groups and Paid Market Research
Description:

Earn $50-150/hr, with thousands of new studies added each month.

Description:

Earn an average of $75 per project, and get notified of upcoming studies you may qualify for.

Description:

Patients and caregivers can earn $120/hour while helping advance medical research.
Best Overall
Description:
Earn $50-150/hr, with thousands of new studies added each month.
Best for Industry Pros
Description:
Earn an average of $75 per project, and get notified of upcoming studies you may qualify for.
Best for Medical Research
Description:
Patients and caregivers can earn $120/hour while helping advance medical research.
In-person and online focus groups and paid research studies pay significantly more than typical online surveys. The average compensation on these is $50-150 an hour!
Why would your opinion be worth so much? Well, many companies use customer interviews and focus groups to get early feedback on new products.
Paying a few participants like you to help get the product right is far less costly than launching the wrong product with the wrong messaging!
The downside is it can be difficult to get selected very often.
Here are some of the most reputable market research companies to sign up with.
User Interviews
User Interviews facilitate customer feedback interviews online and over the phone.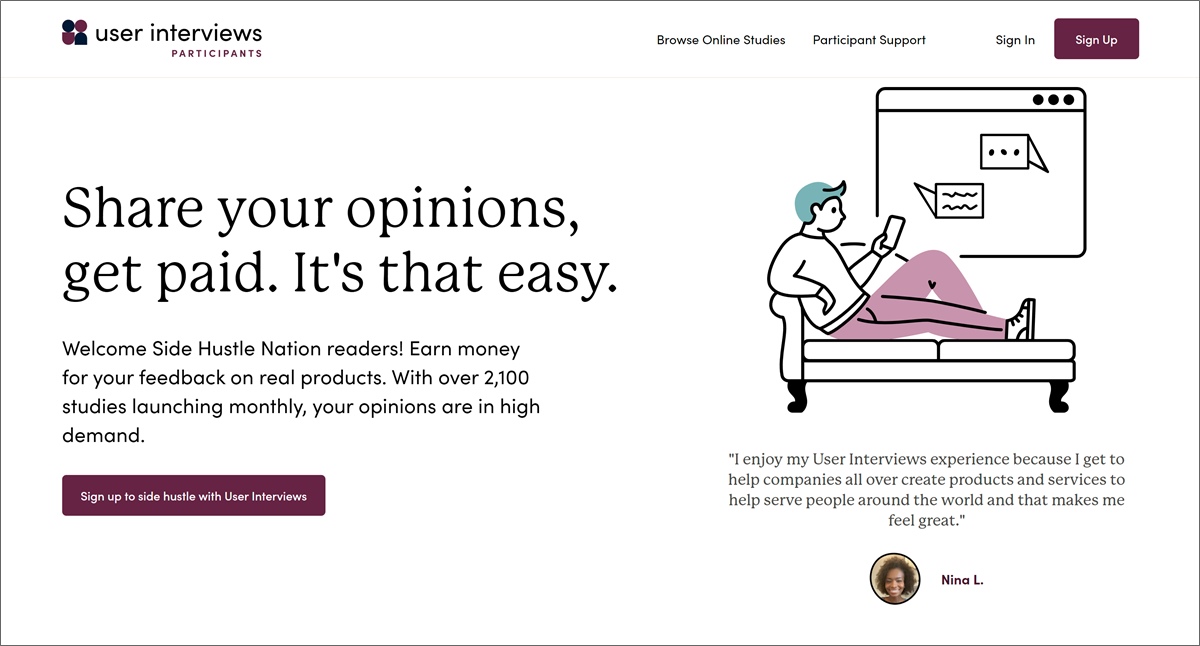 I've earned $105 with User Interviews so far, in exchange for about an hour and a half. Check out our full User Interviews review for more.
Respondent
Respondent is a similar service, specializing in one-on-one market research interviews, mostly done over the phone or online.
According to the site, the average payout is over $100 an hour. Check out our full Respondent review for more.
(I even got paid $190 for a 2-hour in-person focus group … that involved playing with Legos!)
Rare Patient Voice
A leading source for medical research, Rare Patient Voice pays patients and caregivers $120 an hour. Most of the studies are phone or webcam interviews, and you can browse a full list of available studies on their site.
If you suffer from any sort of medical condition (even if it's not super rare), I think this one is worth a look.
FocusGroup.com
FocusGroup.com is run by Sago, a long-running research company. They offer nationwide phone or webcam research opportunities that pay between $75 and $200.
I earned $115 for a 45-minute online survey — check out my full FocusGroup.com review to learn more.
3. Product Testing
Another well-established "pay for opinions" company is Product Report Card. They offer paid surveys, product testing and review gigs, and online focus groups.
The best-paying work is for in-home product tests and remote interviews and focus groups — often in the $75-$150/hour range.
Product Report Card will also give you a $5 welcome bonus for completing a short survey after you join. There's a $25 minimum to cash-out.
4. Build a Website
One of the best ways to get paid for your opinion is to create a helpful website.
In fact, that's what I do on this site! Every month I earn thousands of dollars sharing my opinion on the best side hustles of the year and other topics.
As with most businesses, there's a lot to learn about creating and marketing your site, but it can be extremely lucrative.
For example:
Want to start a website of your own? Check out my free 6-part video course on how to start your own site.
Great long-term earning power
Can sell the business down the road
5. Start a Newsletter
An email newsletter is a low-cost side hustle to start. (Tools like Substack, SendFox, and Beehiiv make it easier than ever.)
One model to consider is a daily or weekly "curation" newsletter. How it works is you source the most interesting stories in your niche, and share those with your subscribers.
For bonus points, add your own insight and commentary to each headline.
As the subscriber base grows, most newsletters eventually monetize with ads or paid subscriptions.
One fun (and very opinionated) example is Codie Sanchez' Contrarian Thinking. In it, she breaks down topics like entrepreneurship, buying businesses, and investing — all through a "contrarian" lens.
Do you have a favorite newsletter you subscribe to?
6. Host a Podcast
Podcasting is another unique way to build an income stream around your opinions. It can take a while to build an audience, but it's a business that can scale really well.
After all, it takes the same effort to produce an episode that 100 people listen to as it does to produce one that 100,000 people listen to.
Top podcasts earn up to $100,000 for a single episode — but even smaller shows can thrive with a niche topic. We've seen successful side hustle examples from a range of podcast niches, including:
This could be a good fit if you love to talk!
7. Start a YouTube Channel
YouTube is an interesting platform because it's designed for both education and entertainment. And the algorithm rewards creators with compelling, engaging content.
To get paid for your opinion on YouTube, you'll need to start building out your channel. Use a tool like TubeBuddy to research various topics and their competitiveness.
After your channel reaches certain metrics, you'll be able to monetize with Google's built-in advertising system. Other video creators make money from:
fan donations
affiliate partnerships
brand sponsorships
merch
selling their own product or service
For example, my buddy Marko Zlatic runs a popular channel called WhiteBoard Finance. He breaks down complex personal finance topics and gives his opinion on current money events — and earns a healthy 6-figure income from home.
8. Write a Book
One of my favorite and most passive side hustles is self-publishing. Passive — after the whole book-writing part, that is :)
My books share my opinion on topics like:
how to work with virtual assistants
the most important items every website should have
Over the last decade, my collection of titles have earned me over $80,000.
I can't call myself a full-time author, but it's a fun way to get paid to put your ideas and opinions out into the world.
9. Go Mystery Shopping
As a mystery shopper, you get to try new things and make some extra money at the same time.
For example, you can get paid $3-10 or more to:
check product displays
verify inventory levels at stores
sample new products or restaurants and give your opinion
The free Field Agent app makes it super easy to find available tasks in your area.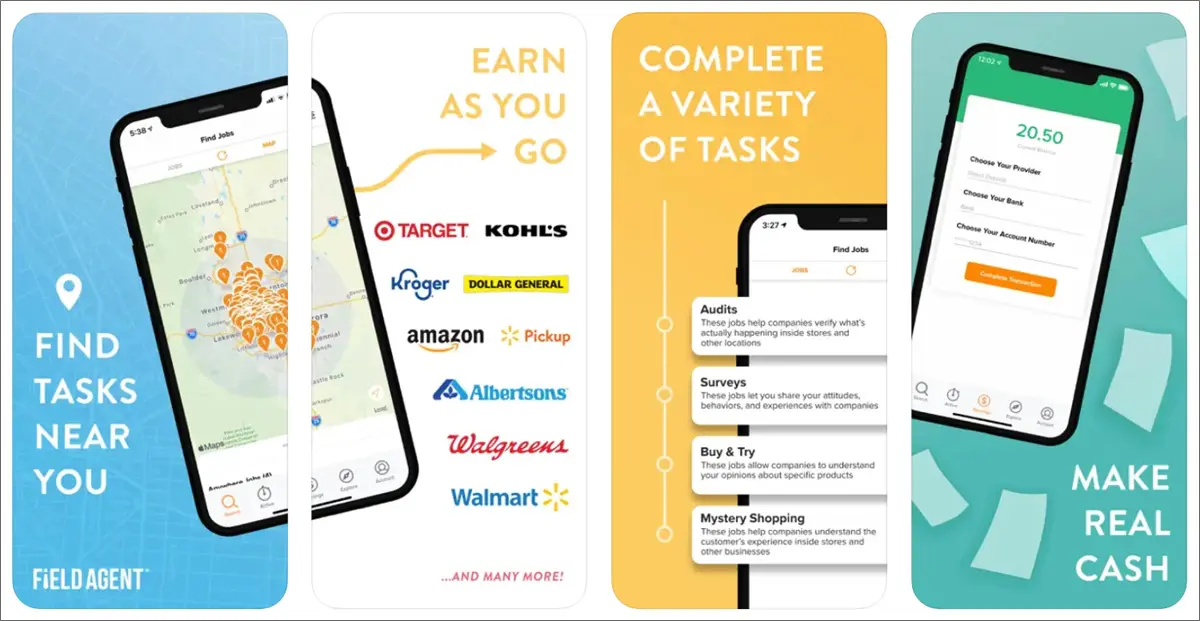 It's hard to piece together a consistent income on Field Agent, but it is a fun way to make some money on the shopping trips you're already making. Check out my full Field Agent app review for more.
10. Test Websites
Sites like UserTesting and Intellizoom pay you to give feedback on websites. It's free to sign up and you'll record your screen while you test features and functionality.
These typically pay $10 for every 20-minute test, but they fill up fast!
11. Review Products on Amazon
No, in most cases Amazon won't pay you to leave written reviews of the products you buy, but there's still good news.
If you're accepted into the Amazon Influencer Program, you can get paid to create short video product reviews.
In turn, Amazon displays those on the relevant product pages, and rewards you a commission when someone makes a purchase after watching your video.
I made a little over $100 doing this in my first month, with very little effort! Plus, I've connected with other side hustlers earning $2,000 a month sharing their opinions on Amazon products.
12. Freelance Writing
Many companies hire freelance writers to create:
website content
sales copy
marketing newsletters
product descriptions
brochures and training material
And yes, even in the age of AI, there's still a strong demand for real human writers who have experience, voice, and an opinion on what they're writing about.
Freelance writers command anywhere from $50-500 or more per article, and can connect with clients on platforms like Upwork and Fiverr.
For example, Georgia Austin started her freelance writing business on Fiverr, and got her first orders right away. The more you practice your writing, the faster you'll get.
13. Write Software Reviews
G2 and Capterra are a popular software review platforms that occasionally pay Amazon gift cards for honest product reviews.
I've received several of these—worth over $100 in total—for writing reviews of software I use for work.
The best way to get started is to leave your first review for free. During that process, they'll ask what other tools you use.
Don't review those yet — wait for an email to come through offering a gift card incentive.
All in all, it's a pretty easy way to get paid, albeit in the form of gift cards.
14. Coaching and Consulting
Many individuals and companies hire coaches and consultants to help them solve problems.
Over the years, I've hired several myself for podcasting, SEO, and general business systems. Those professionals got paid for their insight, expertise, and opinions on what changes I should implement.
And it's not just me — consulting is a big business, with an estimated industry size of over $300 billion.
One potential way to connect with clients is to post helpful videos on YouTube, like Paul Minors did about Asana.
For coaching, take a look at a platform like Coach.me.
15. Solve Interesting Problems
MindSumo is a cool service that asks for your input on certain questions on behalf of its corporate clients. The best and most creative answers earn rewards of $550-1600.
When I was browsing, I saw questions like "How would you improve the car buying experience?" and "How can we make laundry less of a hassle?"
Getting Paid for Your Opinion: Your Turn
What's the best way to get paid for your opinion? Of course it depends on your goals and interests.
For some, completing a few surveys a week and earning a few extra dollars a month is perfectly fine. Others would argue it's not worth their time.
I'm not one to judge either way — I've done almost everything on this list! Still, my preference is for side hustles with either a strong hourly rate or the ability to scale down the road.
Serious About Making Extra Money?
Frequently Asked Questions
Can you really get paid for your opinion?
Yes, there are lots of ways to get paid for your opinion — and taking online surveys only scratches the surface. The people making the most from their opinions are content creators like freelance writers, website owners, YouTube channel hosts, and newsletter creators.
What online survey companies pay the most?
Online survey companies like Swagbucks and Inbox Dollars get a lot of press, but you'll have to dig a little deeper for better paying options. For example, the academic research site Prolific tends to pay slightly more. But your best bet is to look for paid market research studies and focus groups through services like User Interviews. Check out the full post on Side Hustle Nation to learn other legit ways to get paid for your opinion.
Are online surveys a good side hustle?
Online surveys are a common, easy, and legit side hustle to start, but most don't pay very well. (Like, less than minimum wage.) So you have to ask yourself: could you time be better spent elsewhere?