Looking to make extra money for Christmas?
You're not alone!
The average American spent over $900 on Christmas last year.
In this post, we'll share our top side hustle picks to make extra money for the holidays. These were selected based on:
My 15+ years of side hustle experience
100s of interviews with side hustle entrepreneurs
Schedule flexibility and earning power
Ready? Let's do it.
1. Participate in Market Research
There are a couple online research companies everyone should sign up for.
User Interviews is a great resource for connecting with remote consumer research studies. I've made $105 in about an hour and a half so far — here's my full User Interviews review.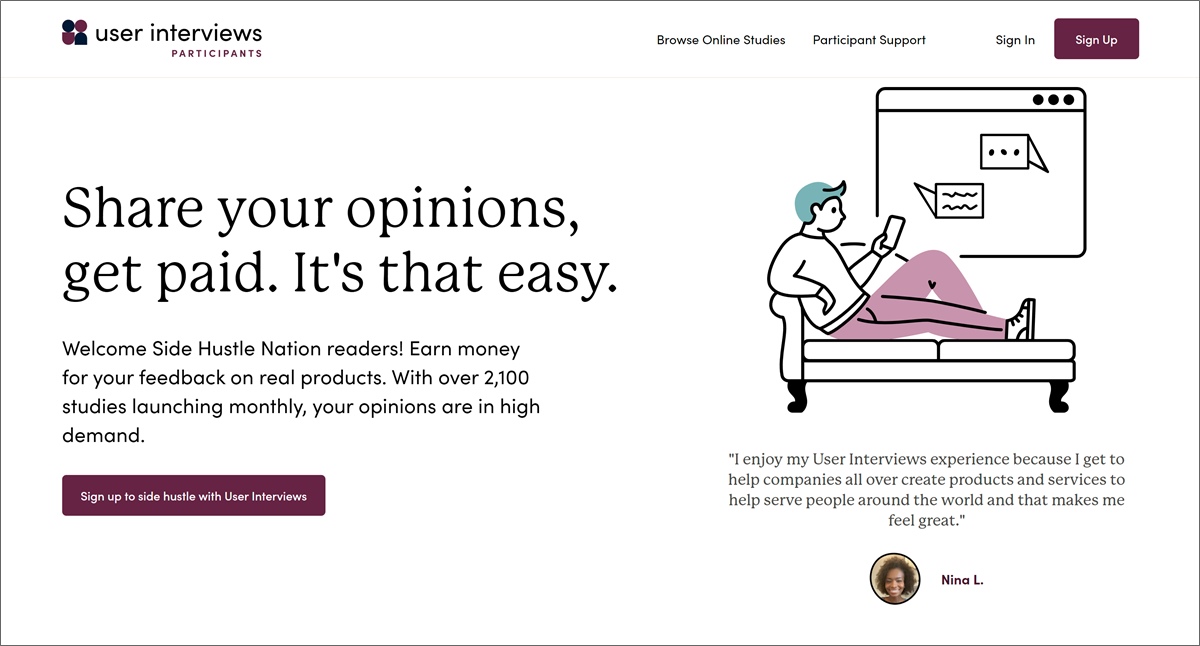 Respondent is one of the best paying online survey companies I've found. Usually the surveys are one-on-one interviews either in-person or over the phone / video chat, and they pay an average of $140 an hour.
2. Flip Products for a Profit
My buddy Rob Stephenson is "the Flea Market Flipper" and makes a great living finding odd items to resell. He told me the story of finding a prosthetic leg for $40 and turning around and selling it on eBay the next day for $1000.
The pioneering auction site is still going strong and can be a good place to get your products in front of 130+ million potential buyers.
There are profitable deals everywhere!
Rob and his wife Melissa consistently earn thousands of dollars a month doing this part-time. They put together a free training on how you can get started and make your first sales as fast as 2 weeks.
Now is a great time to get started as people are looking to get rid of unused stuff to make room for Christmas gifts. Depending on what you find, people are shopping a lot right now, which means you can sell quickly too.
Can multiply money quickly
Cons:
Can be time-consuming to source inventory
Difficult to store and ship bulky items
Suggested Playlist: Flipping Profits
Buying low and selling high is the fastest way to multiply money. Here's how to get it done.
3. Get a Credit Card Sign-Up Bonus
You've got to promise to use this strategy responsibly, but it's earned my wife and I thousands of dollars.
Credit cards like the Capital One Quicksilver Cash Rewards Credit Card offer a $200 sign-up bonus after you spend $500 in your first 3 months — with no annual fee. That's up to 40% cash back!
Learn more and compare this card to other cash back cards here.
If you know you're gonna spend $500 in the next 3 months, that's #freemoney. This card also gives you one of the highest cash back rates, with unlimited 1.5% back on every dollar you spend.
Putting all of your Christmas spending on a credit card to meet a minimum spend bonus — as long as you have the cash to pay it off.
Related: Credit Card Rewards 101: How to Earn Free Cash and Travel by Spending Smarter
4. Gift Wrapping Service
If you love to make packages look their best with perfect corners and bows, offer gift wrapping. With Christmas being such a busy season, this is the perfect opportunity to offer this service.
Check out Nifty Package Co. for inspiration.
5. Christmas Light Installation
Christmas lights can be a lot of fun to have up, but many people may not have the time (or desire) to get it done themselves.
If you don't mind being up on a ladder, this could be the perfect way to bring in some extra cash before Christmas.
6. Take Online Surveys
Answering simple surveys is an easy way to turn your downtime into extra income. On an hourly basis, the pay isn't great, but it's something you can do from your phone while you're watching TV or waiting in line.
Here are some of Side Hustle Nation's favorite providers:
7. Handmade Crafts or Gifts
Handmade crafts and gifts are always a big hit at Christmas.
If you do woodworking, knitting, sewing, etc., now is a great time to promote your work. You can sell at local craft fairs or on sites like Etsy.
8. Seasonal Work
With the biggest buying season of the year almost here, businesses everywhere will be hiring to meet the demand. If you need some extra money for Christmas this year, consider picking up some shifts at a local retail store.
(Nationwide, retailers tend to add 500,000 – 700,000 seasonal jobs!)
JobGet is a leading platform to connect with nearby jobs in hospitality, restaurants, and retail.
Bonus: you may be able to get employee discounts where you work.
9. Pet Sitting
With people traveling for the holiday season, pet sitting is a great option.
Rover.com is "Airbnb for dogs," and I've heard from several dog sitting hosts earning hundreds of dollars a month through this site.
(Meowtel is leading platform for cat-sitting.)
10. Care Giving
Babysitting and child care was my original income stream as a teenager, and is still a viable way to make extra money.
Between Christmas shopping and holiday parties, now is a great time to offer this service to parents.
Sites like Care.com and Sittercity can help match you up with families.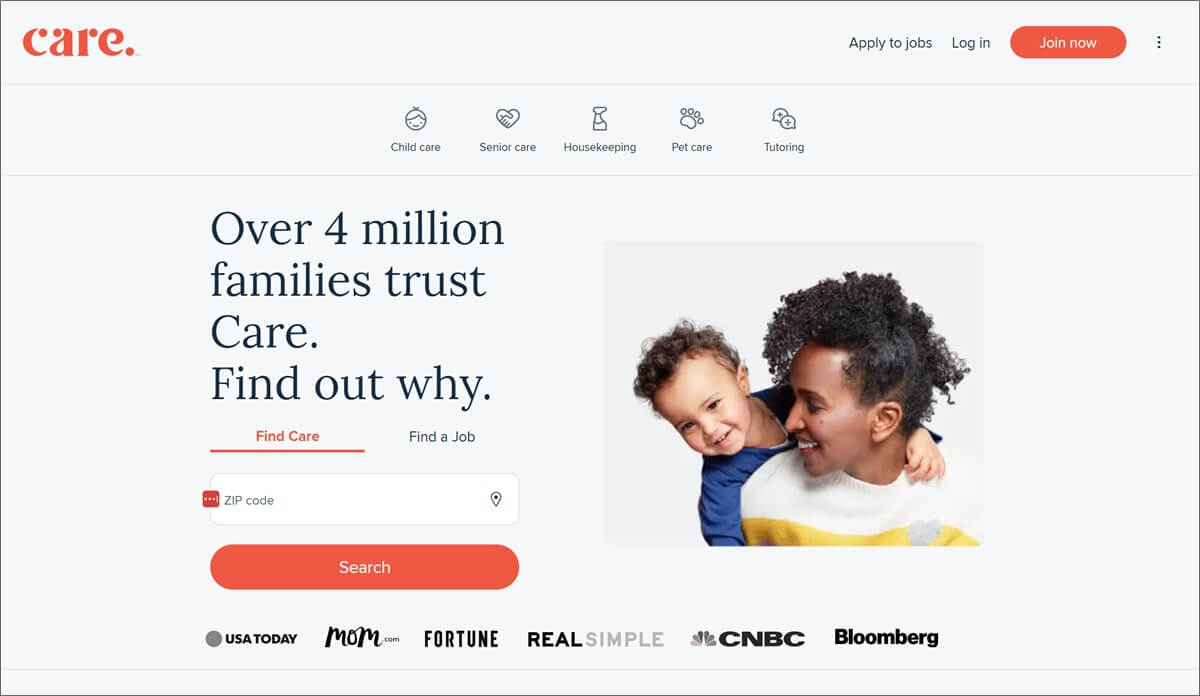 11. Maximize Your Cash Back
If you're already shopping for Christmas presents, why not make some money back?
For example, the Fetch Rewards app gives you cash back just for snapping a picture of your receipts.
You can then redeem points for gift cards to retailers like Best Buy, Sephora, Staples, Gap, and more. (I've been cashing in for Amazon gift cards.)
Rakuten has been giving online shoppers cash back for over 20 years. A recent computer purchase from Dell netted me $160 cash back! (They were running a special offer.)
They'll even give you a free $30 bonus when you create your account!
Use the free Upside app to get up to 25¢/gallon cash back on gas at thousands of locations all around the country. Plus, get a 25¢/gallon bonus on your first fill-up with promo code SHN25.
When your tank is running low, just check the app for nearby offers. Then all you have to do is claim it and say what credit card you're using.
12.

Residential or Commercial Cleaning Service
With holiday hosting around the corner, house cleaning can be a great way to make money in time for Christmas. Help homeowners (or businesses!) get ready for parties with a clean space.
Anthony and Jhanilka Hartzog grew their Dallas-area residential cleaning service to $25k a month in revenue. And the best part? They hire other cleaners to do the work!
More and more homeowners outsource this chore, and the industry remains highly fragmented. Those factors spell an opportunity for you to win clients.
There is a reason these apps like Uber and Lyft are so popular. They're quick and easy to start, and allow a flexible schedule.
One Lyft driver of mine on a recent trip put it this way: "When I want to make money, I turn on the app."
In fact, these "gig economy" apps have helped create a multi-hundred billion dollar a year industry. Here are some options to get your piece of the pie.
Other options include:
No marketing or sales required
Wear and tear on your vehicle
Income may be inconsistent
If you choose any of these driving-related side hustles, it might make sense to tack on an app like Hurdlr to automatically track your mileage, expenses, income streams, and tax deductions in real-time. On average, Hurdlr helps users find $5600 in deductions!
14. Go Grocery Shopping for Others
With lots of people hosting holiday parties, hosts and hostesses will be ready to hand off the grocery shopping to others.
Instacart pays shoppers between $10-20 per hour to deliver groceries.
As a full-service shopper, you take orders from customers, find and pay for the items on their list, and deliver the goods to the customer's home. You get paid a commission based on the size of the order plus any tips you receive from customers.
Side Hustle Nation reader Kevin LaCombe is earning an extra $450-500 a week as a Full-Service Instacart Shopper:
15. Part-Time Remote Work
With legit jobs ranging from entry-level to executive and freelance to full-time, FlexJobs is the leading work from home jobs site. At press time, there were more than 30,000 openings in dozens of career categories.
This is a great option if you'd like to earn extra money for Christmas from home, whether you have a job or just need something for the next couple of months.
They charge a nominal monthly fee to access their listings, but you'll easily earn it back (and then some!) with one job.
16. Donate Plasma
As long as needles don't bother you, you can earn $20-50 per plasma donation. This is an easy, fast way to earn some extra cash in time for Christmas.
17. Thrift for Profit
Apps like Poshmark can help you clear out your closet or make money from your latest thrift store finds.
This is a great way to make some extra cash and make room for new Christmas gifts.
18. Baking
Do people love your desserts? Between Christmas parties and gifts, now is a great time to sell your baked goods.
A friend of ours has built a pretty serious following for her custom cookies—and sometimes sells out in just minutes!
19. Tutoring
Tutoring is a low cost side hustle that you can start easily to make some quick cash this holiday season.
Put your education to use helping students learn in a comfortable one-on-one setting. WyzAnt is one of the largest marketplaces in the online tutoring world, where you can set your own rates.
In this post, Matt Fuentes shared how he built his tutoring business up to $1000 a week.
20. Print on Demand T-Shirts
Upload your clever or artistic t-shirt design to Merch by Amazon or Redbubble, and collect a small profit every time it sells. You never have to touch any physical inventory; the platforms handle the shipping and fulfillment.
For years, this had been worth $50-200 a month for my wife and I, very part-time.
This can be a fun way to make some extra money for Christmas. This is also a great time to start a shop as t-shirts make great gifts.
Another platform to check out is Printful, which has tons of print-on-demand products and lets you syndicate your listings to Etsy and other stores.
21. Take Family Christmas Card Pictures
My wife's holiday side hustle is family photography. Everyone wants that perfect shot for their holiday cards, and she earns $200-400 per session.
22. Mobile Laundry Service
If you don't mind laundry, this could be the perfect side hustle to make extra money for Christmas.
According to the mobile laundry service Poplin, top "Laundry Pros" earn up to $6000 a month.
I actually connected with a reader who was doing this in Australia, and earning $400 a month. She didn't mind the work and was thrilled to be "getting paid to watch movies"–how she passed the time while ironing.
23. Corporate Events
Brian McGovern is a party entertainer — he's been practicing magic and performing since he was in high school. Thanks to company holiday parties, the Christmas season is his busiest time of year.
On The Side Hustle Show, he reported earning up to $10,000 a month doing something he loves.
Take a look at a site like GigSalad to get an idea of who's getting hired and to connect with nearby gigs.
If you have the tools for the job, this side hustle will allow you to pocket some quick cash for Christmas.
24. Mystery Shopping
Field Agent is an interesting money making app you can use to connect with local mystery shopping gigs.
There's a bit of a treasure hunt feel to this one, and could be a fun way to turn your regular shopping trips into a side hustle.
Most of these gigs involve evaluating product displays or checking on inventory. They typically pay $3-10 apiece, depending on complexity and the time involved.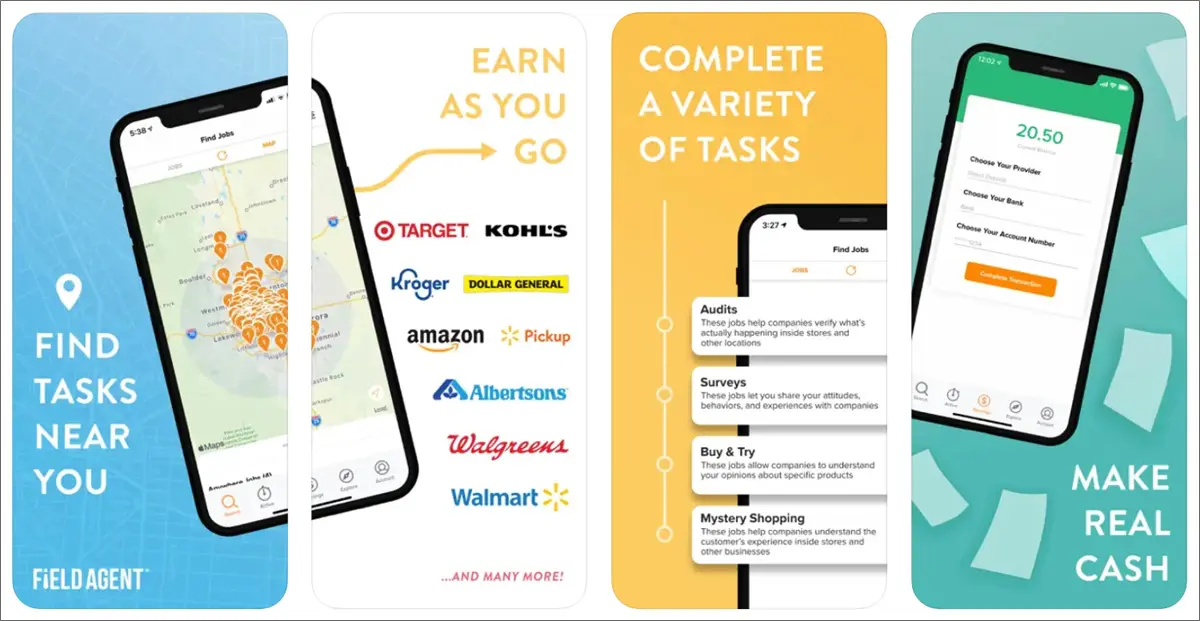 Major retailers like Costco and Walmart are listed for product surveys and audits. No purchases are necessary, unless you sign up for a product testing gig.
Earning Power: $10-25 a day.
25. Rent Out Your Attic or Garage
The Neighbor self-storage platform connects people with storage needs with those who have extra space. If you've got some excess storage capacity in your garage or elsewhere, list your space here to fill it and get paid.
According to the site, top hosts are earning up to $10,000 a year running their own mini self-storage operations. Check out our full Neighbor.com review to learn more.
26. Junk Hauling Service
This is a great side hustle business if you already have access to a pickup truck or van. Bonus points if you can re-sell some of the junk!
I sat down with Brian Scudamore, the founder of 1-800-GOT-JUNK, to learn how he took the business from a summer gig to doing around $1 million a day in revenue.
27. Christmas Tree Decorating Service
Amanda Ware quit her job as a teacher to become a traveling Christmas tree decorator.
She charges an average of $1,000 per tree and decorates "a minimum of 100 trees" a year. That means she can earn over $100,000 — and take 9 months of the year off!
28. Start a Christmas Tree Stand
This one requires a bit more planning and time commitment, but can definitely be lucrative.
For example, Andrew Giancola reported earning $7,500 in profits from his first-year Christmas tree stand. He set up shop in a church parking lot, and sold trees, wreaths, and poinsettias.
29. Drive-By Grinching
In 2020, Colorado teenager Ethan Hecker began sneaking around front yards dressed as everyone's favorite holiday villain, the Grinch. He'd peak in windows, re-arrange Christmas decorations, and delight the neighborhood kids.
According to one news report, he'd booked over 100 "Grinchings" at $20 apiece. With Grinch costumes running $50-150 on Amazon, it wouldn't take many customers to bring the idea to your town and start to turn a profit.
30. Snow Removal
Snow removal is a great winter side hustle!
There are a few truck modifications to consider here: winter tires, auxiliary headlights, and, of course, a consumer snow plow that works with your truck. Of course, doing it the old-fashioned way with a shovel and your muscles is also an option!
You set your own rates, likely ranging from $20-100 per job. This can be a worthwhile side hustle, especially if your area sees a lot of snow.
The Best Ways to Make Extra Money for Christmas: Your Turn
There are lots of great ways to make extra money in time for Christmas.
The best way to decide is to find ones that match up with your skills, interests, and goals.
If you have some extra time, hopefully you can find a side hustle or two that will allow you to earn extra money for Christmas this year.
Serious About Making Extra Money?