What are the best remote side hustles to make extra money from home?
Here's a crazy stat: 58% of workers already have a job they can do from home — at least part of the time. That means there's never been a better time to pick up a remote side hustle.
And there are tons of options to choose from!
In this post, I'll break down my top picks based on:
Almost 20 years of making money online (and working from home full-time since 2008)
100s of interviews with remote side hustlers
The potential earning power of each one
Ready? Let's do it!
1. FlexJobs
Your easiest remote side hustle option may be to pick up some flexible, part-time work.
This is where FlexJobs comes in — it's the leading work from home jobs site.
With over 50 career categories, FlexJobs has jobs ranging from entry-level to executive and freelance to full-time.
They charge a nominal monthly fee to access their listings, but you'll easily earn that back and then some with one job.
When I filtered to only part-time positions, I found over 1,000 remote jobs!
2. Remote Bookkeeping
If you have an accounting background—or are just good with numbers—this might be a good fit.
Why? Bookkeeping is often one of the first roles new companies hire for, and can easily be done from home.
For example, Kate Johnson reported earning $60 an hour or more with her virtual bookkeeping business.
Here's a free training on how to get started.
3. Freelance Writing
Freelance writing is a fantastic side hustle — you can use skills you already have and just need one client to get started.
In the past, I got paid to write articles on creative ways to save money at Starbucks, or to summarize and re-purpose some of my podcast interviews. I made around $75 an article from home, but have paid freelance writers anywhere from $10 to $500+ to help me create content.
Where can you find work? Here are some resources to check out:
To learn more about making money as a writer, check out this free guide from the American Writers and Artists Institute:
4. Virtual Assistant Service
There's a growing demand for work-from-home administrative support professionals, or virtual assistants. Virtual assistants have been around since the dawn of the Internet, but the industry has really exploded over the last several years.
To find VA work, you've got a couple options.
The first is to get onboard with an established VA agency, like BELAY Solutions. But the pool of applicants is always deeper than the demand, so these companies are notoriously hard to get accepted to. (Most brag about only hiring the top 1-3% of candidates — and even then, may only pay $12-16 an hour.)
The other option is to set up shop as your own virtual assistant business. My friend Abbey Ashley, who started her VA business on the side, put together a free training that shares:
Where to find thousands of potential clients.
How to make a full-time living working from home.
What clients are really looking for in a VA. (hint: it's not prior VA experience)
Click here to learn more about becoming a virtual assistant.
5. Web Design Service
You might be surprised, but many businesses have a really outdated-looking site — or they don't have one at all.
Thankfully, web design is a learnable skill, and can still has great earning power.
My advice: pick a niche to specialize in, and become the go-to provider for businesses in that space.
For example, Ryan Golgosky from 180sites.com primarily builds sites for pressure washing companies. (Really!) When we spoke, he shared how this strategy — and a unique pricing plan — built his web design business to $100,000 a month.
6. Build a Helpful Website
While building websites for clients is a great remote side hustle, it may be even better to build one for yourself.
Now to be totally upfront, there's a lot to learn to make this business work, but when it does, it can be extremely lucrative.
For example:
Their sites are monetized with advertising and affiliate partnerships, which scale as your traffic increases.
Want to start a blog of your own? Check out my free 6-part video course on how to start your own site.
Great long-term earning power
Can sell the business down the road
7. Start a YouTube Channel
Another way to make money from home is by posting content on YouTube.
Once you've built up a following, you can monetize your videos with Youtube's built-in ad platform.
Lately I've been earning around $500 a month from my YouTube channel, but some some YouTubers make millions from their content!
To get started, I'd recommend choosing a niche and creating "question and answer" content. Examples might include:
how to do _______?
what are the best ______?
how does _______ work?
Those types of videos give a new channel the best chance of ranking in YouTube's search to start getting views.
8. Self-Publishing
Self-publishing on Amazon is one of my longest-running remote side hustles. I started in 2012 and still remember the thrill of receiving my first author royalty direct deposit.
(It was something like $46.42!)
I've added several more books to my portfolio since then and consistently earn a few hundred dollars a month.
One of my books is actually free on Kindle if you want to check it out:
The Side Hustle: How to Turn Your Spare Time into $1000 a Month or More
9. Focus Groups and Surveys
While online surveys won't make you rich, they're definitely an easy way to make extra money. If you've got time to kill while waiting for the subway or watching TV, here are some options to check out:
The better-paying option is to get matched up with paid research studies and remote focus groups through companies like User Interviews.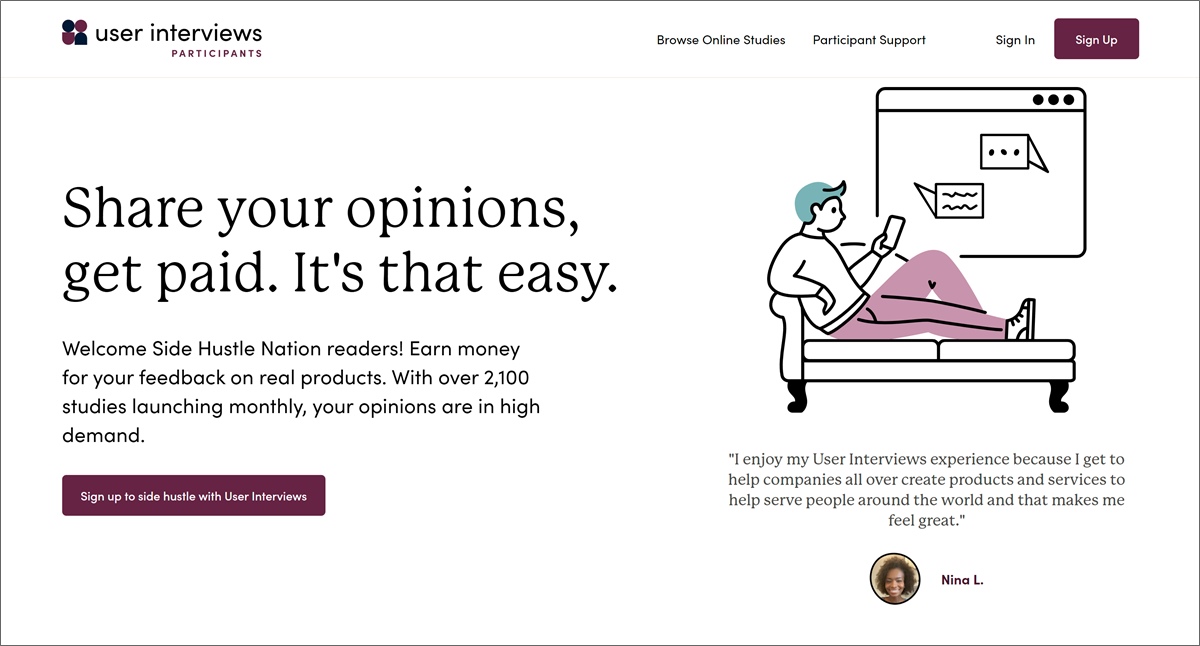 Here, the average payouts are $50-200 an hour, and new studies are added all the time.
The downside is they usually pay via Amazon gift cards instead of cash. Check out our full User Interviews review to learn more — I've earned $105 so far, in about an hour and a half.
10. Remote Real Estate Investing
You might not think of being a landlord as being a work from home side hustle, but there are ways to get it done.
For example, my friend Dustin Heiner manages his portfolio of rental properties from several states away. He just has a team of property managers and contractors "on the ground" to help out should the need arise.
Alternatively, you might take a look at a platform like Arrived, which lets you invest in cash-flowing rentals for as little as $100.
The company pools money to buy rental properties, manages them, and then distributes the cash flow every month.
11. Test Websites
As a website tester, you record your computer screen and your voice as you use a certain site or app. You may also need to write survey responses as part of the job or use a webcam.
Essentially, you're giving your opinion about the usability of a website or app with the goal of improving the user experience. You discuss your likes and dislikes, suggest improvements, and discuss any difficulties you have with the site or app.
Learn more about remote website testing jobs at these sites:
User Testing – Rewards vary based on the assignment, but average in the $20-30/hour range.
TestingTime – Earn up to $65 per every 30-90 minute study.
Trymata – Earn $5-30 per test.
12. Sell Printables and Spreadsheet Templates
One of the most interesting remote side hustles I've come across is selling printables.
These are digital files you upload to a marketplace like Etsy. Think:
budget templates
chore charts
habit trackers
meal planners
intake forms
wall art
and more
And the best part? When someone orders, the file delivery happens automatically.
On The Side Hustle Show, Rachel Jones explained how she earned $10,000 a month from her portfolio of printables.
If you have an eye for design and can be quick to act on trends, you could capture lots of customers.
Similarly, Emily McDermott built a cool remote side hustle selling spreadsheets on Etsy. She specializes in budgeting templates, and has sold over $250,000 worth of them!
13. Voice Over Acting
Could you get paid to talk? Doing voice overs is another way to earn money working from home.
You'll need a quiet home studio with a good microphone and a computer with audio editing software. Rates range depending on the client and your experience, but can be anywhere from $10 to $10,000!
For example, Dom and Nicole Draper reported earning $4,000 a month with their voice over acting business.
Here are some places to get started:
Voice.com – Get matched with remote voice over job opportunities.
Voice123.com – A leading platform to find voice over work.
Related: How to Earn up to $3000 an Hour With Your Voice
14. Transcription and Captioning
Sites like Rev.com pay you to transcribe audio or video clips.
Members of Side Hustle Nation report earning anywhere from $5-12 an hour doing this. (Fast freelance transcriptionists can earn more though; as this free mini-course explains.)
To make this work, you need fast and accurate typing skills, and excellent language skills.
15. Customer Service (Non-Phone)
Live chat customer support is a common part-time work from home job.
Naturally, you'll need to be a fast typist and proficient in English. Hours vary on the company and job, but often range from $8-20 an hour.
Check out sites like FlexJobs and Arise for current job postings.
16. Editing and Proofreading
One of my early remote side hustles was editing and proofreading non-fiction books for self-published authors. I found clients through Fiverr, Facebook groups for authors, a self-publishing training program, and word of mouth.
My rates were generally between $0.01 and $0.02 per word, which worked out to around $30 an hour.
If you don't want to stress about finding clients on your own, here are some companies that offer remote editing and proofreading jobs:
17. Graphic Design
There are lots of ways to make money from home as a graphic designer.
For example, you could create print on demand products to sell on Amazon, Etsy, or Redbubble.
You could take on client work, or even start a graphic design agency.
One great place to look for remote graphic design jobs is SolidGigs — a hand-curated list of freelance jobs updated daily.
The team at SolidGigs combs through dozens of freelance job boards every weekday and posts the top 1% of jobs to their freelance job stream.
Their design category is definitely one of the best and most active on the site.
They also have a growing library of great resources—courses, templates, interviews, scripts—for helping you actually get the gig.
Side Hustle Nation readers can try SolidGigs free by clicking here.
18. Microtasking/Micro Jobs
Microtasking is getting paid to perform brief online tasks from home. Some examples are data entry, creating product descriptions, research, surveys, and copy editing.
You decide which tasks you want to tackle and when. These don't pay particularly well, but the results can add up if you don't have anything better to do.
In fact, one reader reported earning over $50,000 on Amazon's Mechanical Turk.
Here are some other microtasking sites:
ClixSense – Get paid to do simple online tasks.
Clickworker – Earnings vary based on the task.
Appen – Help companies train, test, and tune their machine learning and artificial intelligence programs.
19. Social Media Marketing
Social media marketing and management are popular work from home side hustles.
Your responsibilities might include:
Creating social media content/posts (text, images, videos)
Increasing followers/growing a community
Managing social media engagement and conversations
Moderating online communities
Commenting on social posts
Curating relevant content
Running ads and campaigns
Increasing brand awareness
Generating leads
On The Side Hustle Show, Brien Gearin shared how began landing $1500/mo clients to manage their Facebook ads campaigns.
20. Tutoring
Tutoring is a terrific way to take your knowledge and share it with others. Plus, it can be done remotely over Facetime or Zoom.
For example, Matt Fuentes transitioned his in-person tutoring business to online, and makes around $1000 extra a week.
Here are online tutoring platforms to help you connect with students:
Cambly – Earn $10-12/hr teaching English online.
Skooli.com – Online tutoring jobs for professional teachers and subject-area experts. Pay is $25 an hour.
Wyzant – Set up your profile to get discovered by students. No teaching certification required.
21. Teach an Online Class
While one-to-one tutoring can be rewarding and even pretty lucrative, it's still trading time for money. One side hustle with a little more scale is to teach an online group class through a platform like Outschool.
The peer-to-peer education marketplace focuses on students ages 3-18, and has courses on nearly every topic imaginable. On The Side Hustle Show, Jade Weatherington shared how she was earning $10,000 a month on the platform, primarily teaching middle school English writing classes.
I even connected with an Outschool teacher with a series of popular video game classes!
22. Academic Scoring
You can earn money from home scoring or rating student essays, tests, or exams.
For example, Educational Testing Service (ETS) hires online, work from home "Raters" to score Advanced Placement tests.
Typical rates range from $10-20 an hour. Your hours may be flexible, but the work is seasonal and there are usually deadlines for completing the scores.
23. Data Entry
Data entry is a common work from home job, but the pay isn't great — around $12 an hour on average.
The only reason I'm including it in this list is because some people find satisfaction in this type of work.
One potential place to look is SigTrack, a service that helps check petition signatures against voter databases to see if they match. Demand is highest during election seasons, and you get paid based on accuracy.
24. Translation
If you're bilingual, consider a work from home job as a translator.
You'll need good grammar skills, cultural knowledge, conversational competence, and the ability to articulate complex concepts.
Fast, accurate typing skills and a quiet environment will make your job go faster, which increases your earning potential.
Check out these remote translation job sites:
Gengo – Rates vary based on language.
Multilingual Connections – Freelance, remote translation projects.
Translation Services – This company offers translation services in more than 100 languages. At press time, part-time and full-time remote positions were available with competitive pay and flexible hours.
Stepes – An online database of on-demand translation jobs for freelance translators. You can work from your smartphone with their mobile messaging based translation model.
Unbabel – Work on the go and get paid weekly.
25

. Online Arbitrage
With online arbitrage, you buy inventory from one website to resell on another (usually Amazon). It's amazing to me that this is a thing, but it very much is.
When I sat down with Chris Grant, he described selling $75,000 worth of products in a typical month!
Online arbitrage is a beginner-friendly remote side hustle because you can start with any level of inventory investment you're comfortable with, and scale up as you learn more and see results.
---
Where Else to Look for Work From Home Side Hustles?
You don't need to spend all day looking for work from home side hustles! Here are the best sites to find a remote job.
What's the Best Remote Side Hustle for You?
We've thrown out a lot of different remote side hustle options in this post. Did any resonate with you?
When it comes down to choosing the best option, it's always dependent on your interests, experience, and long-term goals.
For some, it's about flexibility and freedom. For others, it's a change of careers or an entrepreneurial challenge.
The most important thing is to pick something and take action! Otherwise, tomorrow is going to look a lot like today.
Serious About Making Extra Money?
Big thanks to Meghan Monaghan of Smart Bird Social for helping research and draft this article!