If you're a man looking to make extra money, a side hustle is the perfect way to increase your income.
Side hustles let you work on your own terms, around your existing commitments and lifestyle. With the right attitude and determination, anyone can find success with a side hustle.
In this post, I'll share some of the best side hustles for men.
Side note: there's no reason women couldn't do any of these either!
Too Many Choices?
Join the Free 5-Day $500 Challenge. I'll show you step-by-step how to add $500 to your bottom line.
1. Reselling on Amazon
Reselling on Amazon is one of the most popular side hustles out there. The hours are flexible and the profit potential is high.
You don't need a lot of money or any special skills to get started with reselling on Amazon. All you need is:
places to find profitable inventory (I found some at Walgreens and Home Depot)
basic knowledge of how the system works
How it works is you find products that are selling for more online than they are locally. Popular items include hard-to-find shoes, children's toys, seasonal food products, and more.
You can even do this entirely online with what's called online arbitrage.
2. Email Newsletter
Email newsletters have become a great side hustle for many entrepreneurs.
There are several advantages to creating a newsletter:
start-up costs are low (or free w/ tools like Substack)
the technology isn't overly complicated
it can be done from anywhere with an Internet connection
Newsletters are typically monetized through advertisements, affiliate partnerships, your own products or services, or even paid subscriptions.
One model I like is the "curated" newsletter model. This is where you compile the best resources in a niche every day or every week, and send those out to subscribers.
These are really valuable for readers because you help cut through the clutter. One cool example is Camron Stover's Hunting Gear Deals, which, as you might have guessed, sends out the best hunting gear deals every day. When we spoke, the business was earning around $90k a year on the side from his day job.
3. Create a Helpful Website
Google is the world's leading answer engine. If you can answer the questions people are typing in, you can build a great side hustle from it.
Side Hustle Nation has tons of examples of creative website businesses, but a few worth mentioning are:
All of those started as side projects and all are now 6-figure businesses.
Naturally, there's a learning curve to publishing content online, but it can be extremely lucrative and time-leveraged.
Here's my free guide to getting your site online quickly and affordably.
4. Real Estate
Real estate has always been a popular side hustle for men looking to make extra money and build long-term wealth.
Real estate side hustles come in many different forms, ranging from single family rental properties to commercial buildings and even raw land investing.
Dustin Heiner — a husband and father of 4 — started building his rental portfolio while working for the county government. He was ultimately able to retire in his 30s, generating $15k a month in cash flow from his properties.
But for every Dustin beating the "passive income" drum, there's another burnt-out landlord sick of dealing with tenant drama and property maintenance headaches.
That's why I tend to invest in real estate in a little more hands-off way, through REITs and services like Fundrise.
I give up some of the leverage and direct tax advantages, but it's truly passive. And you can get started with as little as $10.
Disclosure: I've been a Fundrise investor since 2015. When you join through my referral link, I earn a commission. Opinions are my own.
5. Washing Houses
If I were to start a new business today, pressure washing would definitely be on my short list of ideas.
It's a simple, low overhead side hustle that's just plain satisfying to do!
Scott Anderson reported earning $3,000+ per month washing houses part time, and was able to recoup a good chunk of his equipment costs on the very first job.
To get customers, you can advertise online or put up flyers around your neighborhood.
6. Flipping Books
Flipping books is a popular side hustle idea for both men and women.
How this gig works is you download a barcode scanning app, like ScoutIQ (paid) or Bookscouter (free), to see what books are selling for on Amazon and other marketplaces.
You can source inventory from friends, local library stores, yard sales, and used book stores and thrift stores. For example, Charlie William reported earning up to $4000 a month from his book flipping business.
7. Car Rental Business
Renting out your car could a great way to earn extra money and start a side hustle. Platforms like Turo connect you renters and handle the insurance coverage.
You can set the price based the make and age of the car along with market demand. It's important to keep an eye on market trends, mileage, and depreciation on the vehicle to make sure you're still making a profit.
Kirtis Murphy started his rental car business by just renting out his personal car when he wasn't driving it. Within a couple years, it turned into a full-time 6-figure business and a fleet of 13 cars in the Dallas area!
8. Flipping Shoes
I knew that flipping limited edition sneakers was a thing, but I was surprised to learn that flipping regular shoes could be quite profitable as well.
Beau Hunter of Houston used his shoe flipping side hustle to help pay off over $100,000 in debt! He recommended targeting gently-used name brand shoes at thrift stores, and mentioned that large sizes for men sell particularly well on eBay.
Customers that are loyal to a specific brand or hard-to-find style turn to the auction site to find their next pair.
Shoes are great items to flip for a profit because they're relatively small and lightweight — making them easy to store and inexpensive to ship.
9. Cleaning Parking Lots
Blademir Hernandez started a unique side hustle sweeping parking lots. His initial goal was to make an extra $1000 a month, and when we caught up four years into his business, he'd built it up to a 6-figure operation. (And still on the side from his day job!)
It's not glamorous or particularly exciting, but many property managers pay to keep their lots litter-free. Your startup costs are super-low and it makes a great side hustle since it needs to be done late at night or early in the morning when the lots are empty of cars.
After doing the work himself for a while, Blademir began hiring other sweepers to help him with his growing roster of clients.
10. Tutoring
If you got decent test scores, there's a big market for test prep tutoring. You might find clients through your neighborhood newsletters, NextDoor, or local parent groups.
Matt Fuentes earns up to $1000 a week with his tutoring business, which focuses on SAT and ACT prep. This is a gig where you can set your own rates, generally anywhere from $25-100 an hour.
Tutoring can be done in-person or online via Zoom if you prefer a home-based side hustle.
11. Window Cleaning
Johnny Robinson started his window cleaning business as a full-time college student, and ultimately built it up to nearly $700k a year — before graduation!
Window washing offers flexible hours and the chance to work outside. Startup costs are low: a bucket, squeegee, and extension pole — and you're in business.
To get your first customers, start with your neighborhood. You can go door-to-door, post flyers, or advertise in local community groups.
12. Car Detailing
A mobile detailing side hustle is a great way for men to make some extra money on the side, especially if you're a "car guy." Not only can you choose your own hours and work around other commitments, but the job itself is simple yet rewarding.
With the right set-up and some basic knowledge of car care, anyone can get started in this side hustle.
Typical rates are $200-400 per car, and you can stack 2-3 jobs up on a Saturday and make pretty good money. For example, Josh Belk reported earning up to $6,000 a month with the detailing business he started with his brother.
13. Laundromat
For Jono Santamaria, a laundromat met his criteria for a side hustle:
It was already operational and profitable (he bought it from the previous owner)
Is relatively automated (the machines do the work for you)
He could improve the business (by applying some digital marketing skills)
The purchase did require an upfront investment, but was somewhat secured by the business' track record of revenue, equipment, and remaining lease. Then Jono set about improving the laundromat's online presence and making other tweaks.
Those optimizations ended up tripling the business in 12 months!
Is there an opportunity to buy a similar business near you?
14. Knife Sharpening
Matt Rowell was looking for a side hustle that let him work with his hands, and ended up with a great knife sharpening business.
Knife sharpening has low startup costs and every house in town is a potential customer! Matt said once you learn how to do it, you can easily earn $30-50 an hour in your spare time.
There's probably not a ton of local competition, so a simple website and Google Business listing could start to attract customers.
15. Flipping Phones
The concept of flipping phones is simple—people buy used mobile devices and resell them for a profit.
For professional flippers like Jeff Duhon, it can turn into a full-time income stream. He targets $100 in profit per flip, and does dozens a month.
As with other niches, there's a learning curve to figure out the different models and carriers to know which phones have the highest resale values.
16. Furniture Flipping
Side Hustle Nation member Ryan Cron earned extra money restoring and flipping furniture in his spare time.
His advice was to start with dressers — "it's basically a rectangle." That way, you can practice sanding and painting a relatively straightforward piece before tackling more challenging projects.
Look for inexpensive furniture at moving sales or on Facebook marketplace and clear out some space in your garage to do the work. The other key is taking attractive pictures when you go to list the item for sale — make the piece look good!
17. Reselling Furniture Returns
If sanding and painting sounds like a lot of work, this furniture flipping side hustle is a lot easier.
As a part-time Sharetown rep, you'll pick up gently-used furniture returns from direct-to-consumer brands.
Since the items aren't new, the companies can't really take them back and resell them — but you can. For example, Chris Torres reported earning $150-400 per item.
And the cool part is the inventory doesn't cost you anything until it sells.
Check out our full Sharetown review to learn more.
18. Paid Research Studies
Companies and brands are often looking for feedback on upcoming products, and will pay you for it. I've done several paid online research studies, and even a couple in-person focus groups.
These are actually a lot of fun and often pay in the $60-100 an hour range.
One of my go-to sources for these gigs is User Interviews.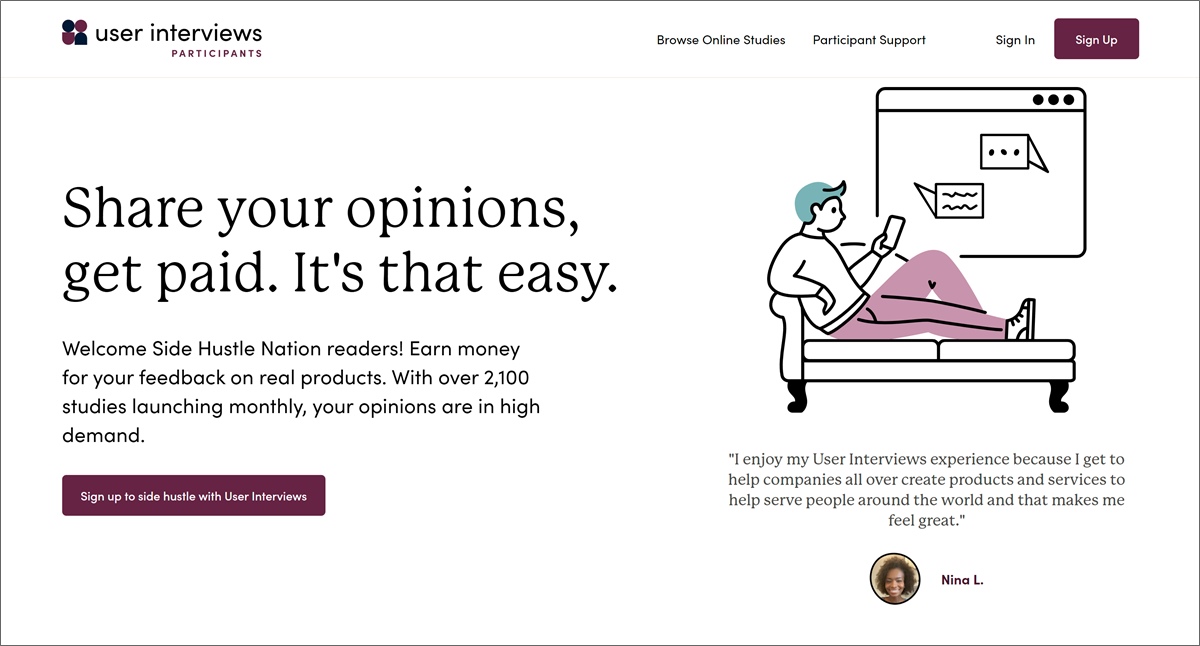 Check out our full User Interviews review to learn more.
19. Delivery Gigs
Delivery side hustles are pretty straightforward to get started with, and usually require:
Reliable transportation (car, bike, electric scooter, etc.)
Being 18 or older
A background check
These apps typically have you picking up and delivering take-out orders or groceries. Your earning power is typically in the $14-25 per hour range, and you can set your own schedule.
Here are a few delivery apps to consider:
*For illustrative purposes only, actual earnings may differ and depend on expenses. Hourly pay is calculated using average Dasher payouts while on a delivery (from the time you accept an order until the time you drop it off) and includes compensation from peak pay, tips, and other incentives.
If these gigs appeal to you — or you're already a rideshare driver — you might consider adding Hurdlr to your arsenal. The Hurdlr app helps you automatically track your mileage to save money on taxes.
20. Unconventional Rentals
I love business models where you can get paid over and over again from something you buy once. One of my favorite examples of that is Steve Nadramia's portable hot tub rental business.
When we spoke, he'd built a "fleet" of 25+ hot tubs that he rented out on a weekly or monthly basis. The business was generating thousands of dollars a month in profit, on the side from his day job as a teacher.
Other rental ideas include photo booths, bounce houses, or even extra space around your house.
25 Other Unconventional Rental Ideas
What else could you rent out for a profit? Here are some ideas!
Enter your email to download the full list now:
You'll also receive my best side hustle tips and weekly-ish newsletter. Opt-out anytime.
21. Self-Publishing
Self-publishing is one of my favorite and longest-running side hustles. I remember my first royalty payment from Amazon of something like $42 and being thrilled, thinking "I did it! I'm a professional author!"
Since then I've earned over $75,000 in author royalties, and I think books are a pretty awesome way to both build authority in your niche and earn passive income along the way.
Related: My Amazon author profile and book listings
22. White Label Software
Software businesses are some of the most profitable in the world, but it's tricky to try and create your own software from scratch.
The alternative is to become a software reseller, like Chris Lollini. He reported earning multi 6-figures a year white labeling reputation management software to local small businesses.
How it works is you buy "seats" to a software product at a discounted or wholesale rate, and resell them at retail prices. Start with an industry you're familiar with and see what common pain points could be solved with existing software tools.
The advantage of this side hustle is you have almost no upfront risk or expense.
23. Create a Walking Tour
Walking tours are a great side hustle to make some extra cash. Not only do they allow you to showcase the sights and sounds of your city, but they also let you learn more about its history and culture — and get some exercise at the same time.
For example, Rob Pitingolo created a popular walking tour of the Washington, DC monuments. The business earns thousands of dollars a month on the side, with most customers finding him through his YouTube channel.
He creates content aimed at DC tourists, and introduces himself as a local tour guide. Smart!
If you do small group tours of 5-10 people, you could earn $250-500 for a few hours of work.
24. Start a YouTube Channel
YouTube is an exciting side hustle for men because it's both a search engine and a viral discovery engine. That means you can create content targeting specific keywords and gain viewers from the YouTube algorithm itself.
As your viewership grows, you can monetize with YouTube's built in advertising program, affiliate relationships, or your own products and services.
For example, Craig Odem, a dad and pastor in Tennessee, began creating videos about his backyard nursery. Thanks to his consistent effort and compelling content, he expects the channel to generate at least $10,000 in extra income!
25. Pallet Flipping
One of the most surprising side hustles I've come across is pallet flipping. In this business, you connect businesses that receive items on pallets with other companies that need the pallets to ship out their products.
It's a simple "middle man" operation, but can be super profitable. For example, I connected with Varnie Sambola of Baltimore who reported earning $1,000 a day as a pallet reseller.
The course Varnie mentioned is offering Side Hustle Nation readers a special discount on his course through this link.
26. Freelance Writing
Thousands of websites pay freelance writers to help create great content. If you have a knack for quick research and writing, this could be work from home side hustle worth considering.
Typical rates range from $25 to $250+ per article, depending on the topic, length, and your experience.
In this interview, James Johnson broke down how to start a freelance writing side hustle that brings in at least $1000 a month.
27. Software Consulting
Is there a software that you're a relative expert in?
One of my favorite angles is to piggyback on the popularity of a particular software tool, like Brad Rice did with Salesforce (earning over $200k a year part time!). As adoption of the software grows, so too does the demand for qualified support.
Check out this free challenge to see if a similar path is right for you:
The Best Side Hustles for Men: Your Turn
So what's the best side hustle for men? The good news is there are lots of options to choose from.
The bad news is I can't pick for you!
Now it's your turn to choose a side hustle that aligns with your interests and goals, and take the first steps.
Serious About Making Extra Money?
***************
Frequently Asked Questions
How do I make an extra $500 a month?
To earn more money fast, flipping or freelancing are your best options. If you make $50 per flip, you would only need to flip 10 items to get to your goal of $500.
How can busy dads make more money?
Flipping, real estate investing, self-publishing, and white labeling software are all less time-dependent side hustles. The work can be done when you have time, and can also be set up to run without you.
What are the most profitable side hustles?
The side hustles that are the most profitable are ones that are scalable without more time being consumed. A few examples include software consulting, building websites, or reselling products.
***************
Big thanks to Zach Larsen for helping draft this post. Zach is a small business owner, finance and investment expert, and co-founder of PineappleMoney.com. He has been featured in publications including MSN, GOBankingRates, Yahoo Finance, and Credit Sesame. He enjoys teaching others about personal finance and spending time with his family.