What are the best side hustles for women? What can moms do to make extra money?
When people ask me those questions, I'll be honest, my first reaction is … why the qualifier? There's no reason women can't run any of the businesses or side hustle ideas featured on Side Hustle Nation.
Why is this so important? For one, the wage gap is real. For every dollar a man earns, women make $0.82.
It doesn't have to be that way.
Whether you're doing research for yourself or for a loved one, know that you have the power to increase your income.
In this post, I'll share some of the amazing female entrepreneurs I've met over the years — and invite you to learn more about each of their businesses.
1. Selling Printables on Etsy
Julie Berninger started her Etsy shop, The Swag Elephant, a few years ago. She specializes in automatically-delivered digital downloads called "printables."
Her bestselling product — which has earned over $1700 — is a bachelorette party scavenger hunt. Not bad for something that took less than two hours to create!
Recently, I sat down with another mom, Rachel Jones, to learn how her printables business was earning $10,000 a month.
2. Blogging
Blogging has long-been a popular side hustle for women (and men!), but the days of treating your blog like an online diary are over.
Instead, aim to create a helpful resource for a specific audience on a specific topic. For example, Katie Emery helps women make a joyful transition from dyeing to natural gray hair.
She started her site in 2018 — long after the blogging ship had supposedly sailed. When we spoke in late 2020, she'd managed to grow it to around $6k a month in revenue.
For more on starting a blog, check out my free video course or some of the excellent case studies and success stories on Side Hustle Nation.
3. Flea Market Flipping
What's one of the fastest ways to make extra money? How about the age-old business model of "buy low, sell high."
Stacy Gallego is a master of this, earning several thousand dollars a month from her part-time product flipping business. She sources undervalued inventory nearby, and then taps into eBay's audience of 180+ million potential buyers.
Among her favorite places to source are:
Yard sales
Thrift stores
Facebook marketplace
Local buy/sell apps (like Offerup.com)
Some of her profitable flips include:
a motorcycle side car
a collectible skateboard
several Sleep Number beds!
Related: Here are some of the best items to flip for a profit.
To learn more about this business, Stacy recommended checking out Flea Market Flipper. Here's a free training they put together on how to get started.
4. Email Newsletter
Despite the rise (and fall?) of social media, email is still a juggernaut. Email is a daily communication tool for billions of people worldwide and no social channel can rival its return on investment from a marketing perspective.
One way side hustlers can take advantage of the ubiquity of email is to start a niche newsletter. Curate the best stories on a topic of interest, share your favorite tips, or teach something you know.
Newsletters like The Skimm are big businesses with relatively low overhead. (I really like the curated/commented content model!)
For Codie Sanchez, her newsletter on "contrarian" investing grew from zero to 55,000 subscribers in 8 months, and generated $50,000 in revenue.
You can even get started for free with tools like SendFox.
5. Real Estate
With an estimated 10-12 million landlords in the US, rental property investing remains one of the most popular side hustles.
For women like Elizabeth Colegrove, it became a full-time focus. When we spoke, she already had 7 houses in her empire, and was transitioning some to short-term vacation and corporate rentals to boost the income.
If your local market isn't a great investment, take a look at Arrived. The marketplace makes it easy to buy shares in cash-flowing rentals — starting with just $100.
Personally, I like the built-in diversification of a platform like Fundrise. Plus, you can get started with just $10.
I've been a Fundrise investor for years, and they've consistently paid dividends every quarter.
(Disclosure: I earn a referral fee if you sign up for Fundrise through my link. Opinions are my own.)
6. Custom Cookies
My friend Jenn Fei is a self-described "cookier." With a cottage kitchen license, she creates awesome custom cookies for a growing base of local customers.
Using Instagram as her primary marketing channel, Jenn charges $50+ per dozen cookies, and routinely sells out in minutes of a new release.
7. Virtual Assistant Service
For Abbey Ashley, starting a virtual assistant service was her way of not having to go back to a job she hated after her maternity leave was up. Within just a couple months, she'd booked enough work to replace her old income.
Virtual assistants are administrative professionals who can earn $15-50+ per hour, working from home. Common tasks include:
Email and calendar management
Social media strategy and account management
Customer support
Data entry and reporting
And lots more
To learn more about becoming a VA, check out the free video training Abbey put together. In it, you'll learn:
Where to find potential clients.
How to make a full-time income from home.
What clients are really looking for in a VA. (hint: it's not prior VA experience)
8. Bookkeeping
If you have an accounting background, or just find satisfaction in making numbers add up, a bookkeeping side hustle might be worth a look.
Virtual bookkeepers like Kate Johnson can earn $60 an hour or more. What's more interesting, is that (in US at least) there are no formal certifications required to call yourself a bookkeeper.
Still, Kate emphasized the importance of education for your own comfort level. You'll also need to be familiar with your bookkeeping software of choice.
Here's a free preview of the course she "credits" (pun intended!) with helping her get started.
9. Mobile Notary Service
Mobile notaries like Kristin Barker Stauffer walk new homebuyers through their mortgage documents. The gig requires professionalism and attention to detail, but can be quite lucrative.
Appointments typically pay $75-150, and Kristin reported earning up to $8000 a month as a part-time loan signing agent.
(And she's not alone — several other members of Side Hustle Nation are earning thousands of dollars with this side hustle.)
Check out some of the resources from Loan Signing System to learn more.
10. Sleep Consulting
Are your kids professional sleepers? Other parents are happy to pay for your secrets!
For Jayne Havens, sleep consulting turned into a $10k a month business. In our interview, she shared how she found her clients and delivered the service — all remotely.
After fielding lots of questions from other moms, she created the Center for Pediatric Sleep Management to help others get started in this business.
11. Freelance Writing
Freelance writing is a great, low-overhead side hustle. You can use skills you already have and just need one client to get started.
Free Download: 9 Ways to Make Money as a Writer
For example, Rosie Greaves took her passion for writing and began earning $50-100 per 1000 words. When we connected, she'd quit her job to pursue writing full-time.
With so many websites needing content, there's never been more demand for writers!
12. Reselling on Amazon
If you love to shop and find great deals, Amazon retail arbitrage might be worth a look. Amazon resellers like Jessica Larrew source discounted inventory from local stores, and sell it online.
With help from the Fulfillment by Amazon (FBA) program, Amazon ships the items to customers on your behalf.
Check out my full interview with Jessica to hear how she gets it done.
13. A Local Facebook Group
With over 2.9 billion Facebook users, some of those are bound to be local! That's what Melissa Fassel Dunn found when she started a group for her local Boston suburb.
She described it as a place to share information and recommend local services. When we spoke, it was an "almost" 6-figure operation, monetized mostly from sponsorships from local businesses.
14. Handcrafted Jewelry
Rhonda Newsome is a self-taught metalsmith who started making and selling jewelry and other crafty items. Her upfront investment was just $200 in materials and tools.
Relying on YouTube to learn the techniques for this money-making hobby, it wasn't long before Rhonda started going to craft shows with her mother.
At that first craft show, she made over $600, and has gone on to earn up to $1000 a day at different shows.
15. Pet Waste Removal
It's a dirty job, but somebody's got to to it!
In Michigan, Erica Krupin turned the poop-scooping chore into a thriving pet waste removal business. She relied on some savvy social media and local marketing to build a roster of 80+ recurring weekly customers.
When we first connected, she reported earning up to $50 an hour on her route! (She's since hired some reliable "scoopers" to help out, and even expanded to a new location.)
16. Delivery Gigs
These app-powered side hustles are popular with both women and men, and are pretty easy to get started with. Requirements typically include:
Reliable transportation (car, bike, electric scooter, etc.)
Being 18 or older
A background check
Once onboarded, you'll be picking up and delivering take-out orders or groceries. Earning power is typically in the $14-25 per hour range, and you can set your own schedule.
Here are a few delivery apps to consider:
17. Sell an Online Course
Kelly Snyder "teaches women how to get dressed in the morning." (Or at least, that's how she introduced herself and her work at AdoreYourWardrobe.com.)
Her flagship product is a paid online course, and she used free Facebook challenges to grow the business. Revenue-wise, she reported earning "multiple 6-figures" in under two years.
To find out what you could teach, think of what people already ask you for help with? What are you a relative expert in?
18. Consumer Research
Participating in online focus groups or paid research panels is a fun and interesting way to make extra cash. After all, market research is a $20 billion market!
My two favorite services that facilitate these types of studies are User Interviews and Respondent. When you sign up, they'll ask for your profession and job title, since some of the highest-paying studies target employees in specific roles.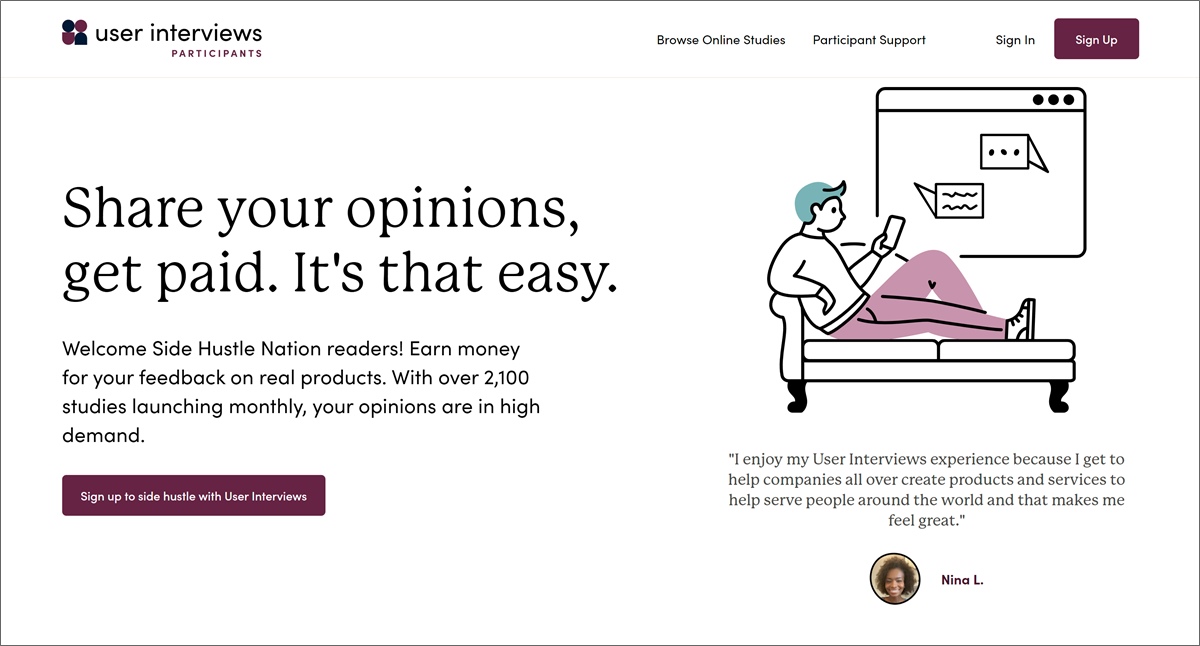 When I scroll through, most studies seem to pay in the range of $50-200 an hour. 
Note: If it matters to you, most User Interviews studies pay via Amazon gift card instead of cash. Here's my full review for more.
19. Survey Apps
While these options don't pay nearly as well as the more specialized paid research study options above, they are a viable way to make a few extra bucks in your spare time.
Here are some of our top choices.
20. FlexJobs
With over 50 career categories, FlexJobs is the leading work from home jobs site. You'll find jobs ranging from entry-level to executive and freelance to full-time.
FlexJobs charges a nominal monthly fee to access their listings, but you'll easily earn that back and then some with one job.
21. Consulting
Sylvia Inks knew she wanted to run her own business, but wasn't quite sure what path to take. "You're great with finances, and have great research skills," her friends told her.
Armed with that feedback, Sylvia started a small business financial consulting practice. She mostly targets customers locally by speaking at local events and showcasing her expertise.
One benefit of that strategy is what call the "Triple Dip":
She can get paid to speak
Audience members or event organizers buy copies of her book
Attendees often end up hiring her for consulting afterward
22. Local Experiences
Could you host a local food tour or nature walk? Michele Mattix had been teaching guided meditation for a while, but Airbnb Experiences helped her reach a huge new audience.
When travelers book a stay a Sedona Airbnb, the site suggests some local "experiences" to enhance their stay. Among those is Michele's. When we spoke, Michele had hosted hundreds of guests — at $49 apiece!
23. After School Programs
May Najafabadi earned $12,000 in 8 weeks — working just 1 hour a day. Her series of after school enrichment classes teaching crafts and jewelry making were a hit with both kids and parents!
May explained there was a bit of a process to get on the school's list of approved vendors, but this could be a great business to explore your creativity and work with kids on a very part-time basis.
24. Teaching on Outschool
The fast-growing Outschool platform allows you to set up both live group classes and pre-recorded classes for students age 5-18.
Jade Weatherington of Atlanta is one of the top teachers on Outschool, and reported earning $10,000 a month on a part-time schedule. She specializes in English writing, but there are classes in a wide variety of academic and extra-curricular topics.
25. Mystery Shopping / Field Agent
When I'm out running errands, I make a point to check the free Field Agent app to see if there are any quick "missions" I can tackle on my route.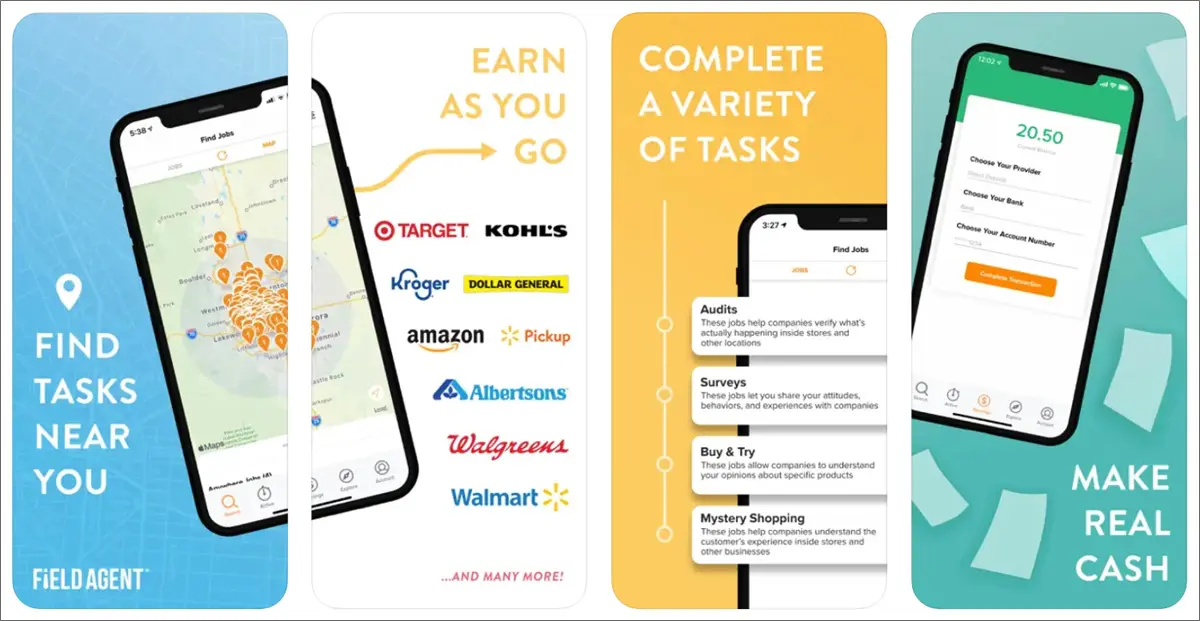 The app matches you with quick product audit and mystery shopping jobs that generally pay between $3-12 each. It won't make you rich, but is a fun and interesting way to get paid and test new products.
26. Website Investing
If you have an understanding of online marketing, buying a website that already has traffic and cash flow can be a quick way to make extra money.
In fact, for Stacy Caprio, this was her fast-track to financial independence. Instead of investing in traditional assets and waiting 30+ years for retirement, Stacy figured she could "buy" enough cash flow in the form of online businesses to escape the rat race — at a much lower cost.
Do your due diligence — this model involves risk, maintenance, and upfront investment. But when established sites that earn $12,000 a year cost just $24,000-48,000 to buy, you can see how that might make an interesting and attractive path.
27. YouTube Host
There's no denying the popularity of YouTube. The video site is the world's 2nd biggest search engine, which spells big opportunity for female content creators.
Among the women and moms turning YouTube into an income stream is Meredith Marsh. Her videos have been viewed over 7 million times!
The self-described introvert earns money from advertising, affiliate recommendations, and her own products.
28. Teaching Online
Another popular side hustle for women (and men too) is teaching online. For actress Anna Williford, online teaching was a great way to earn extra cash in her spare time.
With companies like BookNook, you'll connect with kids in kindergarten through 8th grade to help with reading and math. The pay rate is $15-22 per hour, plus bonus opportunities.
29. Get Paid to Go On Dates
I couldn't resist throwing this one in. The dating site What's Your Price lets you "get reimbursed for the time and effort it takes to prepare for a date."
It's free for women to join, and the average first date incentive is $125 — paid for by the guy.
The Best Side Hustles for Women: Your Turn
Which of these side hustle ideas appeals the most to you? Hopefully this list sparked some inspiration.
Any ideas I missed? Let me know in the comments below!
Looking for More Side Hustle Help?
Frequently Asked Questions
How do I make an extra $1000 a month?
To make money quickly, freelancing or flipping products are your best bet. If you get one or two clients at $25 an hour, you only need to work an extra 10 hours a week to find that extra $1000 a month.
What are the most profitable side hustles?
The most profitable side hustles are ones that scale without directly involving your time. In most cases, that means something like selling a digital product like a course or printable, or making money from YouTube views or advertisements on a blog.
How can busy moms make more money?
Freelance writing, virtual assistance, graphic design, creating digital products, and participating in focus groups are all viable ways moms can make more money. Check out the full list on Side Hustle Nation for more.