Is the Pogo app worth installing? Pogo pays you to share your location and purchase data, but it won't make you rich.
It took me a year to earn $5!
In this review, I'll share:
How Pogo works
How to maximize your earnings
Some better-paying alternatives to consider
Founded in 2020, Pogo has raised $14.8M to fund their mission of "making you more money by unlocking the power of your data."
Does the app deliver? Read on to find out.
Sign-Up Process

Ease of Use

Earning Power
Pogo App Summary
Pogo is on a mission to "make you more money by unlocking the power of your data." But even though the free app does pay you, the rewards might not justify sharing your real-time location and purchase history.
How Pogo Works
Pogo is a unique way to get paid for your data with very little effort. At press time, the app was rated 4.9-stars on the App Store from over 42,500 reviews.
The company pays you to share your:
Location
Purchases
Opinions (through surveys in the app)
Once you create your account, turn on location sharing, and securely connect your banking details, you'll begin to earn Pogo points.
Those points are redeemable for cash (via Venmo or PayPal) or gift cards. Every 1,000 points is worth $1.
New users get a 300 point ($0.30) sign-up bonus when you join.
Is Pogo Legit?
Yes, Pogo is a legit money making app. You can cash out to Venmo or PayPal as soon as you've earned 3,000 points ($3). When I requested a payout, it hit my Venmo account right away.
You can also cash out to an Amazon gift card or prepaid Visa gift card.
How to Make Money with Pogo
The Pogo app gives you several different ways to earn points.
Share Your Location Data
First, you'll want to enable location sharing. Doing so unlocks your ability to earn location-based rewards as you move around town.
These notifications are honestly a bit distracting — since I'm usually driving when they buzz in my pocket — but are typically worth 70 points ($0.07) each.
What stores participate? I've earned location rewards from:
Safeway
Costco
Fred Meyer, QFC, and other Kroger brands
Home Depot
For example, here's what the Pogo notification looked like when I drove past Home Depot.
When you click on the notification, a brief ad displays for the store you're nearby, and then the points get added to your account.
Important Note: You don't need to go into the store to earn the points.
Link Credit Cards
Another easy way to rack up Pogo points is to link your credit card(s). Then, just spend as you normally would, and Pogo pulls in your transactions and gives you points for them.
Does sharing banking details with an app make you nervous? The good news here is that Pogo uses Plaid for this — the gold standard in securely sharing banking information.
After you do that, you'll start to see a feed of your purchases in the app. Hit the "claim" button next to each to add those bonus points to your account.
It's not totally passive, but is really fast to do. Most purchases are worth between 2 and 20 points.
If you have 30 transactions a month, and they're worth 10 points apiece on average, that's an extra 300 points ($0.30 per month). Not a lot, but can add up.
Link Your Email Inbox
Pogo will pay you 10 points per week to let them read all your emails. Specifically, they're looking for your shopping receipts so they can present money-saving offers.
But for roughly $0.52 a year that's probably not worth it.
In-App Offers
As Pogo learns more about you, the app will start to present you with semi-relevant offers to save money.
For example, Pogo suggests I:
Switch to credit cards with no annual fee
Get a lower rate on car insurance
Refinance my auto loan (I don't have a car loan)
Consolidate my debt (I don't have any, aside from the mortgage)
These actions don't necessarily earn you Pogo points, put could potentially save you a lot more money than what the Pogo points are worth anyway, so might be worth looking into.
Online Boosts
Pogo offers users additional cash back when you shop online through their specific referral links. This ranges from 0.3% to 9.6% extra, depending on the store.
This works similar to Rakuten, the long-running cash back portal, that essentially splits its affiliate commission with customers.
In this case, Walmart may pay Pogo 4% for sending traffic to their store. In turn, they'll pass 2.6% on to you, and keep 1.4% for themselves.
At press time, only a few online stores were available, including:
Walmart
Groupon
Best Buy
Macy's
Gamestop
Overstock
Dick's Sporting Goods
Ace Hardware
In contrast, Rakuten works at thousands of stores.
Paid Surveys
If you scroll down on your Pogo home screen, you'll see an option for Paid Surveys. This is an easy way to add Pogo points to your account in your spare time.
Thankfully, the app gives you an estimate of how long each will take — and how many points you'll earn — before you get started.
Be on the lookout for the ones with the best reward-to-time-required ratio, because they can vary quite a bit.
For example, in my app, I see options to earn:
6,500 points in 17 minutes — the equivalent of $22.94 an hour
1,700 points in 5 minutes — $20.40 an hour
2,100 points in 10 minutes — $12.60 an hour
210 points in 4 minutes — $3.15 an hour
You'll have to answer a few short screener questions before the paid portion of the survey starts. Unfortunately, I didn't qualify for any $20+/hour ones I tried.
Refer Friends
You can earn 250 points ($0.25) for every friend you refer to the Pogo app. (They'll also get a 250 point bonus when they sign up.)
Referral bonuses are deposited after your friend links their card and earns at least 3,000 points.
Combine with Other Cash Back Apps
One good thing about Pogo is that it easily "stacks" with other cash back apps and programs.
For example, here are some other apps you can "double dip" with Pogo to make a little more:
Fetch Rewards – Scan receipts with this app to earn rewards and cash in for free Amazon gift cards (or other stores).
Ibotta – Check your grocery receipts for special cash back offers. I've gotten as much as $5 back on single items so it pays to check!
Upside – Upside offers up to $0.25 per gallon cash back at partnered gas stations and up to 35% back on grocery purchases at participating stores. Get a 25¢/gallon bonus on your first fill-up with promo code SHN25.
Dosh – Dosh gives you cash back when you shop, dine, or book hotels through the app. You don't need to present coupons or scan receipts.
Especially when it comes to my credit card spending, I look at Pogo as a little extra cash back on top of the credit card rewards I'm already earning.
How Much Can You Make with the Pogo App?
I installed Pogo in January 2022 and slowly began accumulating points. I cashed $5 out to Venmo after about a year, but if you travel more or buy more stuff, you can earn more points faster.
It's free money, so I can't complain, but it doesn't seem like much in exchange for their tracking my location 24/7.
Thankfully the sign-up process is super simple and the app mostly runs on autopilot.
Is it worth it? That's up to you!
Every dollar counts, and Pogo is a pretty easy way to offset some small expenses.
How Does Pogo Make Money?
With all the different ways Pogo pays you, you might be wondering how Pogo makes money itself. Rest assured, this is a for-profit company!
Pogo makes money in at least 3 different ways:
Data Brokering — Pogo sells your "anonymized, aggregated data" to other companies.
Advertising Relationships — Pogo partners with retailers to serve relevant, targeted ads when you're nearby.
Affiliate Partnerships — Pogo earns commissions when you switch to one of their recommended insurance or banking providers.
Pogo App Alternatives
The Pogo app alone won't make you a ton of money, but there are some alternatives to consider — both in the "data sharing" category and outside of it.
Caden (iOS)
Caden is one of my newest finds.
And where I've been earning around $0.41 a month with Pogo, I'm closer to $10 a month with Caden — sharing a similar set of data.
The app itself is a little slow and buggy, but may be worth those small headaches for dramatically better earning power.
At press time, it was iOS only. Check out our full Caden app review to learn more.
Nielsen Computer & Mobile Panel
Nielsen is one of several companies that will pay you to just to install their apps and run in the background on your computer, smartphone, and tablet.
As Nielsen tracks your Internet usage, you earn points — worth up to $60 per year.
Users can redeem points for gift cards or cash out via PayPal.
Remote Market Research Studies
Many companies conduct market research to get feedback on new products — and a lot of this research is done online.
User Interviews and Respondent.io are a pair of cool services that facilitate those interviews online and over the phone.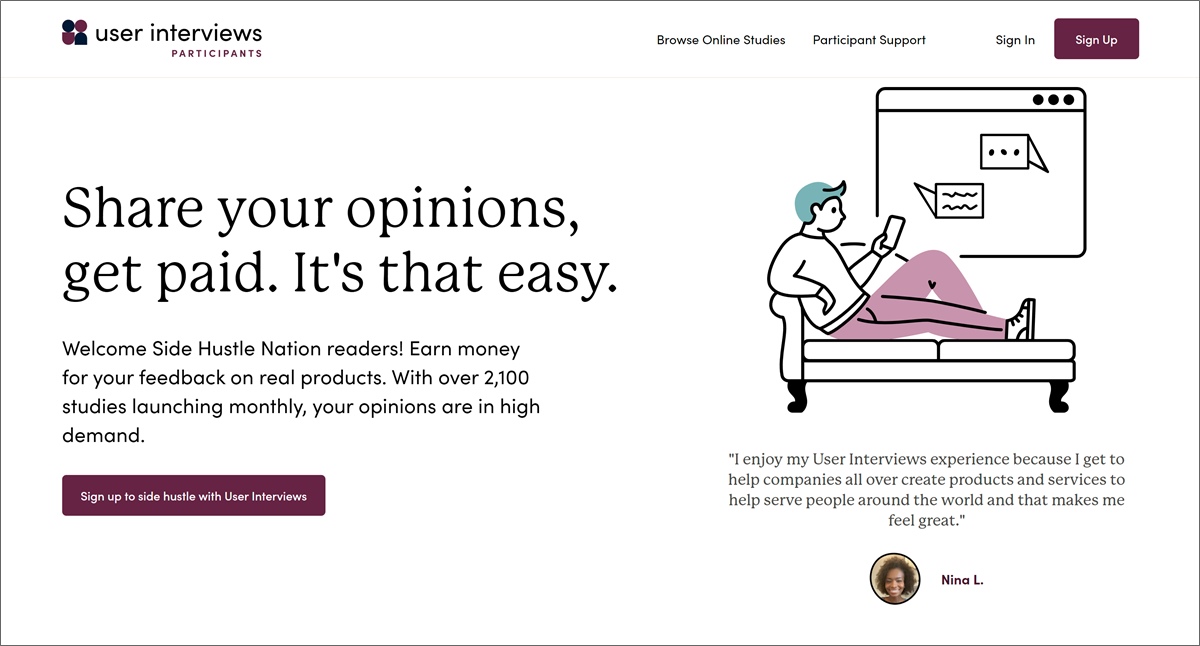 The best part? The average compensation is $50-150 an hour!
Here are some other companies that facilitate focus groups and paid research studies.
Serious About Making Extra Money?