Is there really such thing as free money? Well, it depends on what you consider "free."
Over the past few years, I've discovered a bunch of ways to make extra money with very little effort.
We'll call it "almost free" money.
Now I want to be upfront. Individually, these ideas won't make you a ton of extra cash, but when you combine several of them, the results can start to add up.
Here are a few ways to get some free money for yourself today.
Too Many Choices?
Start here instead. Punch in your name and email below I'll show you step-by-step how to add $500 to your bottom line.
Join the Free 5-Day $500 Challenge
You'll also receive my best side hustle tips and weekly-ish newsletter. Opt-out anytime.
1. Survey Websites and Apps: Up to $140/Hour
Don't expect to earn an amazing hourly rate with most survey sites, but you can earn gift cards, cash, and other rewards by answering surveys, watching videos, playing games, and shopping online with several reputable apps and services.
I hesitated to include them on this list because you do have to do a little work to earn the money, but the work isn't usually very hard.
User Interviews
User Interviews is a great resource for connecting with online consumer research studies. So far, I've made $105 in about an hour and a half, and typical rates range from $50-200 an hour.
For more, here's my full User Interviews review.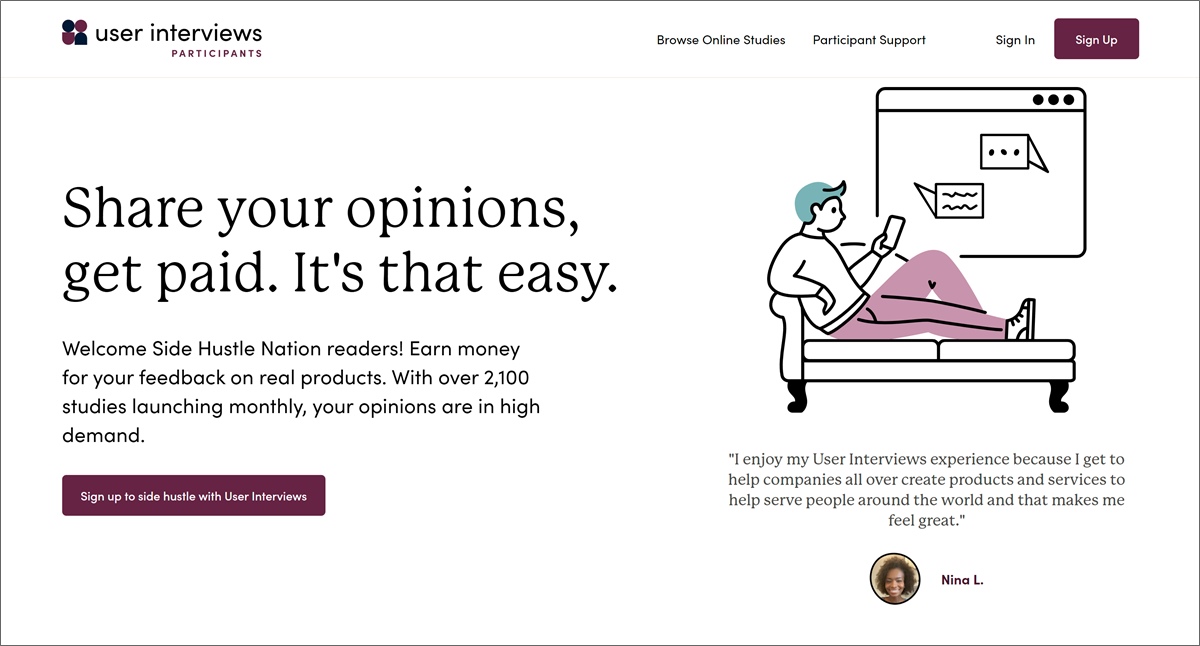 Respondent
Respondent facilitates high-paying consumer and professional interviews and remote focus groups. According to the site, the average payout is $140 an hour.
Other Online Survey Options
Related: Paid Research Companies that Pay Up to $100 an Hour for Your Opinion
2. Max Out Your Company's 401(k) Match: $1000+ Per Year
Your employer's 401(k) matching program is probably the single best source of free money in existence.
How this works is your company adds money to your retirement account when you contribute. Most companies offer some sort of retirement plan matching, with the most common structure being 50% of every dollar, up to 6% of your salary.
That means if you make $50,000 a year, and contribute 6% of your salary to your 401(k) — $3000 a year — your employer would add an extra $1500 on top of that for free!
It's a deal that's tough to beat … but doesn't really help you if you need money quickly. For faster options, read on.
3. Get Free Money From the Government
Is it really free money if they're just giving you some of your own tax dollars back? Jokes aside, check out what programs might be available at Benefits.gov.
Even if there isn't another stimulus check coming, I found over 100 other federal, state, and local financial assistance programs.
And if you run a business or organization of any kind, you owe it to yourself to become familiar with Grants.gov. This is the official database of government grants (free money!) you can apply for.
Down Payment Assistance
Several state and federal programs offer down payment loans — and sometimes even grants — to prospective homebuyers.
If you're in the market, it definitely makes sense to see what programs might be available in your state.
Childcare Assistance
As someone who's paid over $2,000 a month for childcare, I know firsthand kids are expensive!
Thankfully, the government has a number of income-based assistance programs to help offset the cost of childcare. Drill down to your city and state to see what may be available.
4. Switch Banks: Up to $500
According to Bankrate, switching banks could pad your account with an extra $50-500!
Why do they give you free money just to move your money around?
Because they know switching banks is a pain! And once you do, you're likely to be a customer for a while.
Just make sure to check the fine print to make sure you can meet the minimum deposit and monthly balance requirements.
5. Find Missing Money
Did you know there is over $42 billion in unclaimed funds in the United States? This is according to the National Association of Unclaimed Property Administrators (NAUPA).
Search databases at sites like Unclaimed.org and MissingMoney.com to see if you're owed any unclaimed money.
Totally random, but I found $35 in Nevada from an older company of mine!
6. Check Gift Card Balances
If you have unused gift cards lying around, those could be another source of free "found money." It's always nice to score a free meal from a gift card you forgot you had.
And if you don't want to redeem it, you can try and sell it on eBay or through a gift card marketplace like Raise.
7. Check Your Current Rewards Balances
Many programs, including Capital One and Chase, let you redeem your points for gift cards or cash. For me, this is the virtual equivalent of finding money in the couch.
For example, Chase Ultimate Rewards now ties directly in to your Amazon account, where you can use them to pay for new purchases.
The redemption values often aren't as strong as they would be when exchanged for travel, but can be a great way to offset more pressing expenses.
8. Refinance Your Debt: $200+ Per Month
Interest rates are still historically low, so may be able to consolidate or refinance your existing debt.
Credible is a great resource to shop for student loan refinancing options, while LendingTree may be worth a look for your mortgage rate options.
If you can score a lower interest rate and reduce your payments, that adds cash to your bottom line every month.
9. Get Free Stock: Up to $225
Robinhood is an online brokerage that gives new customers a free stock when you sign up.
It's a random draw—not your choice. I got Groupon (worth about $16 at that time, but up to $24 since), but apparently Microsoft, VISA, and Johnson & Johnson are options.
10. Credit Card Rewards: $200 in 3 Months
This is by far my favorite way of earning free money. By taking advantage of the various sign-up bonuses doled out by banks, my wife and I thousands of dollars in free money and travel over the last few years.
(Please just promise to do this responsibly and don't spend money you don't have on crap you don't need.)
What's the easiest way to get started? Try a new cash back card on for size.
Credit cards like the Capital One Quicksilver Card offer a $200 sign-up bonus after you spend $500 in your first 3 months — with no annual fee. That's up to 40% cash back!
Learn more and compare this card to other cash back cards here.
If you know you're gonna spend $500 in the next 3 months, that's #freemoney. This card also gives you one of the highest cash back rates, with unlimited 1.5% back on every dollar you spend.
(If you're worried about your credit score, don't be. I've opened probably a dozen credit card accounts in the last few years and still have a 750+ credit score.)
The Next Step: Check out my free course, Credit Card Rewards 101: How to Earn Free Cash and Travel by Spending Smarter
11. Get Free Money for Using the Internet: Up to $350/Year
Surprisingly, there are a few companies that will pay you to just to install their apps and run in the background on your devices. These are low-maintenance, low-overhead options to earn from what you're already doing.
Nielsen Computer & Mobile Panel
Nielsen — the company that's been reporting TV viewership data for decades — will reward you for sharing your Internet usage behaviors. All you have to do is download the app to your devices.
As they track your usage you'll earn up to $50 per year.
The app runs in the background and doesn't slow down your phone or computer.
MobileXpression
MobileXpression is a market research panel that pays you in exchange for data from your mobile phone.
Download their app and allow it to work in the background recording your browsing habits while on your phone. You'll earn weekly credits redeemable for gift cards to popular retailers.
Get a free $5 Amazon gift card after your first week (if you're in the US).
Pogo (iOS)
The free Pogo app is one of my latest finds. You'll earn points by linking your bank and credit card details and sharing your location data.
Based on my results so far, I expect Pogo to be worth around $10-20 a year. You can cash out to PayPal or Venmo.
SavvyConnect
The SavvyConnect VIP program "uses safe, cutting-edge technology to collect data as you surf the web."
In exchange, they'll pay you for your data — up to $5 a month per device.
That means when you connect your smartphone, tablet, and desktop/laptop, you can earn $15 a month or $180 a year.
Permission Research (Desktop)
Permission Research will send you a $10 Visa gift card after you install their software and keep it on your Windows computer for a week.
Safety in numbers: More than 2 million users share their computer usage and browsing habits through this service.
Tapestri
Tapestri is an app that pays you to share your anonymous location data. Depending on how much you move around town, you'll earn $1-5 per month on autopilot.
12. Cut Your Insurance Cost: $489+ Per Year
Want to know the dirty secret of the car insurance industry?
Here it is: your cars are worth less every year due to depreciation, but you keep paying the same amount!
Check out Insurify for a quick and painless quote process to find the best rates on car and home insurance. It'll take just a few minutes (you can even do it on your phone) and users save an average of $489 per year!
Next, create a free account with Marble.
This is the first and only "rewards program" for insurance. Marble lets you sync your home, renters, auto, and pet policies in one dashboard, and then pays you up to 5% cash back on your premiums.
Since you have to have many of these coverages already, getting paid for them is like getting free money.
13. Sell Your Excess Bandwidth: Up to $30 a Month
I've seen a lot of buzz lately around a new app called Honeygain. According to the site, you can earn up to $30 a month when you share 10 GB a day of "your unused net traffic with data scientists."
Just install the app (available on Windows, MacOS, and Android), connect it to the Internet, and earn rewards passively. On average, it takes users 48 days to reach $20.
Before you get started though, make sure you're truly on an unlimited plan as it sounds like this could chew through a lot of bandwidth in hurry!
14. Get Paid to Store Other People's Stuff: Up to $10,000 a Year
The Neighbor self-storage platform connects people with storage needs with those who have extra space. If you've got some excess storage capacity in your garage or elsewhere, list your space here to fill it and get paid.
According to the site, hosts are earning up to $10,000 a year running their own mini self-storage operations.
15. Tap Into Your Home Equity
Since refinancing isn't for everyone, there's another way to turn your home equity into cash quickly. If you're comfortable assigning a portion of your ownership stake over to Hometap*, you can get cash upfront without any new loans.
*Currently available to homeowners in Arizona, California, Florida, Maryland, Massachusetts, Michigan, Minnesota, New Jersey, New York, North Carolina, Ohio, Oregon, Pennsylvania, Virginia, and Washington.
How it works is Hometap becomes an "investor" in your property, buying a stake today in exchange for the future value. You have 10 years to buy back their share, either with cash savings, proceeds when you sell the property, or through another bank loan.
Too Many Choices?
Start here instead. Punch in your name and email below I'll show you step-by-step how to add $500 to your bottom line.
Join the Free 5-Day $500 Challenge
You'll also receive my best side hustle tips and weekly-ish newsletter. Opt-out anytime.
16. Get Free Cash Back: $150+ Per Year
Fetch Rewards
Just snap a photo of your grocery receipt with the Fetch Rewards app and earn points for every item you purchase from the 250+ popular brands in the app.
I've been cashing in my points for free Amazon gift cards, but lots of other options are available as well.
Ibotta
Download the free Ibotta grocery savings app and start earning cash back on the shopping you're already doing. Use the app to find offers and claim them by snapping a picture of your receipt.
Inside my actual account:
You can cash out your savings to PayPal, your bank account, or a gift card once you hit the $20 minimum.
Ibotta Savers who use the app every month earn over $130 a year! I'll take it.
Rakuten (formerly Ebates)
If you shop online, consider doing it through Rakuten. The long-running site offers cash back at thousands of stores, including, Target, eBay, Walmart, Nike, Overstock, and more.
The average cashback offer is roughly 5%—not necessarily a huge saving, but it adds up, especially if you're shopping online anyway.
I used the site to get $165 back on my new laptop from Dell, and  love getting my "Big Fat Checks" every few months.
Sign up through my referral link for a $10 bonus.
Dosh
Dosh is a cool app that allows you to earn extra 1-10% cash back for purchases you make at many retailers and restaurants. For example, here are the offers I found nearby:
How this one works is you just download the app and connect your card. Then, shop as you normally would and then earn money by shopping at stores and restaurants you may already frequent.
Once you hit $20, you can withdraw your earnings to a bank account, PayPal, Venmo, or donate it to a charity.
17. Negotiate Your Bills: Up to $300 a Year
Call up your TV, Internet, or mobile service provider and see if they have a better rate plan for you. I find doing this with Comcast every couple years nets quite a bit of cash back to our bottom line.
If the prospect of negotiating is intimidating, services like Rocket Money will do it on your behalf. You only have to pay them a portion of your savings if they're successful.
Rocket Money also analyzes your spending history and can help you cancel forgotten subscriptions and recurring charges.
18. Earn More Interest: Up to 6.89%
If you have cash sitting around in checking or savings accounts, you're losing purchasing power to inflation.
Where can you earn more interest? My top pick at the moment are US Treasury I Bonds, which currently pay 6.89%. The process to buy these savings bonds is a little clunky (it's the government—is anyone shocked?), but the headache may be worthwhile to protect against inflation.
Individuals can buy up to $10,000 worth of these each calendar year. You can cash them in after 12 months, but forfeit 3 months of interest if you don't hold them for at least 5 years.
19. Get Paid to Get in Shape: Up to $10,000
Interestingly enough, there are companies that will pay you to lose weight and get in shape. If this is a goal of yours anyway, these options might make sense!
HealthyWage
HealthyWage is an interesting concept that allows you to win money (up to $10,000!) by betting on your own weight loss goals.
Check out their little betting tool to see how much you could win, and read our full HealthyWage review to learn more.
The downside is you have to put up the money first, and then win it back plus your prize when you reach your goal weight.
Miles
The new Miles app gives you "frequent flyer miles" for all the travel you do, whether walking, biking, driving, riding, or flying.
As the app tracks your location in the background, you'll earn free points that can be redeemed for gift cards. This one may be best for heavy commuters, cyclists, and runners/walkers — it takes 5,000-10,000 miles to earn a $1 Amazon gift card.
Still, every dollar counts and after you install Miles, you don't have to do anything to rack up your miles.
At press time, you can get 1500 bonus miles when you join through my referral link.
Evidation
Evidation is an app that pays you to walk. You can earn money by tracking steps, sleeping, logging meals, completing surveys, and more.
The app syncs with others fitness trackers you might already be using, like:
Apple Health
Samsung Health
Fitbit
Strava
MyFitnessPal
Garmin
Every 10,000 points is worth $10, and you can cash out via PayPal or directly to a bank account.
20. Put Ads on Your Phone: Up to $36/Year
Download the S'more app (Android only) to "rent out" your cell phone lock screen to advertisers.
That sounds obnoxious to me, but the app pays $0.10 per day for every day you unlock your phone at least once. You can swipe to unlock your phone normally and ignore the offer.
That adds up to around $3 a month for not a lot of effort. Just make sure to cash out your points before they expire.
21. Clinical Trials
Also not exactly free money, but you can use websites like CenterWatch.com and ClinicalTrials.gov to find paid clinical trials in your area.
Be sure to check the requirements before applying. The money you can earn depends on the type of trials available.
22. Donate Plasma: Up to $300 a Month
A friend of mine reported earning up to $300 a month donating plasma when she was in college. This can be a time-consuming process, but can help save lives.
23. Get Free Stuff: $20+
Free stuff isn't quite as good as free money, but if you were gonna have to buy it anyway, it's pretty close!
RebateKey
When I first heard about RebateKey from a Side Hustle Show guest, I was pretty skeptical.
How it works is companies offer to refund a portion of your purchase on certain products — up to 100% — when you buy through RebateKey.
What's in it for them, I wondered?
Well, they're building sales proof, gathering user feedback, and collecting emails. I tested it out and sure enough, a month later, I had a check for the full amount of my $21.95 purchase.
Pretty crazy, but definitely worth checking out to see if they have any products you're in the market for.
Craigslist
If you've ever looked at the "Free" section on Craigslist you know that sometimes people give away valuable items. I completely understand because there are times when we're trying to get rid of our old junk and just don't have the energy to try and sell it.
One way to make some major money is to pick up free items and then flip them for a profit. Popular items include electronics, small appliances, bikes, furniture, scrap metal, and more.
The Next Level: Check out this free training a couple friends of mine put together on how to multiply money quickly.
Collect Cans
My sons and I have made a habit of collecting aluminum cans while we're out on our bike rides and walks around the neighborhood. This had the added bonuses of cleaning up the environment and feeling a bit like a treasure hunt.
After a couple months of very sporadic effort, we took our loot to the local recycling center and earned $5.45. The kids were thrilled!
Could you set up an arrangement with your neighbors to come by on garbage night and grab their cans? Or hit up the local sports fields to see what you could find left behind? Another gentleman waiting in line at the recycling center had two giant garbage cans filled!
24. Get Money for Your Junk Mail? $50+ Per Year
The Small Business Knowledge Center pays people to send them their junk mail. What they do with it, I'm not entirely sure, but participants earn as much as $20 (in a gift card) every couple months.
The company provides postage-paid envelopes and it sounds like an interesting way to get rid of your junk mail instead of just recycling it!
25. Declutter Your House: $500 or More
Again, these aren't really "free" since you're getting rid of some items around the house. But if the stuff is just sitting around collecting dust, it can be an easy win.
Suggested Playlist: Flipping Profits
Buying low and selling high is the fastest way to multiply money. Here's how to get it done.
Bookscouter
Do you have books lying around your house gathering dust? If so, you can sell them using Bookscouter.
Find out how much your old books are worth and use the free app to search buyback vendors to get the best deal. The best part is that you can ship your books for free!
One Side Hustle Show guest took this to the next level, and reported earning up to $4000 a month flipping books.
Backflip
If you have old Apple devices collecting dust at home, why not sell through Backflip? They pay "50% more" than competing services for used smartphones and other electronics.
When you register and sell through the link above, you'll also get a 10% bonus. That means, if you sell an old iPhone for $100, you'll get $110.
Decluttr
If you're like me, you probably have some items to sell on eBay, but hate how long it takes to list them all individually.
With Decluttr, you simply scan items you are selling, let Decluttr give you a price, and then ship everything in one box. Not only is this convenient, but Decluttr also pays for shipping.
(The convenience comes at a price; you'd get way more selling the stuff directly yourself.)
26. Get Free Bitcoin: $10+
The popular Coinbase crypto exchange will give you $10 in free Bitcoin when you buy $100 or more.
27. Get Free Money with Your Car: $100+ Per Week
Your car is probably a giant depreciating purchase. Between car notes, insurance, and gas, vehicles are expensive.
Here are a couple innovative ways to offset those costs.
Wrapify: Turn your ride into a mobile billboard
If you don't care what your car looks like, sign up to have your car covered with a wrapped advertisement with Wrapify.
The money you earn with Wrapify is based on how far you drive so commuters in popular areas can earn $100 a week.
Download the app and as you drive, Wrapify tracks your mileage.
Lyft's Destination Mode
Now shuttling your neighbors around as a Lyft driver is anything but free money, but one cool "hack" is a feature called "Destination Mode." A Side Hustle Nation community member pointed this out to me at a meetup, saying it basically makes his regular commute free.
Destination mode lets you specify where you're headed and Lyft will only match you with ride requests along your route.
28. Review Products and Websites: $5-60 Per Test
UserTesting
If you spend a lot of time online or on your phone, UserTesting gives you an opportunity to get paid for doing just that. UserTesting pays people to test websites and apps.
You can make as much as $60 per test if you qualify, though the standard payout is $10 via PayPal for every 20-minute video you complete.
Intellizoom
Become a tester through Intellizoom and make money reviewing websites and products from various companies. Sign up and you'll receive an email any time there is a test available.
Audio and video studies pay an average of $10, while shorter surveys pay $2 apiece.
Make Money Today
With all of the ways to make some "free" or "almost free" money listed above, I'm positive there are a few ways that stuck out as possibilities for you.
Check them out and see if they work for you! Some of them are more labor intensive than others, but for the most part, you won't have to do too much to start earning money today!
Too Many Choices?
Start here instead. Punch in your name and email below I'll show you step-by-step how to add $500 to your bottom line.
Join the Free 5-Day $500 Challenge
You'll also receive my best side hustle tips and weekly-ish newsletter. Opt-out anytime.
Serious About Making Extra Money?
Frequently Asked Questions
Is there such a thing as free money?
It depends on what you consider "free." Money is almost always an exchange for value. But over the past few years, I've discovered a bunch of ways to make extra money with very little effort.
How can I get free money now?
Some of the more interesting ways to earn free money include installing certain apps, advertising on your car, finding unclaimed money, reviewing websites, and even getting free stock.
How can I make money right now?
The fastest ways to make money are to sell something you already own, or offer some freelance service. In either case, you have no upfront expenses and can get paid today.
Pin it for later:
*********
Stock photo by Malochka Mikalai via Shutterstock
*********
Note: Comments are not provided or commissioned by the bank advertiser. Comments have not been reviewed, approved or otherwise endorsed by the bank advertiser. It is not the bank advertiser's responsibility to ensure all posts and/or questions are answered.