Can you really get paid to walk?
Walking is one of those things we do every day but rarely think about. In fact, according to the Mayo Clinic, the average American walks about 1.5 to 2 miles a day, which equates to about 3,000 to 4,000 steps a day.
And in true side hustle fashion, it turns out there lots of ways to monetize those steps and make money walking.
Whether you're already an active walker, a Fitbit addict, or looking to start a new walking habit (and get paid for it!), this post is for you.
Getting Paid to Walk: How Does it Work?
There are two main methods to incorporate paid walking into your daily routine:
Activity-related apps that reimburse you based on your steps taken.
As part of a job performing specific tasks.
For example, you could walk to work or hit the gym more often to add more steps to your daily count. Besides improving your activity level, your goal here would be to increase your daily steps as much as possible to maximize your earnings.
On the other hand, you could start a side gig or get a job where walking is a main component of how you complete your work duties. In this instance, your main goal isn't to increase your steps but to finish your work-related tasks. It just happens that walking is part of the work.
Let's discuss the options so you get a full picture of what getting paid to walk could look like for you!
Want $500?
Join the Free 5-Day $500 Challenge. I'll show you step-by-step how to add $500 to your bottom line.
Make Money Walking: My Top 10 Ideas
I put together my 10 favorite ideas from this post into this quick video. Enjoy!
Apps that Pay You to Walk
If you're looking to boost your activity level, then you can hook into a smartphone app to get paid for the steps you take. Walk more, earn more.
However, that payment isn't always in money—but goods or services instead. And some popular apps like Sweatcoin don't actually have anything of value you can cash in your coins for.
Still, if you can earn something for an activity you're already doing, so why not? Seems like a no-brainer to me!
Since these all run in the background, it might make sense to install a few to see if you can "double dip" on your walks.
1. CashWalk
The free CashWalk app uses the pedometer function on your phone to track your steps throughout the day.
Those steps convert into CashWalk coins — up to 100 a day — which can then be redeemed for gift cards to Amazon and other stores. For power users and serious walkers, that translates into $5 every 3-4 weeks.
The only drawback is you have to open the app every day to claim your coins. (That's how they get you to look at the ads that pay for your gift cards!)
Get 100 coins as a sign-up bonus w/ referral code XB7uK.
Check out our full Cashwalk review to learn more.
2. Miles
The new Miles app gives you "frequent flyer miles" for all the travel you do, whether walking, biking, driving, riding, or flying.
By letting the app track your location, you'll earn free points that can be redeemed for gift cards. This one may be best for heavy commuters though — it takes 5,000-10,000 miles to earn a $1 Amazon gift card.
Still, every dollar counts and the app just runs in the background. After you install it, you don't have to do anything to rack up your miles.
At press time, you can get 1,500 bonus miles when you join through my referral link.
Check out our full Miles app review to learn more.
3. StepBet
StepBet takes advantage of gamification to inspire its users to increase their activity. If you're competitive and like to challenge yourself, this app is a winner!
A friend of mine reported earning around $150 a year with StepBet.
How it works is you choose a game to accomplish your step goals. Then, you bet on yourself to meet those goals. If you hit your own step goals every week for the entire game, you divide the "pot" with the other winners. That means you win back your own investment plus profit.
However, if you fail to reach your weekly goal, you're out of the running.
This is a highly motivational way to earn money for walking. Since you've got skin in the game, you'll enjoy the accountability and community that StepBet provides. Plus, who doesn't like a cash prize?!
StepBet works on both iPhone and Android phones and syncs with other fitness trackers, including:
FitBit
Garmin
Samsung Health
Apple Watch
Apple Health
Google Fit
Let the games begin!
4. Evidation (formerly Achievement)
The Evidation app offers many ways to earn points, including walking, meditating, and logging meals.
It works by connecting with over 20 apps to track your activity, including:
Apple Health
Samsung Health
Fitbit
MyFitnessPal
Garmin
and more
You can earn up to 80 points a day for each type of activity. There are also opportunities to earn bonus points by completing surveys and research studies.
Evidation pays $10 for every 10,000 points you earn and pays within one week through PayPal, direct deposit, or Giftrocket. You can also donate your points to charity.
If you max out your Evidation earnings each day, it'll take 4-5 months to reach the $10 withdrawal threshold.
5. Paidtogo
Paidtogo is an app that rewards you for walking or running. Each time you walk outside, Paidtogo automatically counts your steps and converts them into Paidtogo Coins. You may redeem those coins for PayPal or Bitcoin payouts.
Per the app, top users are earning up to $75 a month.
Paidtogo is free and available to both iOS and Android users. A paid "Pro" version allows you to earn more coins per day. It may take a while to collect enough coins to generate rewards, but then again, it's basically free money.
Get Paid to Walk the Pounds Off
6. HealthyWage
If you're trying to lose weight, take a look at HealthyWage.
You pick your weight loss goal, bet on yourself, and win money if you make your goal. In this scenario, walking can help you lose weight, meet your goal, and get paid to do it.
The average prize is over $1,000!
To discover more about this program, read my review on HealthyWage.
Get Paid to Walk Doing Deliveries or Errands
Another way to make money while you're on the move is to run errands and complete odd jobs for others. This is a broad category that includes making deliveries, shopping, and picking up dry cleaning.
Your earning power is much higher here than with the apps above, but it's also more work.
7. DoorDash
DoorDash delivers restaurant food in over 4,000 cities in the U.S., Canada, and Australia.
"Dashers" can use any mode of transportation to make the deliveries, including their own two feet. Besides transportation, all you need is a smartphone to download the app to begin.
If you're interested in this option, check out my DoorDash review. (Over there, you'll find my video interview with Dasher Kevin, who primarily delivers by bike.)
8. Instacart
Shopping for people's groceries will certainly boost your daily steps with all that walking up and down the aisles. Instacart connects customers with shoppers to deliver fresh groceries to their door.
As an Instacart shopper, you shop and deliver orders as an independent contractor (car required).
Check out my full Instacart shopper review for more details.
9. Shipt
Shipt delivers items from grocery stores as well as local and national retailers like Target, CVS, or Petco.
As a Shipt shopper, you can work as much or as little as you want and earn up to $22/hour. A car and insurance are required plus you need to be able to lift 40 pounds.
10. TaskRabbit
TaskRabbit is an on-demand errand-running service.
"Taskers" complete real-world tasks, including:
shopping
deliveries
lawn mowing
handyperson work
oodles of other activities that involve walking
Get Paid to Walk Dogs
If you love being active and around dogs, then dog walking and sitting are great for earning extra money.
11. Rover
Earn $20-$60 a night pet sitting (aka boarding in your home) for others in your town with Rover. You set your own rates and availability, and Rover handles the payments and covers insurance and vet assistance.
Dog sitting is a serious business and several people report earning $1000 a month from it. The platform also supports dog walking and doggy day care.
12. Wag
Earn up to $25 an hour as a Wag Walker, taking pups for strolls in your spare time. Plus, Wag donates money from walks to feed shelter dogs, so you're also helping canines in need.
13.Pet Waste Removal
Speaking of dogs, if you don't mind scooping poop, consider pet waste removal. Although there are franchise opportunities, you can start your own business picking up dog poop in your local area.
Erica Krupin started a pet waste removal business in her spare time and now averages over $1,000 a week!
Get Paid to Pick Up Litter
14. Start a Trash Pick Up Business
Brian Winch equates his litter pick-up service as "making money going for a walk."
Now a $650k a year operation, his business started as a side hustle performing the very basic task of picking up litter.
Check out Brian's interview to learn more about how you can earn $30-$50 an hour picking up trash.
In bottle and can recycling redemption states, you can turn that trash into treasure as well.
Suggested Playlist: Local Business Ideas
Money is already flowing through your city, town, and neighborhood. Here are some actionable ways to get it flowing to YOU!
Get Paid to Distribute Flyers
15. Start a Flyer Distribution Business
A Side Hustle Show listener in Canada gets paid to walk door-to-door delivering flyers for local businesses.
His flyer distribution business was earning him $100k a year on the side — while giving him a serious walking workout! (20,000+ steps a day.)
Get Paid to Walk Through Sponsored Activity Programs
You may have access to a health and wellness program as part of your insurance plan or through your employee. These programs lower costs for companies while improving the health of their members, so it's a win all around.
Ours is through my wife's work and if we're diligent about using the provided pedometer, it's worth around $250 a year.
Here are some of the bigger programs.
16. UnitedHealthcare Motion
UnitedHealthcare Motion® rewards your walking with lower medical premiums.
As a UnitedHealthcare member, you and your spouse can earn annual financial rewards for copays, prescriptions, and deductibles. The program follows your activity through a complimentary activity tracker that works with a free mobile app. You earn money for each walking goal you achieve.
17. Vitality
Vitality is a wellness program that integrates wearables like the Apple Watch to track activity and reward members for healthy behavior, such as walking. Based on your level of engagement, you can get paid in incentives and gift cards.
18. Humana Go365
Some Humana members may be eligible to participate in the Go365 wellness and rewards program.
Members are rewarded for certain activities such as:
annual wellness visits
flu shots
community events
walking
Rewards are redeemable for gift cards at Walmart, Amazon, Shell, and more.
19. CircleCare
CircleCare tracks more than just your daily walking. The corporate wellness program offers medication reminders, communities, health condition monitoring, and more.
The rewards system is based on CarePoints. You earn CarePoints from five different categories:
engagement
health monitoring
health education
activity
medication
For each category, there are different goals to accomplish with corresponding points. For instance, when you meet your daily walking goal, you receive 50 CarePoints. You receive 100 CarePoints for reaching a walking milestone.
Once you reach certain CarePoint totals, you're eligible for rewards like vacations, fitness equipment, food, and massages.
Get Paid to Walk as a Tour Guide
20. Start a Local Walking Tour
Do you really enjoy living in your city and like talking about it to others?
If so, maybe you'd be interested in showing off your city as a tour guide. Urban hikes and creating tourist-friendly content can be lucrative side hustles.
(A couple Side Hustle Show guests were earning around $50k a year doing this as a side hustle!)
Here are a couple of other ways to earn money while walking the city as a tour guide.
21. Context Travel
Context Travel offers cultural and historical guided tours in more than 60 locations all over the world. Their focus is to deliver conversation-driven learning experiences for travelers.
To sign up as a guide, you need to speak English, hold a degree or equivalent credential, and have a license to lead tours (where required).
Experts work on a freelance basis according to their schedules and area of expertise. Opportunities vary depending on openings.
22. Rent a Local Friend
For those who love to travel, Rent a Local Friend offers authentic experiences with locals. Tour guides, or "Local Friends," are locals, journalists, photographers, chefs, designers, and immigrants who share their way of living and seeing the city.
As a Local Friend, you make extra money by sharing your own expertise and stories about your favorite spots. Visitors sign up who want a less touristy experience of your city.
The downside? You'll pay an annual subscription fee of $144 to participate in the program. This provides you with your own Local Friend page for you to promote your tours and set your own prices.
Related: Get paid to be a virtual friend.
23. Tours By Locals
Tours By Locals offers private, unique, customized, and trouble-free tours to travelers in 162 countries.
The platform provides a marketplace to list your tour(s), and pairs you up with travelers searching for experiences. The platform offers an online booking system that allows you to manage requests, tours, and payments to free you up for delivering tours. In exchange for using their network, Tours By Locals takes a percentage of your tour bookings.
Get Paid to Walk as a Caregiver or Companion
There's no shortage of people who need help taking care of kids, seniors, pets, and houses. While you wouldn't walk as your sole activity, caregiving includes lots of tasks that keep you on your feet and moving.
24. Care.com
Interested in babysitting, senior care or other caregiving jobs? Take a look at Care.com to find high quality caregiver jobs and benefits.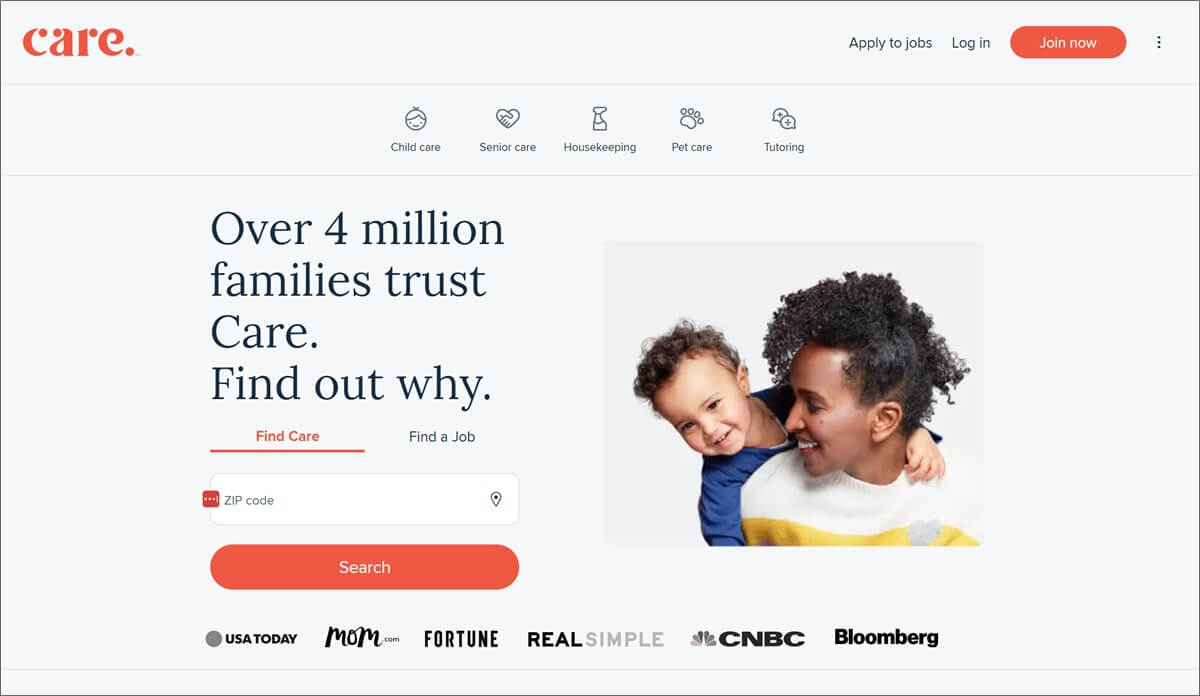 25. Sittercity
Sittercity is a huge marketplace for child care as well as senior care and pet sitting. The platform connects a family with a sitter every nine seconds. Rates usually fall in the $15-20/hour range.
26. Visiting Angels
Visiting Angels provides non-medical, in-home care for seniors. Caregiving helps aging adults to keep their independence while still living at home.
You'll support seniors with emotional, social, and physical support in a way that maintains the dignity of the individual.
27. CareLinx
CareLinx helps caregivers find clients. Caregivers get to manage their own jobs, including schedules and salary. In addition, CareLinx offers benefits like liability insurance, health insurance, training, and more.
28. Honor
Honor specializes in home care for adults. Jobs require at least six months of paid caregiving experience.
29. UrbanSitter
UrbanSitter uses the power of social networks to connect parents with sitters. You set your own hours and keep 100% of your earnings. Top sitters earn over $1000 a week.
30. Helpr
An app-based childcare service, Helpr connects parents and sitters. At least two years of professional childcare are required, and you can earn an average of $27 an hour.
Want $500?
Join the Free 5-Day $500 Challenge. I'll show you step-by-step how to add $500 to your bottom line.
Get Paid to Walk as a Mystery Shopper
A mystery shopper visits various businesses posing as a real customer to collect market research. Often the work is performed in person at a physical location. That means you get paid to shop and to walk!
31. Field Agent
The Field Agent app connects businesses that need retail information, shopper insights, and digital product demos with on-demand workers looking to make a little extra money.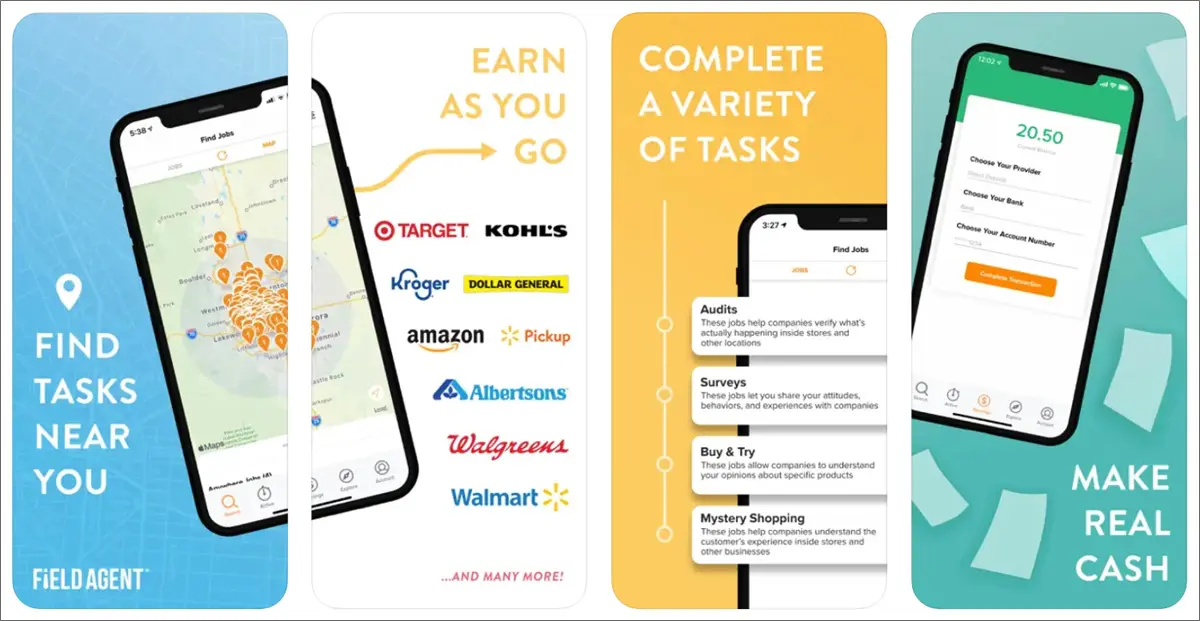 As a Field Agent, you use your smartphone to collect photos, video, and information about retail operations, products, and shoppers. The app helps you find tasks, such as completing surveys, taking photos, or trying out products.
Each task pays $3-12. Payments are made through direct deposit.
Check out our full Field Agent review for more.
32. Gigwalk
Gigwalk helps businesses collect data and manage a remote workforce. Brands and retailers post gigs (or tasks) for on-the-ground visibility into their products or events. Gigwalkers perform the tasks and manage their work via the Gigwalk mobile app.
All payments are securely processed through Paypal.
33. BestMark
BestMark is one of the nation's first and largest mystery shopping service providers. As a mystery shopper, you will pose as a customer and perform specific tasks.
BestMark mystery shoppers are independent contractors who are paid based on assignments. Payment is made through PayPal, direct deposit, or gift card about three to four weeks after assignment completion.
34. Other Mystery Shopping Opportunities:
Market Force – Get paid to eat and shop in your local area and report back via a mobile app.
Intelli-shop – Assignments include shopping in a store, calling a call center, or visiting a website. Requires a five minute screening test. Payments are made on the 20th of each month via PayPal.
Secret Shopper – Requires access to a computer, a digital camera or scanner, and availability to complete assignments by noon Central time the day after the assignment date.
GBW Solutions –

Flexible mystery shopping assignments that pay in cash, product discounts, or reimbursements

.

Ipsos – Choose from mystery shopping opportunities in person, over the phone, or online. Perform your task then submit an online survey afterward. Payment is via PayPal 7-10 days after your survey is approved.
Get Paid to Walk with a Treadmill Desk?
35. Install a Treadmill Desk
For years, I worked at least part of my days from a treadmill desk. It's a great way to get some steps in while you're still at your computer, and could be a way for freelancers to "get paid to walk."
It felt great to be making money and getting some exercise at the same time.
Your Turn
Have you considered the ways in which you could turn walking into a more lucrative activity?
You don't have to change too much about your lifestyle to start seeing the perks. Plus, you could get creative and combine more than one of these ideas to get paid more for the same amount of effort!
Do you have any unconventional or interesting ideas for how you could get paid to walk?
Let me know in the comments!
Want $500?
Join the Free 5-Day $500 Challenge. I'll show you step-by-step how to add $500 to your bottom line.
Serious About Making Extra Money?
Pin it for later:
Frequently Asked Questions
Can you really get paid to walk?
Yes, with a little creativity and a little technology, you can turn your walking habit into a side income stream. Some entrepreneurial walkers are earning up to $1000 a week giving tours, picking up trash, or walking dogs. Check the full post on Side Hustle Nation for more ideas.
What apps pay you for walking?
Popular apps like Evidation and Miles track your movement using your phone and reward you with in-app points. Other apps like StepBet allow you to set walking goals and compete against others for cash. Check the full post on Side Hustle Nation for more ways to make money walking.
What are some creative ways to walk for money?
Some of my favorites include giving local walking tours, picking up dog poop in your neighborhood, and mystery shopping. I even interviewed a guy who turned his parking lot litter pick-up business into a $600,000 a year operation. Check out Side Hustle Nation for more ways to get paid to walk.
************
Big thanks to Meghan Monaghan for contributing to this post!