It's never been easier to make extra money on your own time and on your own terms.
Whether you're looking for a side hustle to replace your day job income, or just for a way to make a few extra bucks, I've got you covered.
The ideas below were selected based on:
15+ years of side hustle experience
interviews with 100s of side hustlers
earning power and flexibility
Just a few of the ideas have helped me earn hundreds of thousands of dollars over the last decade.
Ready? Let's do it!
Too Many Choices?
Join the Free 5-Day $500 Challenge. I'll show you step-by-step how to add $500 to your bottom line.
1. Online and In-Person Research Studies: Up to $140 an Hour
There are a couple online research companies everyone should sign up for.
User Interviews is a great resource for connecting with remote consumer research studies. I've made $105 in about an hour and a half so far — here's my full User Interviews review.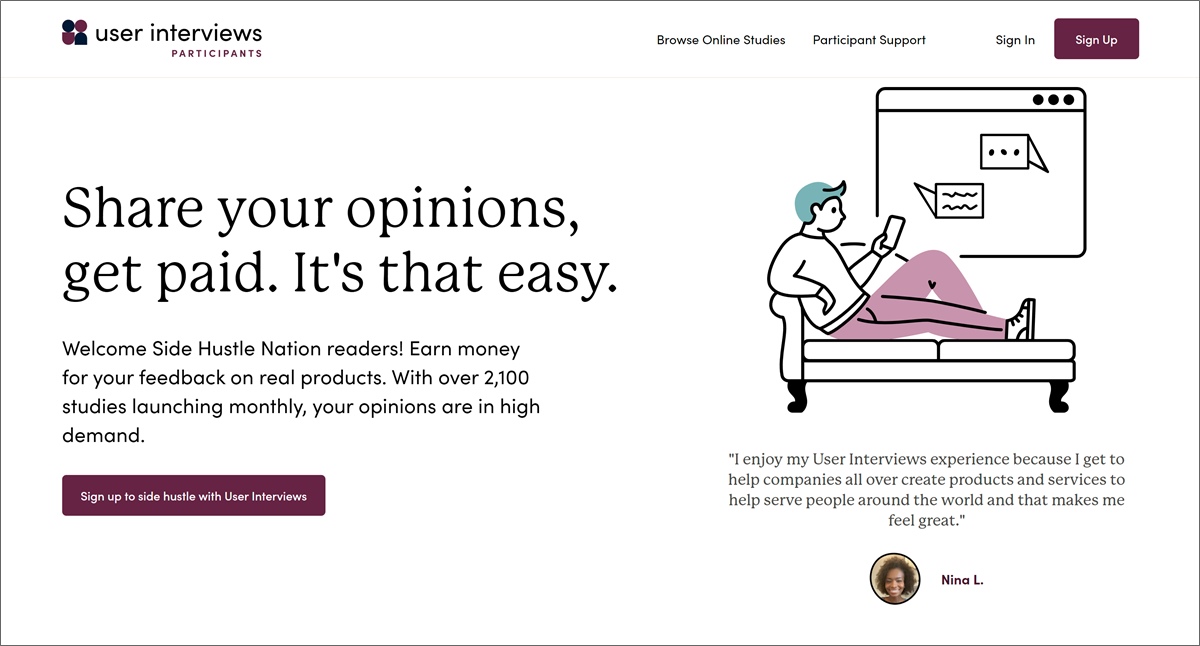 Respondent is one of the best paying online survey companies I've found. Usually the surveys are one-on-one interviews either in-person or over the phone / video chat, and they pay an average of $140 an hour.
Rare Patient Voice pays patients and caregivers $120 an hour to assist with medical research. You can browse a full list of available studies on their site—nearly all of which are phone or webcam interviews.
If you suffer from any sort of medical condition (even if it's not super rare), this one is worth a look.
The site is open to residents of United States, Canada, the United Kingdom, Italy, Spain, France, Germany, Australia, and New Zealand.
2. Online Surveys: $1 a Day
No list of money-making ideas would be complete without an old favorite: online surveys. Power users of these apps earn $30 a month or more.
Here are some of Side Hustle Nation's favorite options:
Don't expect to earn an amazing hourly rate with these options, but you can earn gift cards, cash, and other rewards by answering surveys, watching videos, playing games, and shopping online.
3. Find a Virtual Job
FlexJobs is the leading work from home jobs site. With over 50 career categories, FlexJobs has jobs ranging from entry-level to executive and freelance to full-time.
There is a nominal monthly fee to access their listings, but you'll earn that back (and then some!) with one job.
4. Resell Flea Market Finds: Up to $5000 per Flip
My buddy Rob Stephenson is "the Flea Market Flipper" and makes a great living finding odd items to resell. He told me the story of finding a prosthetic leg for $40 and turning around and selling it on eBay the next day for $1000.
The pioneering auction site is still going strong and can be a good place to get your products in front of 130+ million potential buyers.
There are profitable deals everywhere!
Rob and his wife Melissa consistently earn thousands of dollars a month doing this part-time. They put together a free training on how you can get started and make your first sales as fast as 2 weeks.
Can multiply money quickly
Cons:
Can be time-consuming to source inventory
Difficult to store and ship bulky items
Suggested Playlist: Flipping Profits
Buying low and selling high is the fastest way to multiply money. Here's how to get it done.
5. Make Extra Money Playing Online Games
Rewarded Play (Android)
With over 170,000 reviews and a 4.3-star rating in the Google Play store, Rewarded Play is another free, legit, and fun, "get paid to play" app.
Rewarded Play is your one-stop app for casual games like Solitaire, Mahjong, Wheel of Fortune, Yahtzee, and more. As you play, choose your rewards and get your gift cards within 48 hours.
Bingo Cash
The popular Bingo Cash game app turns classic bingo from a game of luck into a game of speed and skill. Each game only takes about 2 minutes to play, and you can earn real-world rewards and cash prizes (except in AR, IA, LA, SC, and WA).
At press time, the app has a 4.7-star rating on the iOS App Store from 97,000+ reviews, with players calling it legit, fun, and addicting.
As with all gaming apps, practice for free first. Then, never put more money at risk than you can afford to lose.
6. Rental Properties
Rental real estate is one of the oldest side hustles in the books, and is still viable today.
If your local market is too expensive, take a look at Arrived, a cool online marketplace built for busy investors. For as little as $100, you can buy shares of cash-flowing rental properties.
My friend Dustin Heiner built up his rental portfolio and was able to retire before 40 on the cash flow.
7. Commercial Real Estate
Fundrise allows you to invest in a portfolio of commercial properties all around the country. I've been a Fundrise investor for years and they've consistently paid quarterly dividends in the 5-10% yield range.
(Disclosure: when you sign up, I earn a commission. All opinions are my own.)
Plus, you can get started with as little as $10.
8. Start an Online Business
This probably isn't the right path if you need to make extra money quickly, but can build into a full-time income stream over time.
My primary revenue stream is affiliate marketing, but website creators can make money in lots of different ways, including:
selling your own products and services
advertising
live events
reader donations
and more
Click here to check out my free video course on how to start a blog.
Great long-term earning power
Can sell the business down the road
9. Virtual Bookkeeping: Up to $70/hr
Remote bookkeepers can earn $20-70 an hour and up for their work. This is a great option for people with accounting experience from school or your day job.
Here's a free training on how to get started.
10. Resell Furniture Returns
As a part-time Sharetown rep, you'll pick up gently-used furniture returns from direct-to-consumer brands.
Since the items aren't new, the companies can't really take them back and resell them — but you can. The Sharetown reps I've connected with report earning $150-250 per item.
And the cool part is the inventory doesn't cost you anything until it sells.
Check out our full Sharetown review to learn more.
Highest Earning Power
Become a Sharetown Rep
Sharetown reps make money by reselling gently-used furniture and bed-in-a-box mattresses. Top reps earn $4000+ per month.
Pros:
Low startup costs

Great earning power

No hunting for inventory
Cons:
Requires a truck or SUV

Bulky items to store

Not available in all areas
11. Self-Publish on Amazon
Thanks to Amazon's Kindle platform, you can publish your work and tap into a massive audience of book buyers.
Self-publishing is one of my favorite and longest-running side hustles. I remember my first royalty payment from Amazon of something like $42 and being thrilled, thinking "I did it! I'm a professional author!"
Since then I've earned over $75,000 in author royalties, and I think books are a pretty awesome way to both build authority in your niche and earn passive income along the way.
Related: My Amazon author profile and book listings
12. Become a Mystery Shopper
Field Agent presents a list of tasks you can do based on your location. If you happen to be running errands nearby, just accept the task and start earning money.
Most of these gigs involve evaluating product displays or checking on inventory. They typically pay $3-10 apiece, depending on complexity and the time involved.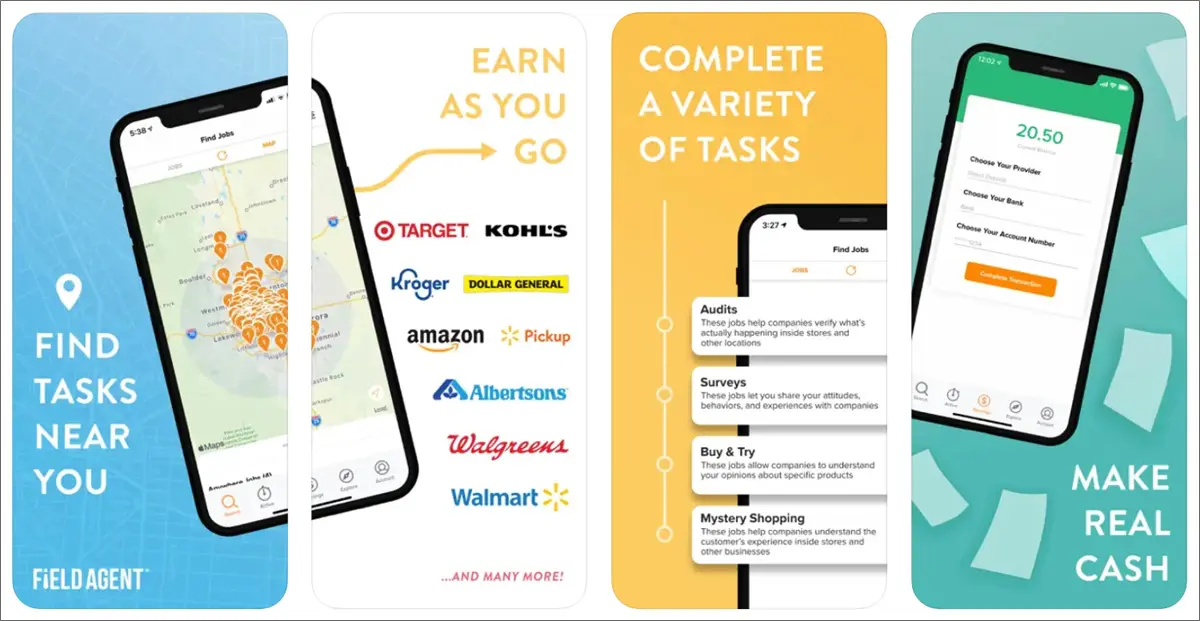 For more info, please see my full Field Agent review.
13. Pet Sitting
Rover.com is "Airbnb for dogs," and I've heard from several dog sitting hosts earning thousands of dollars a year through this site.
(Meowtel is leading platform for cat-sitting.)
14. Babysitting
Babysitting and child care was my original income stream as a teenager, and is still a viable way to make extra money.
Sites like Care.com and Sittercity can help match you up with families.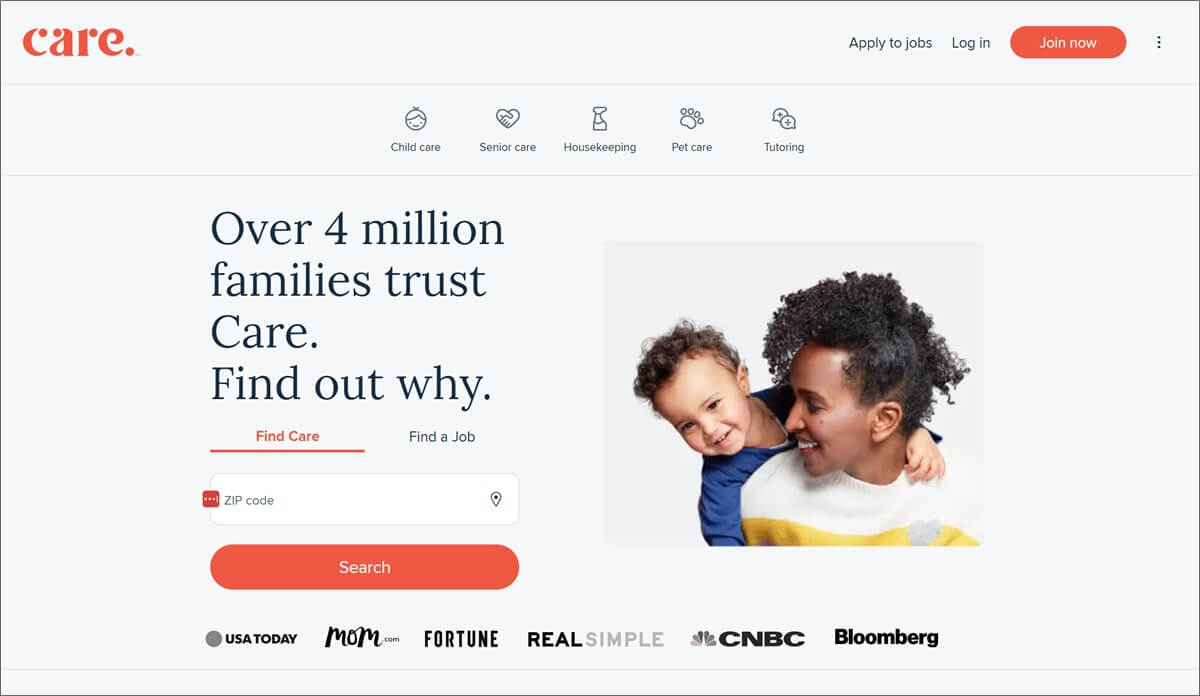 15. Knife Sharpening
Matt Rowell taught himself how to sharpen knives on YouTube, and turned it into a $250-1500 a month side business.
16. Online Tutoring: Up to $60/hr
Tutoring and test prep is more than a billion dollar a year industry. You can start your own tutoring business to earn extra cash and help students at the same time. Bonus points if you were a decent student or have some subject matter expertise!
Wyzant is a popular online and in-person tutoring platform that connects you with students in a wide variety of subjects and grade levels.
As a tutor, you set your own schedule and rates. For example, when I searched Wyzant for math tutors nearby, I found several tutors charging $40-60 an hour.
17. Create an Outschool Class
Outschool is a marketplace for online small group classes for kids. Jade Weatherington reported earning over $10,000 a month from her virtual writing classes.
18. Sell Lesson Plans and Material
Teachers Pay Teachers is a popular marketplace for lesson plans and other educational materials. One blogger I know began putting some of her content on this site and now earns $5000 a month part-time.
19. Sign Up for Free Rewards Apps: $150+ Per Year
Saving money is making money! And it's actually even more effective since it goes straight to your bottom line — meaning you don't have to pay taxes on it like you would with extra income.
For example, the Fetch Rewards app gives you cash back just for snapping a picture of your receipts.
You can then redeem points for gift cards to retailers like Best Buy, Sephora, Staples, Gap, and more. (I've been cashing in for Amazon gift cards.)
Rakuten has been giving online shoppers cash back for 20 years. A recent computer purchase from Dell netted me $160 cash back! (They were running a special offer.)
They'll even give you a free $30 bonus when you create your account!
20. Sell Used Books
Use the free BookScouter app to find out what books are worth—either the ones you have collecting dust on your shelves or the ones you come across at garage sales or library book stores.
One Side Hustle Show guest reported earning up to $4000 a month flipping used books! (He recommended the faster ScoutIQ app.)
21. Sell Printables on Etsy
Selling printables on Etsy is a great way to make extra money if you have an eye for design and love researching new niches.
For example, Rachel Jones reported earning up to $10,000 a month without any inventory.
22. Amazon Arbitrage
Amazon FBA is "fulfillment by Amazon." This is Amazon's unique way of crowdsourcing inventory from individual sellers like you and me. As a seller, you can take advantage of Amazon's world class logistics network—and tap into their huge audience of buyers.
The easiest way to get started is to source good deals locally and then selling them via Amazon. You can even do this all online — sourcing products from other e-commerce retailers!
23. Software Consulting
Is there a software that you're a relative expert in?
One of my favorite angles is to piggyback on the popularity of a particular software tool, like Brad Rice did with Salesforce (earning over $200k a year part time!). As adoption of the software grows, so too does the demand for qualified support.
With platforms like Clarity.fm, you can get started very quickly and earn $60/hour and up.
24. Get Paid to Lose Weight: $500+
Before you start your next diet, you might want to check out HealthyWage. This cool service that lets you put a friendly wager on your weight loss.
If you meet your goal, you can cash in — to the tune of $500 or more! (Here's our full HealthyWage review.)
Click here to see how much your prize might be.
25. Refinishing Furniture
Flipping furniture is a popular side hustle for people who like to work with their hands. Solid wood dressers are the easiest pieces to start with, and if you're going for the "rustic farmhouse" look, your painting doesn't need to be perfect.
Aim to buy used furniture for $50 or less, and resell it for $150-300 on Facebook Marketplace.
26. Become a Virtual Assistant: Up to $40/hr
Virtual assistants provide administrative support to clients from their home office.
To learn more about starting your own virtual assistant company, check out the free video training from my friend Abbey Ashley. She started her VA business on the side and shares:
Where to find thousands of potential clients.
How to make a full-time living working from home.
What clients are really looking for in a VA. (hint: it's not prior VA experience)
Click here to learn more about becoming a virtual assistant.
27. Parking Lot Cleanup
Brian Winch started his parking lot clean-up business as a side hustle in 1981, and has since built it into a multi-six-figure business. He says you can still earn $30-50 an hour part-time targeting local property management companies.
28. House Cleaning
Anthony and Jhanilka Hartzog grew their Dallas-area residential cleaning service to $25k a month in revenue. And the best part? They hire other cleaners to do the work!
More and more homeowners outsource this chore, and the industry remains highly fragmented. Those factors spell an opportunity for you to win clients.
29. Pet Waste Removal
It's not the most glamorous gig, but it can earn $50 an hour or more. In just a few months, Erica Krupin had landed 80 recurring weekly clients at around $15 apiece.
30. Pressure Washing
Pressure washers cost around $300, but you could clear more than that on a single busy spring weekend cleaning driveways, decks, and patios in your neighborhood. Here's more on how to start a pressure washing business.
You've heard of "driving for dollars" with services like Uber and Lyft, and it doesn't get much simpler than this. One Lyft driver of mine on a recent trip put it this way: "When I want to make money, I turn on the app."
In fact, these "gig economy" apps have helped create a multi-hundred billion dollar a year industry. Here are some options to get your piece of the pie.
Options include:
No marketing or sales required
Wear and tear on your vehicle
Income may be inconsistent
If you choose any of these driving-related side hustles, it might make sense to tack on an app like Hurdlr to automatically track your mileage, expenses, income streams, and tax deductions in real-time. On average, Hurdlr helps users find $5600 in deductions!
32. Drop Shipping
With drop shipping, you can sell physical products online without having to buy any inventory upfront. Instead, you work out deals with the manufacturers or distributors to ship the items directly to customers on your behalf.
On a popular episode of The Side Hustle Show, Ben Knegendorf shared his method of "high ticket dropshipping" that allowed him to quit his job as a forklift driver.
33. Loan Signing Agent: $100 per Appointment
Notary publics can make up to $100 an hour for completing loan signings for new home buyers on their own schedule.
Check out the resources at Loan Signing System to learn more.
34. Print on Demand Products
Merch by Amazon makes a great side hustle. Upload your t-shirt (and other product) designs, set your price, and then let Amazon do all the work of printing and shipping your orders.
Elaine Heney made over $50,000 doing this part-time and shared some of her tips on The Side Hustle Show. (My wife made over $2k in her first year doing this in her spare time too!)
35. Create a Local Experience
If you have a passion for your city and love meeting new people, a unique local tour could be a hit.
My friend Alex hosts hundreds of "urban hiking" tours a year on the side from her day job — at $49 apiece!
What unique experience can you offer travelers? It doesn't even have to be a tour.
For example, Michele Mattix makes money hosting guided meditations through Airbnb Experiences. You can create your own experience, set your price, and Airbnb markets it to travelers.
36. Create a Fiverr Gig
For me, Fiverr has been a fun and eye-opening side hustle experiment. Since I started on the site, I've earned over $13,000, met some awesome people, and found an interesting "Buy Buttons" platform.
How it works is you come up with a base "gig" — and then add relevant upsells or packages to increase your order value. One of my most popular podcast episodes was with a Fiverr seller who used the platform to launch a 6-figure freelancing business.
Too Many Choices?
Join the Free 5-Day $500 Challenge. I'll show you step-by-step how to add $500 to your bottom line.
37. Start a YouTube Channel
Creating content on YouTube is a fast-track side hustle, especially compared with blogging. It's easier to "rank" videos for your target keywords, and once your channel reaches certain metrics, you can monetize with ads.
(You can also use YouTube in other creative ways, like to sell a digital product or service.)
38. Build an Email Newsletter
The newsletter business model is one I'm particularly excited about right now. It's low overhead, simple to manage, and can scale to a significant income stream.
For example, the popular daily business newsletter Morning Brew sold for a reported $75 million!
39. TaskRabbit Gigs
TaskRabbit is one of the largest gig economy platforms. You can create a profile specializing in running local errands, assembling furniture, local temp help, and even virtual support jobs.
Rates vary widely based on what service you're providing, but I've seen tasks anywhere from $15 an hour all the way up to $100+ for specialized skills.
40. Go Look at Stuff
Earn $18 to $200 to go look at stuff like eBay purchases, cars, rental properties, or even vacant lots with WeGoLook. Take pictures, verify information, and report back what you find.
41. Rent Out Your Car, RV, or Boat
If you have an underutilized car, HyreCar will help you rent it out.
Listing your car is free, and HyreCar owners report earning an average of $720 a month. The company does background checks on all their renters and also handles the insurance.
What else could you rent out?
42. Donate Plasma
As long as needles don't bother you, you can earn $20-50 per plasma donation.
43. Clinical Trials
The National Library of Medicine runs a nationwide database of studies you may qualify for. Alternatively, you can punch your zip code into this search engine to find paid clinical trials near you:
44. Earn $200 From a Bank
You've got to promise to use this strategy responsibly, but it's earned my wife and I thousands of dollars.
Credit cards like the Capital One Quicksilver Cash Rewards Credit Card offer a $200 sign-up bonus after you spend $500 in your first 3 months — with no annual fee. That's up to 40% cash back!
Learn more and compare this card to other cash back cards here.
If you know you're gonna spend $500 in the next 3 months, that's #freemoney. This card also gives you one of the highest cash back rates, with unlimited 1.5% back on every dollar you spend.
Related: Credit Card Rewards 101: How to Earn Free Cash and Travel by Spending Smarter
45. Sell Dirt
Mark "The Land Geek" Podolsky calls this "the best passive income model," and broke down how it works on The Side Hustle Show. Later, I caught up with a student of his who was earning $10k a month.
46. Sell Your Mobile Data: $20-60 Per Year
We give so much of our data away every day for free to companies like Facebook, but did you know you can actually get paid for your data?
For example, Nielsen rewards you for sharing internet usage behaviors. Simply download the non-intrusive app to your devices.
As they track your usage, you earn points to redeem for prizes and sweepstakes entries.
Mobilexpression is a market research panel that pays you for data from your mobile phone.
Download their app and allow it to work in the background recording your browsing habits while on your phone. In exchange, you'll earn gift cards to popular retailers.
Realistically, this is probably worth around $20 a year in passive income. And you'll earn a free $5 gift card after your first week.
47. Craigslist Gigs
There's a section in the lower right side of Craigslist where companies and individuals post jobs and gigs.
48. Transcribe Audio
Transcribe interviews and lectures on Rev.com and earn $9 an hour and up. Fast freelance transcriptionists can earn more though; as this free mini-course explains.
49. Narrate Audiobooks
I think we can all agree that getting paid to talk is a pretty sweet gig, and Voices.com is the #1 marketplace for voice over talent.
Otherwise, ACX, the Audiobook Creation Exchange, is an interesting platform to connect authors with professional narrators to — like the name suggests — create an audiobook version of their book.
50. Help Companies Name Their Products
Companies post naming and branding contests on SquadHelp and you can win cash for coming up with the best name or slogan. On Namestation, a similar service, top contributors earn up to $300 a month part-time.
51. Cut Your Ongoing Expenses
If it's been more than 2 years since you last shopped for car insurance, you're paying too much.
Here's the dirty secret of the car insurance industry: your cars are worth less every year due to depreciation, but you keep paying the same amount.
Check out Insurify for a quick and painless quote process to find the best rates for car and home insurance. It'll take just a few minutes (you can even do it on your phone) and users save an average of $489 per year!
Similarly, I recently switched to Mint Mobile for my cell phone service. It runs on the T-Mobile network and costs just $15 a month (when you pre-pay)!
I was able to keep my current phone and phone number. Making the switch from Verizon saved my wife and I over $800 a year.
52. Build an Online Course
With Udemy, you can create a video course in your area of expertise, and put it up for sale on their platform of more than 50 million students.
Since late 2014, I've earned over $20,000 on Udemy from a course I created about self-publishing.
What could you teach?
Related: The 101 Best Udemy Courses for Entrepreneurs, Freelancers, and Side Hustlers
53. Thrift for Profit
Apps like Poshmark can help you clear out your closet or make money from your latest thrift store finds.
54. Online Coaching
The Coach.me platform allows you to set up an online coaching practice in the areas of leadership, health, business, habits, and more. The site boasts more than 1 million users and you can earn $100 an hour or more working one-on-one with clients.
55. Yard Care Service
Both GreenPal and LawnGuru are building "the Uber for yardwork" and offer a cool new way for landscaping businesses to connect with customers.
The average GreenPal vendor makes around $55 per hour mowing lawns on its system.
56. Get Cooking
The United States Professional Chef Association put together this directory of personal chefs available for hire.
57. Photography Service
This is my wife's side hustle of choice, which started as a hobby. She and her partner started out pricing low to build a portfolio, but now command around $4,000 per wedding.
58. Moving Service
If you have a truck or van — and a strong back — you can earn money with Dolly's peer-to-peer moving platform. Help your neighbors pack and move across town. Similarly, GoShare will help you put your truck or cargo van to work and up to $61 an hour.
59. Sports Coaching
Channel your athletic glory days and help young athletes level up their game. You can set your own rate and CoachUp private coaches report earning an average of $45 an hour.
60. Personal Training
Connect with clients through your gym, NextDoor, or through a marketplace like FindYourTrainer.
61. One-on-One Language Lessons
With Verbling, you can set your own hourly rate for online language lessons. Most tutors appear to be in the $10-25 an hour range, and Verbling says some are earning a full-time living on the platform.
62. Storage Unit Auctions
The hype over Storage Wars has largely died down, which means profitable storage unit auctions may be easier to win today. You have to bid based on what you can see from the outside, and hope to find some treasures to flip for a profit.
63. Help Friends Get a Job
When your referral gets a new job through Hired.com, the site will pay you $1000.
And that sum pales in comparison to what you can make starting your own recruiting business. A typical placement fee is 20% of your candidate's first year salary — meaning a single recruit could earn you $10-20k or more!
64. Mechanical Turk
Earn a small fee ($0.01 to $3) for each micro task you complete on Amazon's Mechanical Turk.
It can be tedious work, but over the last few years, Mike Naab earned over $50,000 in his spare time completing surveys and other small jobs.
65. Earn More Interest
I've been earning 4.75% interest with my Betterment Cash Reserve account. Of course, rates are subject to change but this is a whole lot better than the pennies a year we earn on our checking account balance.
66. Proofreading and Editing
Editing for self-published authors was a side hustle for me a few years ago. ProofreadingServices.com is an online proofreading and tutoring service that pays $19 to 46 per hour.
To learn the necessary skills, Proofreading Academy may be worth a look. The online course offers a free trial and guaranteed work upon successful completion.
67. Rent Out Your Extra Space
You've heard of people renting their spare rooms on Airbnb, but what if you don't want strangers in your house?
The Neighbor self-storage platform connects people with storage needs with those who have extra space. If you've got some excess storage capacity in your garage, driveway, or elsewhere, list your space here to fill it and get paid.
Top hosts are earning up to $10,000 a year running their own mini self-storage operations. Here's our full Neighbor review for more on how it works and how to get started.
68. Solve Interesting Problems
MindSumo is a cool service that asks for your input on certain questions on behalf of its corporate clients. The best and most creative answers earn rewards of $550-1600.
When I was browsing, I saw questions like "How would you improve the car buying experience?" and "How can we make laundry less of a hassle?"
Definitely an interesting way to get paid for your opinions and ideas.
69. Be a Movie Extra
Are there movie extra jobs near you? Background actors normally earn minimum wage, but you may get a meal out of the deal — and perhaps a brush with celebrity.
70. A Friend in Need
According to Rent a Friend, you can earn up to $50 an hour on this strictly platonic match-making site. You might get hired to accompany new "friends" to the movies, dinner, the gym, or whatever you include in your free profile.
71. Flexible Part-Time Work: Up to $25/hr
Steady is a cool app and website that consolidates all sorts of "gig economy" opportunities. For example, you can find work from home gigs, flexible "anytime" options, and even regular full- and part-time jobs.
Browsing through the listings, I found the usual array of delivery and rideshare gigs, but was pleasantly surprised by some of the other offerings. There were a number of local opportunities I'd never heard of in:
brand ambassadorship
political advocacy
transcription
and more
Steady acts as a portal to all these gigs and gives you a convenient central location to browse. After you create your account, you'll be able to see everything available online and in your local area.
Too Many Choices?
Join the Free 5-Day $500 Challenge. I'll show you step-by-step how to add $500 to your bottom line.
Your Turn
I'm confident you can use at least ONE of these platforms to earn some job-free dollars!
Let me know which ones look the most compelling by leaving a comment below. Also feel free to chime in if I missed your favorite way to make extra money — I strive to keep this resource as up-to-date as possible.
Serious About Making Extra Money?
Pin it for later:
Frequently Asked Questions
How can I make extra money?
There have never been more ways to make extra money! For example, you can start freelancing, begin re-selling products, or even start your own blog or YouTube channel. Be sure to check the full list at Side Hustle Nation for the latest options.
How can I make money online?
The most common ways to money online are freelancing, selling advertising on content you create, or by selling physical or digital products. You can sell these through existing marketplaces like Amazon or set up your own store.
How can I make $200 fast?
If you need to make $200 fast, you have a couple options. The first is to provide some sort of freelance service, which could be anything from mowing lawns to babysitting to painting houses to dog walking to designing websites or managing Facebook ads. The second option is to sell something you already own. OfferUp and Facebook Marketplace are popular options to unload this unwanted inventory.