Unlike most online survey companies, Respondent actually pays "real" money for participating in studies.
This isn't about watching silly videos or completing offers for pennies. What do I mean by real? It's possible to earn $100 an hour or more.
At press time, the website cited average hourly incentives ranging from $100-$750 an hour, depending on your profession.
Does that sound enticing? If so, keep reading.
I've been a Respondent participant for years and have been able to earn some great money in my spare time. Many Side Hustle Nation readers have had the same results, and you may be able to as well.
Sign-Up Process

Hourly Earning Power

Gig Availability

Ease of Use
Respondent.io Summary
Respondent is a legit facilitator of online and in-person consumer research studies. Participants can get paid to share their opinion and shape future products and services. While this won't replace your day job, it can be a nice supplemental income.
Respondent is the highest paying online survey option I've found.
My Respondent.io Review
If you prefer video, I recorded this quick breakdown on:
how Respondent works
how much I've made so far
and how to set yourself up for success on the platform
(Since recording, I've done a couple more studies and am now up to $395 in total earnings.)
What Is Respondent?
Respondent is a company that pays you to participate in research studies.
Their structure is much different than most online survey sites and apps. Respondent facilitates one-on-one consumer research studies and focus groups, both in-person and online.
Respondent works both with individuals responding to surveys and companies looking for feedback. In fact, I took it as a positive sign that their homepage is actually business-facing:
That shows they're prioritizing getting new customers—the companies that need research done.
In contrast, most low-paying survey sites target you, the survey taker.
The business was founded in 2016 and has raised $4.5M in startup funding. More than 3M participants have joined to take part in their paid studies.
Who Hires Respondent for Market Research?
Many companies—large and small—rely on Respondent to collect honest user feedback on their current and future products. Some brands are up-and-coming, while others are household names like Microsoft, IBM, GoDaddy, and Intuit.
How Does Respondent.io Work?
If getting paid for your opinion sounds like fun, create a free Respondent account today.
Since the site seems to have more a business/professional focus, I signed up with my LinkedIn account.
You'll enter some personal information and then you will see various surveys based on your background. It only takes a couple of minutes to set up your account and then you can start earning money. Let's take a deeper look at the process.
Sign-Up Process
You can either sign up with your email address or with an existing social media account.
Since the site seems to have more a business focus — and the last thing I need is another password to remember — I just signed up with my LinkedIn account.
If you choose the name + email option, you'll be prompted to create a password and upload a profile picture. Per the site, you're more likely to get picked for a study if you have a picture.
I was also prompted for my phone number and date of birth … and had to verify with a text message code, so no fake numbers allowed :)
From there, Respondent walks you through a series of short forms collecting some more personal information from you.
This includes your:
gender
ethnicity
education level
household income (optional)
city (to get matched with in-person studies nearby, if you want)
employment information, industries, and relevant job skills
This is pretty standard stuff that every survey site will ask for. Companies completing research want to make sure they're reaching specific audiences.
These are designed to match you up with the best / most relevant surveys.
Finally, you'll be prompted to enter your PayPal email (so you can get paid!) and agree to Respondent's code of conduct.
Basically, you're agreeing to play nice and be honest.
Filling out the necessary information should only take you a few minutes.
Once you're done, you'll end up on the Dashboard of your account. You'll immediately see a feed of suggested projects, which are the surveys Respondent offers.
Who is Eligible to Join Respondent?
Anyone 18 or older is eligible to sign up as a Respondent. Most studies target US residents, but the site is open to participants in Australia, Canada, France, Germany, Ireland, Netherlands, New Zealand, Spain, and the United Kingdom as well.
You'll also need a PayPal account (so you can get paid!).
A Facebook or LinkedIn profile may be helpful to verify your identity. Participants who connect their social accounts are more likely to be selected for paid studies.
Filtering and Selecting Projects on Respondent
Once you're logged in, you're presented with all your different project options. You can see:
how much they pay
how long they'll take
what type of study it is
The feed is sorted by "Relevance" by default, but I'll often toggle it to "Most recent" because the best studies usually fill up pretty fast.
You can also use the filters to further narrow down your options:
remote only (most studies are remote these days)
payout
time required
whether or not it's an industry professional or general population study
Types of Studies on Respondent
Respondent offers a variety of project types, with lots of studies being added every week. Let's take a quick look at some examples of typical projects available through Respondent.
The screenshot might be kind of hard to read, but there are studies for:
retail customer experience professionals – $120 for 45 minutes
religious or spiritual book readers – $100 for 60 minutes
people selling online – $100 for 60 minutes
families living in connected homes – $50 for 45 minutes
and more
In the past, I've seen listings for:
people interested in investing – $75 for 45 minutes
supply chain professionals – $50 for 60 minutes
small business owners – $85 for 60 minutes
online banking customers – $50 for 60 minutes
people who send cold emails – $200 for 30 minutes
insurance shoppers – $20 for 20 minutes
investors and traders – $150 for 60 minutes
sports fanatics – $50 for 30 minutes
and lots more
All of the projects clearly mark how long it should take to finish and how much it pays. There is also a brief description of what they are looking for in a respondent.
Many of Respondent's projects seem to have a small business or technology focus, but there are broader consumer studies that also pop up.
For the most part, projects pay well, but there are also lower paying surveys too. You can decide if it's worth your time or not.
Projects can vary in their setup. It depends on the specific company that is in charge of the project.
Most are one-on-one discussions with a company representative. Others require you to keep a log of certain activities over multiple days or weeks.
The first study I participated in through Respondent was a $200 in-person focus group. These are just some examples of what you might see the more you apply and are approved for projects in Respondent.
Project Screening
Once you find a project you like, you can click on it and apply. To apply, you'll need to fill out a brief screener survey to ensure you are the right fit. This usually takes less than 5 minutes to complete.
Respondent has more stringent requirements to get picked for surveys. This sets Respondent apart from other survey sites and is also why they pay more. Companies are looking for honest feedback from the right people.
If the company wants you for their project, they'll reach out through Respondent's system—you'll get an email or text message.
Important note: Being chosen for projects isn't as easy with Respondent as other sites, even if you're a good match. You could end up applying for several projects before getting picked.
For the sake of reference, my personal "batting average" is around 10%. I've done 5 projects out of the 50 I've done the screener surveys for.
If you click on "My Surveys", you'll be able to see a running list of the projects you've applied to and their current status:
My $200 Respondent.io Focus Group (and Other Projects)
Like I mentioned above, my first "hit" with Respondent was for a 2-hour in-person focus group near me. Well, it was about 45 minutes away, which did eat into my effective hourly rate.
But I wanted to go to see what it was all about.
The study was for small business owners and the company wanted to learn more about our accounting and bookkeeping processes.
(As an Excel-junkie, I was shocked to learn my fellow panel participants still employed the "receipts in a drawer" method!)
It was a really interesting experience, part of which included building a model of our businesses out of LEGO:
Yes, I really got paid to play with LEGO!
Since then, I've completed a handful of other short studies and interviews, bringing my total Respondent earnings to $395.
Those included studies on:
Blogging
Marketing analytics
Automation tools
Small business financial reports
SEO
I love talking about all that stuff anyway, so it's pretty cool to get paid to do it.
How Much Money Does Respondent Pay?
According to Respondent, the average payout for a completed project is $100-$700 an hour. It's a huge range, but still makes Respondent the best paying online survey company I've come across.
From the example listings I shared above, the math works out to $105 an hour.
How does my own experience shake out?
From the $395 I've earned in total with Respondent so far, my overall hourly rate is slightly lower, right around $91 an hour.
Respondent gives the following guidance to companies determining how to price their projects on an hourly basis for US-based participants:
As you can see, the rates tend to increase with experience or specialization.
The suggested rates for medical professionals are even higher—ranging from $250-1,000 an hour for remote studies and $500-2,000 an hour for in-person ones.
For general population studies, Respondent suggests incentive rates between $90 and $200 an hour:
I hope these numbers give you an idea of what to expect when browsing and applying for projects.
Respondent.io Payments and Fees
All payments from Respondent are made via Paypal. Payments are usually processed within 8-10 days, which isn't bad at all.
My focus group payment actually took more than 3 weeks to arrive, which was a little annoying, but it did eventually show up.
Respondents are paid the cash incentive amount advertised by the researcher minus a 5% fee (or a $1 fulfillment fee, whichever is higher).
The 5% fee is for payment processing as well as a service fee for facilitating projects. So my $200 turned into $190 by the time it hit my PayPal account.
Fees are clearly marked on the initial screener survey of all projects. You can view your payment status under the "My Surveys" tab.
Other Ways To Earn Money With Respondent
Not only can you earn money by completely surveys with Respondent, but you can also earn money for referring your friends.
If you know someone who would be a good fit for studies like these, send them an invite and earn $20-$50 when they complete the study.
Grab your unique referral link under the "My Referrals" tab in your account.
Best Practices for Earning Money with Respondent
To maximize your time and earnings with Respondent, it's a good idea to follow these best practices.
1. Set a Calendar Reminder
Set a reminder to log in weekly to check for new studies. Unlike other survey sites, Respondent doesn't proactively message you to let you know about new opportunities.
Or at least they don't send them very often. So far this year, I've received two emails with my "personalized research studies."
2. Decide Quickly
If you see a project you like, fill out the screener survey immediately. As you might guess, remote studies fill up quicker than in-person ones.
Respondent also shows you which studies are "over subscribed," meaning they have more participants than they need. Don't waste your time applying for those.
3. Be Honest
When filling out the screener survey, answer questions honestly.
This may eliminate you from certain projects, but the goal is to maximize your time by only participating in the best surveys for you. This helps you and the companies seeking feedback.
4. Verify Your Work Email
Since many Respondent projects target industry professionals, you can give your profile a leg up by verifying your work email. This lets researchers know you're active at your company and in the industry they're targeting.
5. Link Your Social Accounts
Another way to make your Respondent profile more attractive to researchers is to connect your social profiles. They currently allow you to connect:
Facebook
LinkedIn
Github
Slack
This is an easy way to let researchers know you are you say you are and check out some of your presence across the web.
6. Record a Personal Welcome Video
One new feature that Respondent has added is the ability for participants to record a personal introduction video. This short, 30-60-second video is a chance for you to put a face and a voice to your online profile.
Respondent suggests sharing:
Your name and location
Where you currently work and some of your everyday responsibilities
Any skills you've mastered
And if you're camera shy, don't stress. This is totally optional! (I haven't recorded mine yet, either.)
But if you do just a few of those things, it'll help you stand out from the crowd and hopefully get selected.
7. Add Your Skills
Respondent allows you to add up to 25 professional skills to your profile. As you start typing, suggestions will pop up for you to select.
For example, here's what I have on mine:
Common Respondent Complaints
What do participants dislike about Respondent?
The most common issues are:
slow payments
lack of customer support
I've encountered both of those over the years, and both are super frustrating.
However, a couple recent experiences make me optimistic things may be improving.
First, Respondent has added a live chat customer support widget to their site. It's not staffed 24/7, but it's much better than lobbing an email into the void and hoping for a response.
Second, my most recent Respondent project was paid out in 3 business days — faster than promised.
Hopefully these are positive signs!
Respondent.io Alternatives
If you don't care for Respondent or are having trouble being selected for projects, not to worry.
While Respondent is one of the highest paying survey sites, there are other programs where you can make decent money as well.
User Interviews
User Interviews is perhaps the most similar service to Respondent I've found. The company specializes in one-on-one market research interviews, mostly done over the phone or online.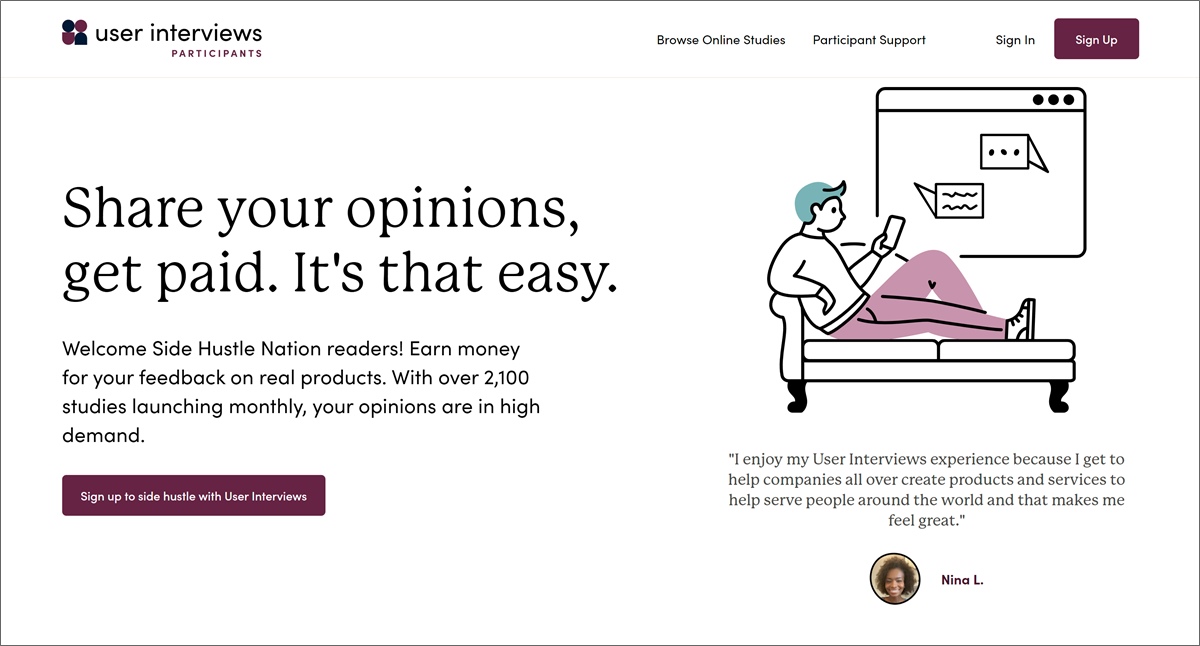 The average rate of pay is in the ballpark of $100 an hour. I've earned $105 for about an hour and a half worth of "work" so far.
Check out my full User Interviews review for more.
Rare Patient Voice
A leading source for medical research, Rare Patient Voice pays patients and caregivers $120 an hour. Most of the studies are phone or webcam interviews, and you can browse a full list of available studies on their site.
If you suffer from any sort of medical condition — or care for someone who does — (even if it's not super rare), I think this one is worth a look.
FocusGroup.com
FocusGroup.com is run by Sago, a long-running research company. They offer nationwide paid research opportunities that pay between $75 and $200 and are scheduled over the phone or webcam.
Check out my full FocusGroup.com review to learn more, or my guide to Online Focus Groups for more money earning opportunities.
Lightster
Lightster is a unique money making app, where you get matched with brands and researchers based on your profile.
After you complete your profile, you may see some questions pop up in the app. Answer those to qualify for paid research conversations that pay $1 per minute.
I got invited to my first half hour session within a couple weeks of downloading the app, and got paid (via Amazon gift card) right away.
Fieldwork
Fieldwork is a company the runs (mostly) in-person focus groups. I took part in one of their studies in San Francisco, and earned $150 for a 2-hour focus group, plus a $50 bonus prize for showing up early.
They have locations throughout the US.
Compensation starts at $75 for Fieldwork's focus groups, with sessions usually lasting between 1-2 hours.
Other Online Survey Options
Most of the consumer survey options below won't have hourly rates nearly as strong as the more industry-specific studies, but they can add up and you can knock them out in your spare time.
Here are some of Side Hustle Nation's top picks:
Is Respondent Worth it?
Taking part in surveys won't make you rich and it's not something you can leverage into a full-time gig.
But if you are looking to make some extra money on the side, Respondent pays very well if you are selected for their projects. Like I said, I've earned over $300 so far, and it was pretty fun!
Setting up an account is free so if you find it's not for you, then you only lost out on a little time. I think you'll find that Respondent is an easy way to make extra money.
How Do I Sign up for Respondent?
Signing up for Respondent is easy.
Just head over to their website and you can set up an account today in minutes.
If you are looking for a high-paying side hustle that doesn't require a ton of your time, Respondent could be what you need. Check it out today!
Serious About Making Extra Money?
Frequently Asked Questions
What is Respondent.io?
Respondent is a company that pays you to participate in research studies. Their structure is much different than most online survey sites and apps. Respondent facilitates one-on-one consumer research studies and focus groups, both in-person and online.
Is Respondent.io legit?
Yes, Respondent is legit. The company has paid out over $2 million to respondents and works with many Fortune 500 companies as clients.
How much can you make on Respondent.io?
Respondent payouts vary based on the target demographic, the time involved, and other factors. The average pay rate across all studies is $100 an hour.
How do you get chosen for Respondent.io studies?
The best way to get chosen for Respondent studies is to check the website frequently and apply to all the ones you're qualified for. Eventually you'll get a notice you've been chosen.
Pin it for later: