Is the Caden app worth an install?
The app promises to pay you for the data you generate on a daily basis. You know, the stuff we give to Big Tech for free!
And Caden really does pay — it took a couple months to earn my first $40 payout.
In this review, I'll share:
How Caden works
How much you can earn with Caden
Some alternatives to consider
Ready? Let's do it!
Sign-Up Process

Ease of Use

Earning Power
Caden App Summary
Caden is on a mission to help people "control and monetize their personal data." And while they do pay, it won't make you rich. For most users, sharing your anonymized data will be worth $8-15 per month.
Is Caden Legit?
Yes, Caden is a legit way to get paid for your data. The company was founded in 2021 and has raised $24.4M in funding to help people "control and monetize their personal data."
Is Caden Available on Android?
At press time, Caden was only available for iOS.
How Much Can You Make with Caden?
Typical Caden users will earn $8-15 per month. It may not be a lifestyle changer, but hey, it's passive income!
And as far as apps that pay you real money, Caden actually stacks up pretty well.
There are 3 main ways to earn money with Caden:
Answering questions in your Caden "Vault"
One-time bonuses for connecting new accounts — generally $2-4 each.
A daily "data dividend" — usually $0.20-$0.80 per day, depending on how many accounts you've connected.
I'll break each of those down in a bit more detail below.
Your Caden App Vault
When you first sign up, you'll be prompted to answer a series of demographic questions in the Caden Vault.
Those include your:
Gender
Date of birth
Zip code
Household income
etc.
Per the app, Caden removes "all identifiable information and only [uses] demographic data to group you into cohorts of aggregated data than can not ever be tied back to you."
But here's where Caden's new-ness and bugginess shows through. It says my Vault is "100% complete," yet I have 0% scores on:
Fitness Graph
Entertainment Graph
Spending Graph
Identify Graph
On top of that, those options are all greyed out — I can't click on them to complete those questionnaires.
Connecting Accounts
The fastest way to kickstart your Caden account balance is by connecting supported 3rd-party accounts like:
Netflix
Uber
Amazon
Airbnb
Your credit cards (done securely via Plaid)
Each account you connect is worth 1,000-4,000 one-time bonus points ($1-4).
This is a straightforward process through the app, and for each one, you'll see a consent screen like the one below:
It states:
Your data will be anonymized and aggregated, so it can't be tied back to you.
Your anonymized data will be used for research and consumer panels.
The confusing thing here is even after authorizing certain connections, the app prompts me to do it again. It's unclear if the first connection didn't stick, or what.
When I do it again, zero bonus points are awarded.
Why connect all these accounts? Aside from the one-off bonus points, the more accounts you connect, the more you'll earn on a daily basis from Caden.
The other thing Caden does is compares your usage of these apps with other users, which is interesting to see. For example, it says I've spent $4800 on Amazon since January 1st 2020, slightly more than the average Caden user.
Interesting, but unrelated to earning money from the app.
There's also a button to request other services get added to the app, so I suspect Caden will offer additional connections in the future.
Daily Data Dividend
I like the idea of getting free money just going about my day. That's essentially what the Caden Wallet shows you.
Every day, I earn 434 points, worth $0.43. At that pace, I earn around $12.90 a month, on autopilot.
Your Caden App Dashboard
When you first open the Caden app, you'll see your account dashboard. The primary feature of this page is your "Data Score," which ranges from zero to 1000.
This is a measure of the value of the data you've consented to share and directly linked to your daily earning.
Mine is currently 880, because apparently Uber and Airbnb got disconnected somehow.
Cashing Out
You must have at least 40k points ($40) to redeem and a connected account for at least 30 days.
The only cash out option is via Stripe. It's a way for Caden to send money directly to your bank account without having to store your banking details.
While Stripe is secure and really common among businesses, regular consumers probably don't already have a Stripe account. It's not hard to set up, but does create another layer of friction.
I'd love to see PayPal, Venmo, or direct deposit added in the future.
After I requested my first payout, the money was deposited within two business days.
Is Caden Worth It?
If I continue to earn around $12.90 a month, Caden will be worth a little over $150 a year. Since the data is anonymized and aggregated, I feel comfortable sharing it.
Obviously the app won't make you rich or replace your day job income, but every little bit counts.
Caden App Alternatives
Nielsen Computer & Mobile Panel
Nielsen is one of several companies that will pay you to just to install their apps and run in the background on your computer, smartphone, and tablet.
As Nielsen tracks your Internet usage, you earn points — worth up to $60 per year.
Users can redeem points for gift cards or cash out via PayPal.
Pogo
The free Pogo app is one of my latest finds. By sharing your location and credit card transaction data, Pogo gives you points that you can cash out to PayPal or Venmo.
Just enable location tracking and link your bank account credentials when you sign up.
You'll start to receive location-based rewards as you drive around town, and other points for your credit card spending. Based on my results so far, I expect Pogo to be worth around $5-20 a year. 
Check out my full Pogo app review to learn more.
Fetch Rewards
Fetch Rewards is a favorite of mine. All you have to do is snap a picture of your grocery receipts after your shopping trips.
Why are they paying for pictures of your receipts? I'm not really sure, but I also don't care if strangers know what food we bought.
Eventually you'll earn enough points to cash out for a gift card. In our house, it probably adds up to around $10-20 a year, but I'm sure other shoppers earn much more.
I usually opt for the Amazon gift card options, but Starbucks, Apple, Target, Home Depot, and lots more are available as well.
Remote Market Research Studies
Many companies conduct market research to get feedback on new products — and a lot of this research is done online.
User Interviews and Respondent.io are a pair of cool services that facilitate those interviews online and over the phone.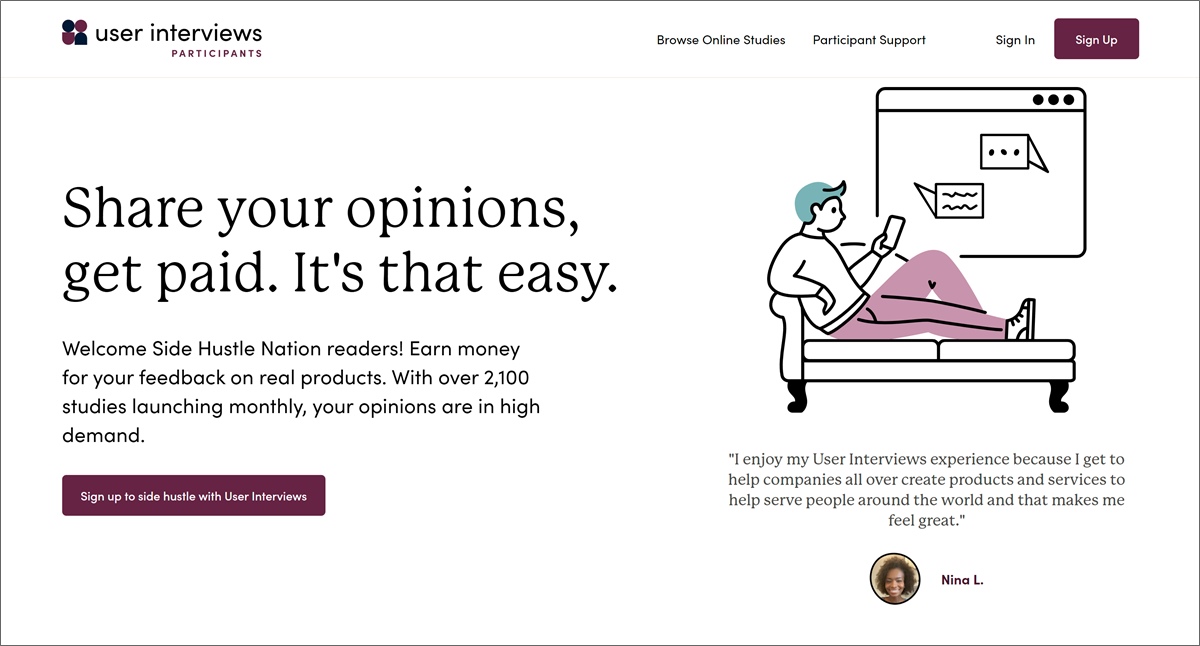 The best part? The average compensation is $50-150 an hour!
Here are some other companies that facilitate focus groups and paid research studies.
Serious About Making Extra Money?