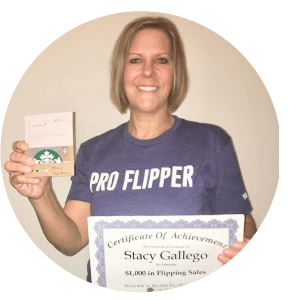 Want to scale back on your day job?
Want to travel more, and spend more time with your family?
That's exactly what Stacy Gallego has been able to do thanks to her part-time flipping business.
What's cool is that this income stream was actually inspired by a former side hustle show guest, Rob "the flea market flipper" Stephenson, who we last heard from in episode 298.
Stacy is one of Rob's star students, and I've loved watching her share some of her sales results for quite a while.
In just two years, Stacy has gone from flipping her first item to hitting $10,000 in sales in a month.
The ability to find profit in your hometown is one I think is really valuable in recession-proofing your own income. If that appeals to you, I encourage to you check out Rob and his wife Melissa's free training to learn more.
And if you're ready to enroll in Flipper University, use promo code FLIP100 for $100 off either course option.
Tune in to hear:
how Stacy sources profitable inventory
how she deals with the logistics of shipping huge items
which items/categories are selling best
her advice for new flippers to start making money
How Did You Get Started Flipping Flea Market Items?
"I never dreamed that I could do this, I just kind of fell into it. I found Rob and Melissa on a blog and started listening to what their business model was," Stacy told me.
Rob "The Flea Market Flipper" and Melissa have made two appearances on the Side Hustle Show:
Their model is finding larger items and making a bigger profit per sale, rather than selling in volume. Stacy said she wanted to follow their model, and work "smarter not harder."
When Did You Feel Comfortable Quitting Your Nursing Job?
Stacey's goal was to make an extra $1,000 a month when she started flipping items.
She said she started hitting that figure consistently almost right away. That was two years ago, and when we recorded Stacy said she was just $4 short of her first $10,000 sales month.
That works out at around $7,000 in profit!
At the time she started this as a side hustle, quitting her nursing job was never a goal. She loved her job and the people she worked with. Although, as she got more and more into flipping, Stacy said she realized, "It was really everything I wanted."
Flipping gave her freedom, more time with her family, and the ability to travel and find profitable products on the road. Write off!
This made scaling back her job to one day a week an easy decision.
How Are You Finding Profitable Inventory?
Stacy always tells people who are interested in starting flipping, "never stick to one way of sourcing."
The main places Stacy sources items to resell are:
Yard sales
Thrift stores
Facebook marketplaces
Local buy/sell apps (like Offerup.com)
Stacy's goal is to find undervalued items locally and resell them on a larger marketplace for a profit.
Her best new tactic for finding items — which is something she learned from Rob's private coaching group — is to build a network of contacts.
The more people Stacy tells about her business, the more opportunities come her way. She has contacts that call her instead of throwing items away, giving her a chance to see if there's profit in selling them.
She even knows someone who works in a thrift store who'll let her have the first look at new items coming in. As well as a contact who cleans out houses and lets her know what items he's picked up.
How Are You Finding Good Deals?
Stacy said there are a number of reasons why she's able to pick up items at a good price.
Typically, she said it's because the seller just wants to get rid of the item without the hassle of having to dump it or move it.
People want the convenience of offloading the item, and Stacy is willing to pay them and take it off their hands. It's a win-win.
Had Any "Home Runs" or Awesome Finds?
Stacy has had a few home runs in her two years of flipping items.
A couple that came to mind was:
A Town & Country skateboard she was able to pick up for $5. Stacy was able to see they were quite rare and worth a lot more, and this one was in mint condition.
So, she emailed the manufacturer asking how much it's worth, and they actually offered to buy it off her for $300 — so she knew it was worth more.
Stacy listed it on eBay and sold it for $650.
Another item she made a huge profit on was a motorcycle sidecar. It was a 2001 convertible model and a cool looking item.
The sellers really just wanted to get rid of it. Stacy negotiated $200 and ended up selling it on eBay for $3,300 — while she was on the beach enjoying her vacation.
Sourcing items inexpensively makes flipping a very low risk business to start. Worst case, you can almost always at least recoup your costs.
How Does the Logistics/Shipping Work?
If you're flipping large items like sidecars and machinery, you need to learn how to freight ship items to get them across the country.
This is something that scares some people, but Stacy said it's really easy once you know what you're doing. Plus, it's worth it to make $3,000 on one sale rather than shipping 300 smaller items in the regular mail.
Stacy's first experience shipping a large item was a disability machine she picked up for $125 and had flipped for $3,100.
Rob actually called her up and talked her through the process as she's a member of his private coaching group.
Stacy said all you need to do is pick up some pallets, which are usually available for free at businesses that use them for shipping goods. Then you'll need some plastic wrap to secure the item, and some boards to make sides so it's more like a crate.
Stacy uses a company called YRC Freight to ship her goods. All she has to do is drop the item off at the terminal, then she can track it as it makes its way to the buyer.
She expects most items to cost around $150-$300 to ship across the U.S. It really depends on how much it weighs and where it's going.
Where Are You Selling Your Inventory?
The primary place Stacy sells her items is on eBay. She said eBay has around 180 million users, which compared to her local market of 60,000 opens up a lot of opportunities to find buyers.
A few tips for selling on eBay Stacy shared are:
Video test expensive items before shipping them so you have a record of the item working
Take lots of pictures and be very descriptive when listing items to minimize confusion
Offer free shipping as it entices more buyers (but price the shipping into the cost)
Stacy has had a couple of bad experiences with buyers but said it's few and far between. This is why she now videos the items working and takes more pictures to safeguard any disputes.
What Category or Type of Products Sell Best for You?
Her favorite thing to sell is Sleep Number beds. Stacy said a lot of people move in her city and need to get rid of their beds or they upgrade them, and she can often pick up Sleep Number beds for a great price.
Stacy said she enjoys selling these beds. She often splits them up into parts and sells them that way too.
She also likes selling commercial equipment and "anything weird." Stacy recently came across a couple of money counting machines, she picked them up for $75 each and sold them for $600 apiece.
Related: Flipping Furniture: How to Make $200+ This Weekend w/ Your First Furniture Flip
Do You Need a Truck or Storage Unit for This Business?
Stacy said you don't need a truck or storage unit when starting out. She didn't have either for about a year and a half into her business.
But as you scale up and start accumulating more items, it makes sense both financially and practically to invest in things like trucks and storage units to make your life easier.
In fact, Stacy doesn't have a truck. She actually has a trailer she hooks onto her vehicle and uses that to transport items too large to fit into her vehicle.
Do You Have Any Inventory Not Selling?
"It doesn't happen to me very often, but it does happen," Stacy said regarding not being able to sell items.
But patience is a huge part of this game. If something isn't selling, Stacy is willing to wait it out. Or, at least lower the price to what she paid for the item to break even.
She recently sold a pair of boots she brought about two years ago near the start of her journey to prove this point.
Do You Have a Target Profit per Item You're Aiming For?
"It used to be $25. Because I've gotten so much better at finding items and I know that the deals are never going to dry up I stretched it out more — I want to make [at least] $100," Stacy told me.
How's COVID Affected Your Business?
"That's the beauty of flipping, it's totally recession-proof," Stacy told me.
In fact, Stacy said the pandemic has probably increased her business. A lot of people have been stuck at home cleaning out old items, having yard sales, and taking stuff to thrift stores.
There's been a huge surge in online shopping too, which is obviously good for her business.
How Much Time Are You Putting into the Business?
When Stacy started flipping, she was working a full-time job, so she was putting in 15 hours or so a week. Stacy's working less now as a nurse, so she's putting in around 25 hours a week in her flipping business..
The important thing here is how much satisfaction she gets from her side hustle. "Honestly, Nick, I could do it all day — I enjoy every bit of it," Stacy told me.
Ever Worry About Running Out of Deals?
"That's a fear that you have in the beginning because you're inexperienced," Stacy said.
But she said it's really not an issue once you've built up a network of contacts and know where to look for deals.
A Consignment App?
An interesting new app came across my desk recently, that helps you source "risk-free inventory" to resell.
The free Flyp app connects you with people who have products (clothing, shoes, and accessories … probably not Sleep Number beds) they want to get rid of.
This can save a ton of time in sourcing, and when you sell them, you split the profits with the owner.
What's Next?
Stacy is excited about the future. Not just because she's going to carry on flipping, but because traveling has always been a huge goal of hers.
Flipping has given her the ability to travel while doing what she loves — finding items to flip online.
Next year she already has a trip to Israel planned, as well as some home renovations and some other personal things.
Stacy's #1 Tip for Side Hustle Nation
"Anything worth doing is worth doing … poorly. We're never good at anything we try at the beginning."
Links and Resources from this Episode
Sponsors
Skillshare – Get two months of unlimited access to 25,000+ Skillshare courses free!
Want More Side Hustle Show?
Pin it for later:
***********
Ebay headquarters image courtesy of Depositphotos.