Teaching is a noble and rewarding profession, but we all know it's not the best-paying job in the world.
I'm grateful to have had some awesome teachers growing up, who challenged me, inspired me, and made me love learning for learning's sake.
Where would you be without the teachers in your life?
But as a teacher, you usually start with a low salary and a pile of student debt, so it's only natural to look for ways to make extra money.
Here are the best side hustle ideas for teachers and educators to take advantage of your unique skills and expertise.
1. Tutoring
Since teaching comes natural to you, tutoring is also another good option if you're looking for part-time income.
For example, Matt Fuentes reported earning $1000 a week with his part-time tutoring business — on the side from his teaching job.
Another option is to set up shop on a platform like Wyzant, which helps match students with tutors. Tutors set their own rates, often between $30 to $60 per hour. (Rates vary by subject and location.)
Or you can apply to work with BookNook, a popular online math and reading tutoring company for kids in Kindergarten through 8th grade. Pay is $15-22 an hour.
Work hours are flexible and will likely align with when students aren't in class.
2. Selling Printables
I like side hustles that scale, meaning you can get paid multiple times for work you do once. Printables definitely check that box.
In fact, Rachel Jones reported earning $10,000 a month from her portfolio of Etsy printables.
What's a printable? Think digital files like:
habit trackers
meal planners
budget templates
chore charts
intake forms
and more
You may already be creating similar files like these for your own class.
When you upload those printable files to Etsy, you can reach a worldwide audience of buyers — and delivery is all automated online.
3. Teaching Online
While one-to-one tutoring can be rewarding and even pretty lucrative, you're still trading hours for dollars. One way around that is to package your knowledge into an online course and sell it on a platform like Udemy or Outschool.
These marketplaces have millions of students and courses on nearly every topic imaginable. One guest of mine reported earning $4000-5000 a month teaching courses on Udemy about baking the perfect sourdough bread!
Udemy targets adult professionals, so you might have to change up the material from what you'd normally cover in class. Still, the site has been a nice source of passive income for me over the last few years. If this sounds interesting, my friend Phil (a top-rated Udemy instructor) has an in-depth and inexpensive class on how to get started.
In contrast, Outschool is aimed at kids (and their parents). On The Side Hustle Show, Jade Weatherington explained how she was earning $10,000 a month on the platform. Her most popular classes are for middle school English writing.
4. Reselling your Curriculum
You can sell your curriculums, lesson plans, and other educational materials on TeachersPayTeachers. This online marketplace lets you share your best work and get paid for it.
Your income depends on the number of people who buy your products, but it can be a good source of extra income that's not directly tied to your hours.
5. Mobile Notary Service
Mobile notaries like Kristin Barker Stauffer walk new homebuyers through their mortgage documents. Since most borrowers also have jobs, these loan signings usually take place in the evenings or on weekends.
The gig requires professionalism and attention to detail, but can be quite lucrative. Appointments usually pay $75-150, and Kristin reported earning up to $8,000 a month as a part-time loan signing agent.
Check out some of the resources from Loan Signing System to learn more.
6. Online Surveys
You can get paid for your opinion on different topics by participating in online surveys.
These won't make you rich, but here are a few of the most popular (and credible) online survey sites:
The average pay for online surveys is $0.50 to $5.00 per survey, which may not be much but it can add up. It's also convenient because you can do these anytime and anywhere.
7. Driving for Dollars
You've probably heard of driving with Uber or Lyft as a side hustle, but if you don't want other people in your car, you might consider driving for a delivery service like DoorDash, Instacart, or Uber Eats.
These delivery apps connect you with people ordering take out in your town. You pick up the food, go drop it off, and get paid a delivery fee plus tip.
These services advertise earning potential in the $15-25 an hour range. Here's our review of each:
Related: The Best Money Making Apps
8. Freelance Writing
There are companies and websites out there ready and willing to pay for your writing skills!
All the work can be done remotely in your spare time. To get clients, check out sites like Fiverr.
For example, Georgia Austin got her first freelance writing jobs within the first few days, and went on to grow her business to $90k a month!
To learn more, check out this free guide from the American Writers and Artists Institute:
9. Build an Informative Website
If you enjoy writing, blogging is also another worthy side gig you can earn money from. I started blogging as a creative outlet, but it's turned into a money-making venture for me.
It's an awesome business because I can do it from anywhere and have complete control over the time I put into it.
Income from blogging depends on your topic and the amount of visitors to your site. Delilah Orpi, a former teacher in Florida, reported earning $8,000 a month from her blog about curly hair.
She monetized her site with a combination:
advertising
affiliate partnerships
her own products
Next Step: My free 6-part video course will walk you through how to set up your site for less than you might think.
Suggested Playlist: Affiliate Marketing
Make money online by sharing relevant products and services with your audience. Here's a killer playlist packed with actionable advice from the pros.
10. Focus Groups and Paid Research Studies
This is another way to earn from your opinions but unlike online surveys, focus groups pay better. Most often, you get paid to give your honest feedback about a certain product before it gets launched.
Traditionally, focus groups were in-person, guided discussions. Now we have online focus groups that all you to be in a video conference with fellow participants.
For opportunities, check out sites like User Interviews.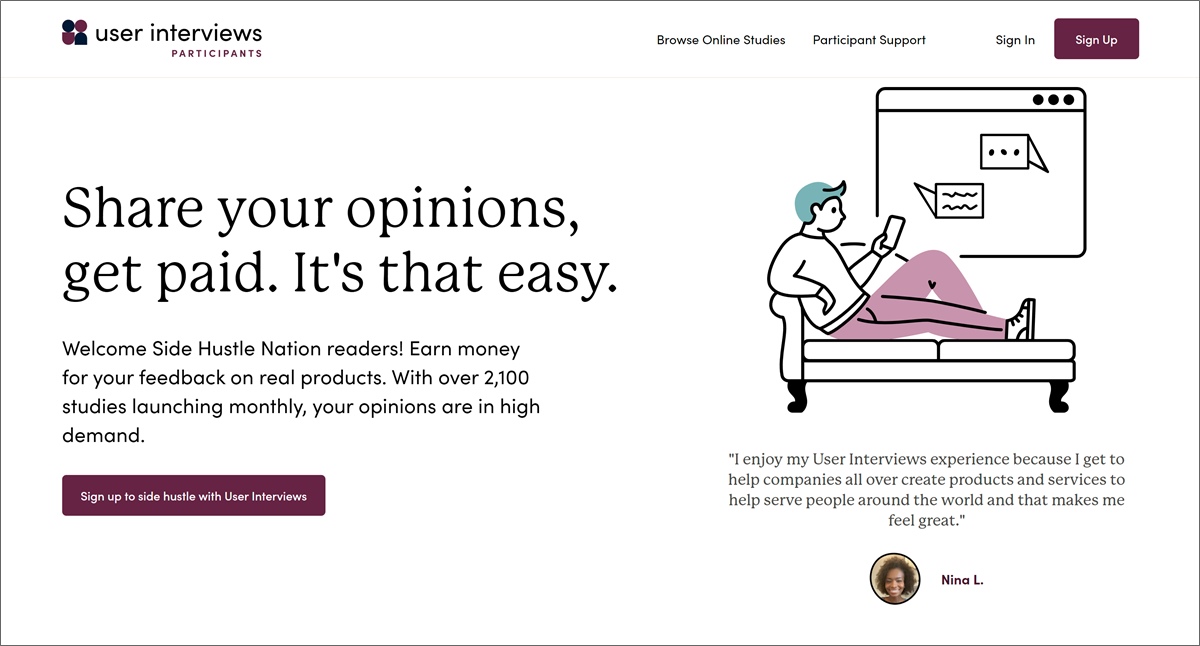 I've earned $60-100 an hour for online and in-person focus groups, which I thought was a great side hustle — especially if you can do a couple of them in a month.
11. Remote Bookkeeping
This one isn't just for math teachers, but really anyone who likes to see numbers add up and is curious about the nuts and bolts of how businesses run.
Virtual bookkeepers like Kate Johnson can earn $60 an hour or more. On top of that, (in US at least) there are no formal certifications required to call yourself a bookkeeper.
Still, Kate emphasized the importance of education and mastering your bookkeeping software of choice. Here's a free preview of the course she "credits" (pun intended!) with helping her get started.
12. Flea Market Flipping
The age-old business model of "buy low, sell high" is one of the fastest ways to make extra money.
Stacy Gallego is a master of this, earning several thousand dollars a month from her part-time product flipping business. She specializes in sourcing undervalued inventory locally, and then tapping into eBay's customer-base of 130+ million potential buyers.
Among her favorite places to find items to flip for a profit are:
Yard sales
Thrift stores
Facebook marketplace
Local buy/sell apps (like Offerup.com)
Some of her profitable flips include a motorcycle side car, a collectible skateboard, and several Sleep Number Beds!
To learn more about this business, Stacy recommended checking out Flea Market Flipper. Here's a free training they put together on how to get started.
13. Babysitting, Child Care, and Caregiving
Another good way to earn extra income — especially during school breaks or over the summer — is through babysitting, child care, or even elder care.
You can create a free profile on sites like Sittercity.com and Care.com, big platforms that help connect families with caregivers like you. The work hours are flexible and with the nationwide average rates are in the range of $12-15 an hour.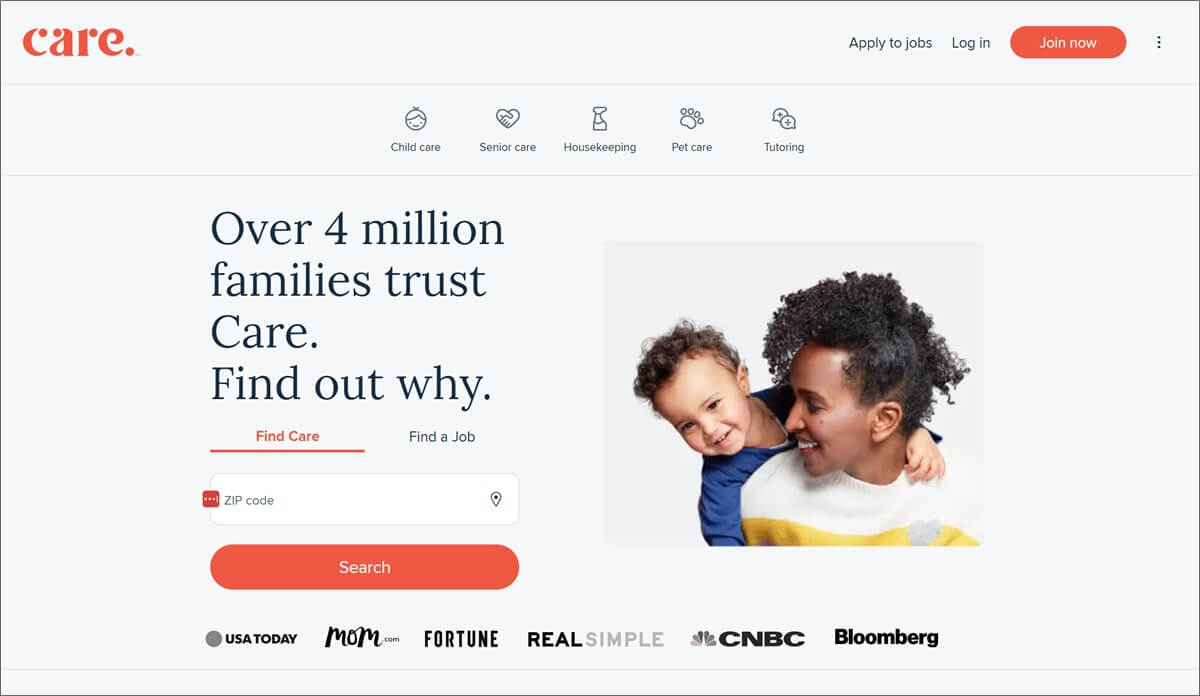 If you love kids and you and have time to spare, babysitting would be a pretty easy side gig to consider.
A teacher friend of mine actually ended up connecting with a celebrity client in New York through Sittercity. You never know!
14. Airbnb
If you have an extra room to spare, you can earn money from it by becoming an Airbnb host. I especially like this side hustle during summer breaks as a way to meet interesting people from all over the world and make extra money at the same time.
You get to set the pricing, availability, and house rules, giving you control over process according to your preferences. The company also carries a $1 million liability insurance policy for every rental.
15. Store Other People's Stuff
What if you have some extra space, but don't really want strangers in your house?
The Neighbor self-storage platform helps you monetize your garage, attic, driveway, basement, storage shed, etc., by matching you up with people who need a place to keep their stuff.
Top hosts on the site report earning up to $10,000 a year, and isn't nearly as intrusive as running a vacation rental. Check out our full Neighbor review to learn more.
16. Self-Publishing
If you love writing stories in your spare time, you can earn from them too by self-publishing your own book. Thanks to Amazon, you can put your book up for sale without a traditional publisher.
This is one of my favorite side hustles! I've written several titles (all non-fiction) and have earned over $75,000 in lifetime author royalties.
On The Side Hustle Show, we've covered several unique self-publishing angles, including:
I believe everyone has a book in them. What's yours about?
17. Become an Adjunct Professor
If you want to supplement your teaching salary, you might consider becoming an adjunct professor at a local college or online.
This usually requires a master's degree, but some colleges and technical schools only require a bachelor's degree and industry experience. The cool thing is many adjunct professor gigs let you pre-record your lectures, and use them semester after semester.
The average pay for adjunct professors is $3500 per course and you get to have a flexible schedule as well.
18. After School Programs
May Najafabadi's after school enrichment classes teaching crafts and jewelry making were a hit with both kids and parents.
And she earned $12,000 in 8 weeks — working just 1 hour a day!
May explained there was a bit of a process to get on the school's list of approved vendors, but as a teacher you may have an inside track. This could be a great business to explore your creativity and continue working with kids on campus.
Similarly, Jeff DiOrio, a math teacher and high school dean in Illinois started teaching after school chess lessons. Today, EliteChess is a 6-figure side hustle with classes both in-person and online.
19. Voiceover Work
As a teacher, you're probably used to talking all day, and voice over acting offers you a way to get paid to talk. This is a good side hustle to consider, especially if you have some acting experience under your belt.
The average pay for a voice actor range from $100 for a 15-second recording to a high of $3000 for an audiobook. Look at platforms like Voices.com or ACX.com to see what kind of gigs are out there.
With the right equipment, you can do this from the comfort of your own home in your spare time.
20. Become a Coach
If you were an athlete or dancer, you can still earn from these skills by becoming a coach.
Local communities, gyms, and dance studios are always on the lookout for good instructors. There might even be paid coaching opportunities at your own school.
If you still have the passion, why not offer your services by giving back to the younger generation?
Youth soccer coaches earn $18 to $25 per hour while dance teachers earn $20 per hour. It's a good way to earn extra bucks while doing something you love.
21. Local Rentals
High school teacher Steve Nadramia supplements his salary with a creative side hustle: portable hot tub rentals.
These foam tubs fit in the back of his truck and rent for $250 per week, or $500 for the month. When we spoke, he had a "fleet" of around 25 hot tubs and was booked up months in advance.
Considering a used hot tub is in the $2000-3000 range, you can see how this side hustle can generate a great ROI.
22. YouTube Channel Host
There's no denying the popularity of YouTube. The Google-owned video site is the world's 2nd biggest search engine, which spells big opportunity teachers.
Many popular channels have a major teaching focus, including channels Mario's Math Tutoring. Mario helps students tackle math problems and tests in a helpful, accessible, and on-demand way.
Since you already know your material, YouTube gives you a way to reach an audience far beyond the walls of your classroom.
23. Podcasting
In early 2021, elementary teacher Megan Champion started a podcast called On the Hard Days. She focuses on real talk for parents of neurodivergent children, and has turned it into an inspiring business.
Her primary revenue stream is a membership community for other moms, which brought in $20k in its first year.
Like YouTube and blogging, it can take some time to build up an audience for your podcast, but the results can be life-changing.
You can build a deep relationship with your listeners and
ultimately
monetize with:
your own products and services
24. Proofreading
I made a few thousand dollars as a freelance proofreader and editor a few years ago. My first gigs came from Fiverr, but then I started to get clients by word of mouth and inside some Facebook groups for authors.
It was a lot of fun and I got to read some interesting work before it was released. Plus, it had the added benefit of helping me become a better writer!
I charged around $10 for every 1,000 words, which worked out to around $25-35 an hour.
25. The Amazon Influencer Program
Tyler Christensen has a background teaching at both the elementary and university levels. One of his unique side hustles is reviewing products as part of the Amazon Influencer Program.
In this program, you create short video product reviews of items that are sold on Amazon. Amazon puts your videos on the relevant product pages, and — when someone buys the product after watching your video — rewards you with a small commission.
Tyler reported earning up to $2,000 a month doing this part-time after just a few months of uploading videos.
You do need to have some level of social media following to qualify, but you don't need millions of followers to be accepted.
Your Turn
What do you think are the best side hustles for teachers? Let me know in the comments below!
Looking for More Side Hustle Help?