Every side hustle starts with an idea!
I put together this monster list of side hustle ideas to help get your creative juices flowing.
No more excuses :)
Even better, most of these side hustles don't require a huge initial investment or even any special skills. And while not all qualify as "business ideas," each has the potential to earn you money in your spare time.
These are worth anywhere from $50 to $50,000 a month — it all depends on your execution.
Too Many Choices?
Join the Free 5-Day $500 Challenge. I'll show you step-by-step how to add $500 to your bottom line.
1. Food or Grocery Delivery Service
With services like Instacart, you can earn money delivering groceries and take-out orders in your town.
I sat down with one full-service Instacart shopper who made $10,000 in his first 6 months!
And you don't have to worry about keeping your car spotless for passengers, like you would with Uber.
2. Rental Properties
Real estate investing is one of the oldest and most popular side hustles in the books … but houses are expensive!
Thankfully, new platforms like Arrived make it easy to invest in income-generating properties—with as little as $100.
The company pools money to buy rental properties, manages them, and then distributes the cash flow every month.
I also liked Austin Miller's creative approach to building his rental portfolio, which was up to 17 properties worth $1.2 million when we spoke.
The kicker? They were all acquired "free"—without any of his own money.
3. Customer Interviews
Many companies use customer interviews to get feedback on new products.
User Interviews and Respondent.io are a pair of cool services that facilitate those interviews online and over the phone.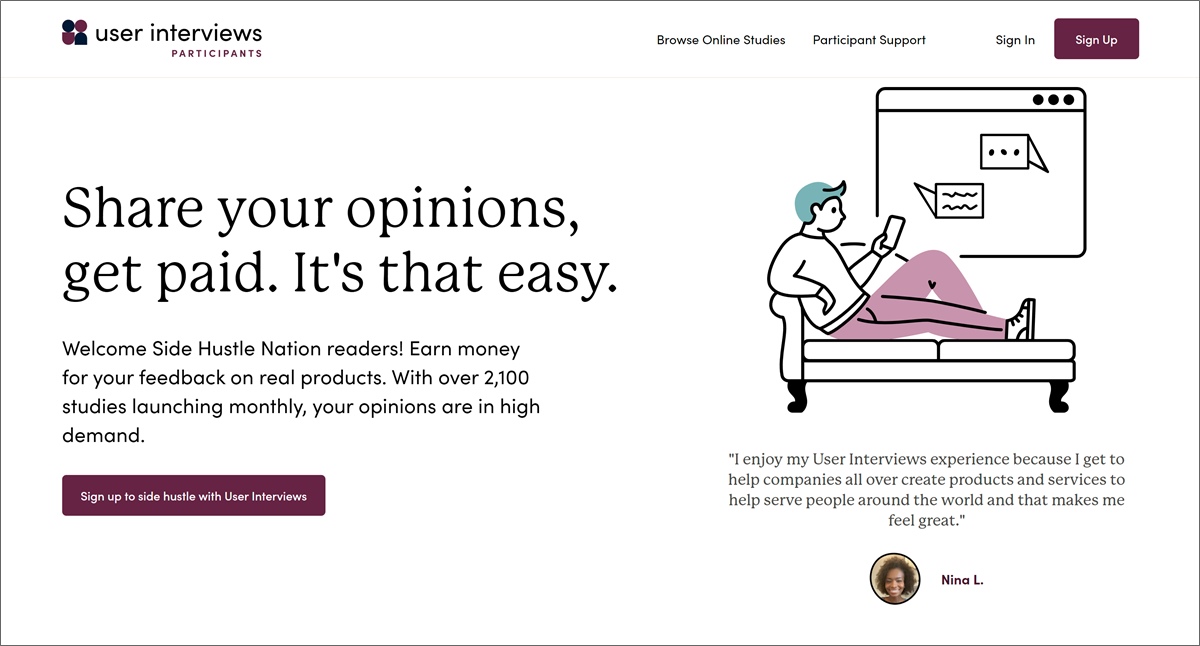 The best part? The average compensation is $50-150 an hour!
Here are some other companies that facilitate focus groups and paid research studies.
4. Online Surveys
These won't make you rich, but can be an easy way to supplement your income and you can do them in your downtime (waiting in line, watching TV, etc.).
If you love this stuff, check out:
5. Flipping Items for Profit
My favorite eBay seller is Rob, the "Flea Market Flipper," who built a 6-figure business buying low and selling high. He and his wife Melissa consistently earn thousands of dollars a month, flipping items part-time!
They put together this free training on how to get started and make your first sales in as little as 2 weeks.
Can multiply money quickly
Cons:
Can be time-consuming to source inventory
Difficult to store and ship bulky items
Suggested Playlist: Flipping Profits
Buying low and selling high is the fastest way to multiply money. Here's how to get it done.
6. Build a Helpful Website
Write content on a topic you care about and build an audience in your niche.
For example:
Want to start a blog of your own? Check out my free 6-part video course on how to start your own site.
Great long-term earning power
Can sell the business down the road
7. Affiliate Marketing
Refer website visitors to buy products online and earn a small commission on each sale. This is actually how I've made the bulk of my living over the last 10+ years, so it definitely works!
One effective affiliate marketing model is to create "comparison" content that helps readers make a buying decision. Following this strategy, a couple podcast guests reported earning $20,000 a month within the first year of launching their site.
Here's a step-by-step guide to building your first affiliate website.
Suggested Playlist: Affiliate Marketing
Make money online by sharing relevant products and services with your audience. Here's a killer playlist packed with actionable advice from the pros.
8. Reselling Furniture Returns
Reselling furniture returns is a unique low-risk side hustle.
How it works is you join Sharetown as a local "reverse logistics" rep. Sharetown partners with direct-to-consumer mattress and furniture brands to handle their return requests. When customers decide they don't want to keep the item, you'll get dispatched to go pick it up.
After that, you'll clean it up, photograph it, and list it for resale on sites like Facebook Marketplace.
The Sharetown reps I've connected with target $150-250 per flip — and the kicker is you don't have to pay Sharetown for the inventory until the item sells.
Check out my full Sharetown review to learn more.
9. "Alternative" Investing
Alternative investments include peer-to-peer lending, real estate crowdfunding, business lending, and even cryptocurrency.
This is one of my favorite side hustles because it's automated and passive. Check out options like Fundrise, which allows you to invest in revenue-generating commercial real estate for as little as $10.
Disclosure: I've been a Fundrise investor since 2015. When you join through my referral link, I receive compensation.
Another example of buying cash flow is to buy an online business. For example, Stacy Caprio bought a small portfolio of sites that—after a couple early mis-steps—was profitable enough to leave her job.
10. Bookkeeping / Accounting / Tax Preparation Service
Help other businesses with their accounting and finances. This can be a great option for people with an accounting background from school, your day job, or just for people who aren't afraid of math.
Virtual bookkeepers can earn $60 an hour or more. Here's a free training on how to get started.
11. YouTube Channel Host
If you generate a lot of video views, you can earn money with YouTube's revenue sharing program.
I've been dabbling a bit more with YouTube lately, and recently passed $500 in monthly ad income.
YouTube is an exciting platform because it's both a search engine and a viral engine — giving you two ways to get discovered. You may not even need to be on camera yourself.
12. Selling Printables and Spreadsheets
I'm a fan of side hustles that let me get paid over and over again from work I do once, and printables definitely fits that bill.
By uploading digital files to Etsy, you can reach a wide audience of buyers—without having to fulfill individual orders.
Rachel Jones reported earning $10,000 a month from her portfolio of Etsy printables. Examples might include habit trackers, meal plans, budget templates, chore charts, intake forms, and more.
Similarly, Emily McDermott reported earning $250,000 in her first two years of selling spreadsheets on Etsy.
13. "Software with a Service" Consulting
There are consultants for practically every area of expertise. What are you a relative expert in that others might pay for your advice?
One of my favorite angles is to piggyback on the popularity of a particular software tool, like Brad Rice did with Salesforce (earning over $200k a year part time!). As adoption of the software grows, so too does the demand for qualified support.
14. Baking
Do people love your desserts? Maybe you could provide cakes, cookies, or cupcakes to some corporate event in town.
A friend of ours has built a pretty serious following for her custom cookies—and sometimes sells out in just minutes!
15. Virtual Assistant Service
Virtual assistants generally charge $15-40 an hour to provide remote administrative support to clients. If that sounds like a fun side hustle you can set up shop on your own or jump on board with an established VA company.
To learn more about starting your own virtual assistant company, check out the free video training from my friend Abbey Ashley, who started her VA business on the side.
16. Raw Land Flipping
This sounds a little crazy, but my guest Mark called his raw land investing business "the best passive income model" because he doesn't have to deal with "problem tenants, toilets, or termites."
His book, Dirt Rich, is free to Side Hustle Nation readers (just pay shipping).
More recently, I sat down with one of Mark's students who'd built his land flipping business to $10k a month in his first year.
17. Book Flipping
Use the free Bookscouter app to scan barcodes and see what old books are worth. You can do this both for the books collecting dust on your shelf and for the ones at garage sales or the library book store.
One Side Hustle Show guest reported earning up to $4000 a month flipping books!
18. Notary Public Service
Notary certification is granted by your state and generally costs less than $100.
Once you're certified, you can get paid to notarize documents, or become a loan signing agent. These mobile notaries can make anywhere from $1,000-8,000 a month overseeing mortgage signings in their spare time.
Check out some of the training resources at Loan Signing System to learn more.
19. Niche Newsletter
One of the side hustles I'm most excited about right now is curated email newsletters. Could you source the best articles on your topic of choice on a daily or weekly basis?
These are super valuable for readers since you help cut through the clutter in your niche. As your audience grows, you can monetize with ads, affiliate offers, or your own products or services.
Tools like Substack and SendFox make it super easy to get started.
20. Teaching an Online Course
Udemy is an online education platform with thousands of on-demand courses. You can create your own course around a topic you're an expert in and set your own tuition rate.
I did this several years ago and have earned over $20,000 in (mostly) passive income from it!
If you have an existing audience, you might be able to sell the course directly (without giving Udemy a cut). In this episode with Nate Dodson, he shares the framework he used to earn $40,000 a month teaching people how to start a microgreens business.
21. Mystery Shopping
Companies pay mystery shoppers to:
verify their in-store shopping experience
rate their customer support staff
evaluate the competition
Some mystery shoppers report earning over $10,000 a year!
One easy way to get started is with the Field Agent app. The free app pays you to complete small tasks in your neighborhood, like photographing the inside of a store or checking inventory levels.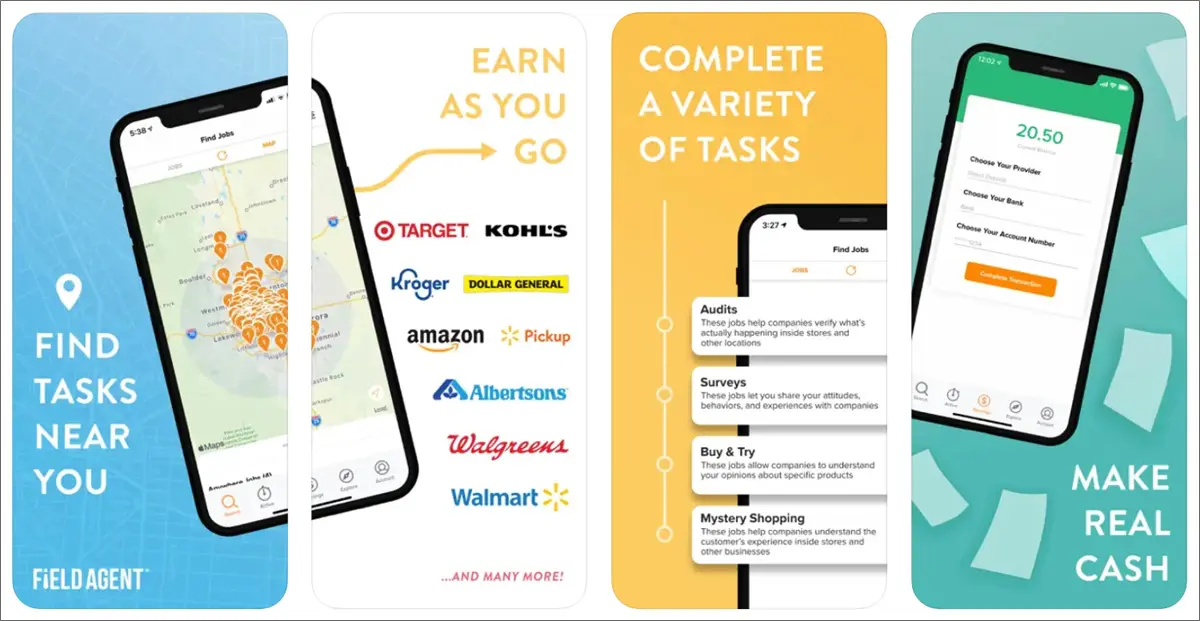 I found several of these tasks near me, from companies like Home Depot and Walmart, with the payouts ranging from $3-8 per assignment.
22. Tutoring
Put your education to use helping students learn in a comfortable one-on-one setting. WyzAnt is one of the largest marketplaces in the online tutoring world, where you can set your own rates.
Or you can apply to work with BookNook, a popular online math and reading tutoring company for kids in Kindergarten through 8th grade. Pay is $15-22 an hour.
In this post, Matt Fuentes shared how he built his tutoring business up to $1000 a week.
23. Picking Up Trash
Brian Winch has been doing this for over 30 years and calls it "America's simplest business." He says you can earn $50,000-$100,000 a year to walk local parking lots and clean up the garbage.
Check out the interview I did with Brian to learn more.
Suggested Playlist: Local Business Ideas
Money is already flowing through your city, town, and neighborhood. Here are some actionable ways to get it flowing to YOU!
24. Reselling on Amazon
In this popular side hustle, you find bargain deals locally and ship them off to sell on Amazon. Thanks to the Amazon FBA program (Fulfillment by Amazon), the e-commerce giant handles all the logistics.
I even made a bit of money when I tried it myself.
25. Online Arbitrage
With a trained eye—and often some software to help—you can buy products from one website, and resell them for a profit on Amazon. Online arbitrage pros can earn $10,000+ per month from home.
Too Many Choices?
Join the Free 5-Day $500 Challenge. I'll show you step-by-step how to add $500 to your bottom line.
26. Kindle Publishing
Selling ebooks on Amazon is one of the income streams I'm cultivating. I love the idea of having my work for sale on the world's largest store!
From my very first author royalty check in 2012, I keep learning more about self-publishing and am hopefully getting better every time I put pen to paper … or fingers to keyboard.
Since then, I've earned over $79,000 in author royalties:
27. Part-Time Remote Work
With legit jobs ranging from entry-level to executive and freelance to full-time, FlexJobs is the leading work from home jobs site. At press time, there were more than 30,000 openings in dozens of career categories.
They charge a nominal monthly fee to access their listings, but you'll easily earn it back (and then some!) with one job.
28. Becoming an Adjunct Professor
You may need a graduate degree for this one, but it can be a fun way to share your knowledge with the next generation of students and earn some good money on the side.
The average pay for adjunct professors is $3500 per course and some jobs allow online teaching and pre-recorded lectures.
29. Freelance Writing
With millions of websites all competing for attention, freelance writing is a service that's constantly in demand. Someone's got to create all that content, right?
Georgia Austin even turned her writing side hustle into a full-blown agency!
Here's a great free resource to get started: Your 9-Step Blueprint to Making Money as a Writer
30. Proofreading
Do you like to read? If you have an eye for detail you can set up shop on Upwork as a proofreader and bid on jobs large and small.
I actually offered this service on Fiverr for a while and made some decent money.
31. Ridesharing
Earn extra cash driving your fellow citizens around with Lyft or Uber.
One cool "hack": Both companies offer "Destination Mode." This allows you to tell the app which direction you're headed—and only accept riders along your route. It's a relatively easy way to monetize your commute!
32. Freelancing on Fiverr
Fiverr is one of the most popular freelance marketplaces in the world.
Check out these fine Side Hustle Nation posts/interviews for more on how to make Fiverr work for you:
33. Print on Demand T-Shirts
Upload your clever or artistic t-shirt design to Merch by Amazon or Redbubble, and collect a small profit every time it sells. You never have to touch any physical inventory; the platforms handle the shipping and fulfillment.
For years, this had been worth $50-200 a month for my wife and I, very part-time.
Another platform to check out is Printful, which has tons of print-on-demand products and lets you syndicate your listings to Etsy and other stores.
34. Your Own E-Commerce Store
Sell products online through your own store or through Amazon or eBay. In this episode, Connor Meakin walked me through how he bootstrapped his e-commerce business to 6-figures in his first year.
Next Step: Set up your shop with a free trial of Shopify, the leading shopping cart provider.
35. Sports Coaching or Officiating
School teams are sometimes in need of coaching help and this can be a fun and active side hustle.
Similarly, recreational sports leagues are often in need of referees and umpires. This can be a fun way to spend your evenings and earn a little extra cash.
36. Podcasting
A large podcast following can translate into serious sponsorship dollars. It costs less than you think to start and has honestly been a life-changing project for me.
But you don't have to take my word for it. My friend Steve Young turned his part-time podcast into a full-time business with multiple streams of income.
37. Pool Cleaning Service
If you live in a warm climate, this could be a fun and interesting side hustle to enjoy the summer outdoors.
38. Knife Sharpening
Matt Rowell started a knife sharpening business in his spare time, and now earns $30-60 an hour.
Every house in the country is a potential repeat customer!
39. Selling on Etsy
Etsy is the world's largest marketplace for unique hand-crafted goods. What can you make?
My friend Kara started selling wine-themed wedding décor on Etsy as a side hustle and since turned it into a full-time business.
40. Alterations
Handy with a sewing machine? The market for clothing alteration is ripe for disruption because of a lack of transparency in pricing. I've had some suits altered from a couple different places with dramatically different rates.
Free marketing tip: Post flyers at the gym or other places where people may have lost a lot of weight and need their clothes altered.
41. Ironing / Mobile Laundry Service
Holy crap do I hate ironing! I'm certain a decent chunk of the population is with me on this one and would be willing to pay to make that problem go away.
I actually connected with a reader who was doing this in Australia, and earning $400 a month. She didn't mind the work and was thrilled to be "getting paid to watch movies"–how she passed the time while ironing.
According to the mobile laundry service Poplin, top "Laundry Pros" earn up to $6000 a month.
42. House Hacking
If you have extra room in your house, you can earn money renting it out to visitors on Airbnb.com. It's a pretty cool way to make money and meet interesting people from around the world at the same time.
With a little bit of traction, you could even cover your entire rent or mortgage by hosting guests on Airbnb. Have you tried it?
43. Airbnb Co-Hosting
In addition to a small portfolio of her own short-term rental properties, Zeona McIntyre has built a side business "co-hosting" other Airbnbs.
She essentially acts as the property manager, coordinating guest check-ins, maintenance, and cleaning. In exchange, she earns 20% of the booking fees—with none of the risk or upfront cost.
44. Rental Arbitrage
A popular—but controversial—side hustle is known as rental arbitrage or Airbnb arbitrage. How it works is you enter into a long-term lease on a property, with the intent (and landlord's consent) to rent it out on Airbnb.
One entrepreneur I interviewed reported earning almost $200,000 a year doing this, without owning any properties himself.
45. Child Care or Caregiving
Is it just me, or does "babysitting" sound amateur compared to "child care"?
There's also an opportunity in elder care as the population ages, and sites like Care.com can help match you with customers.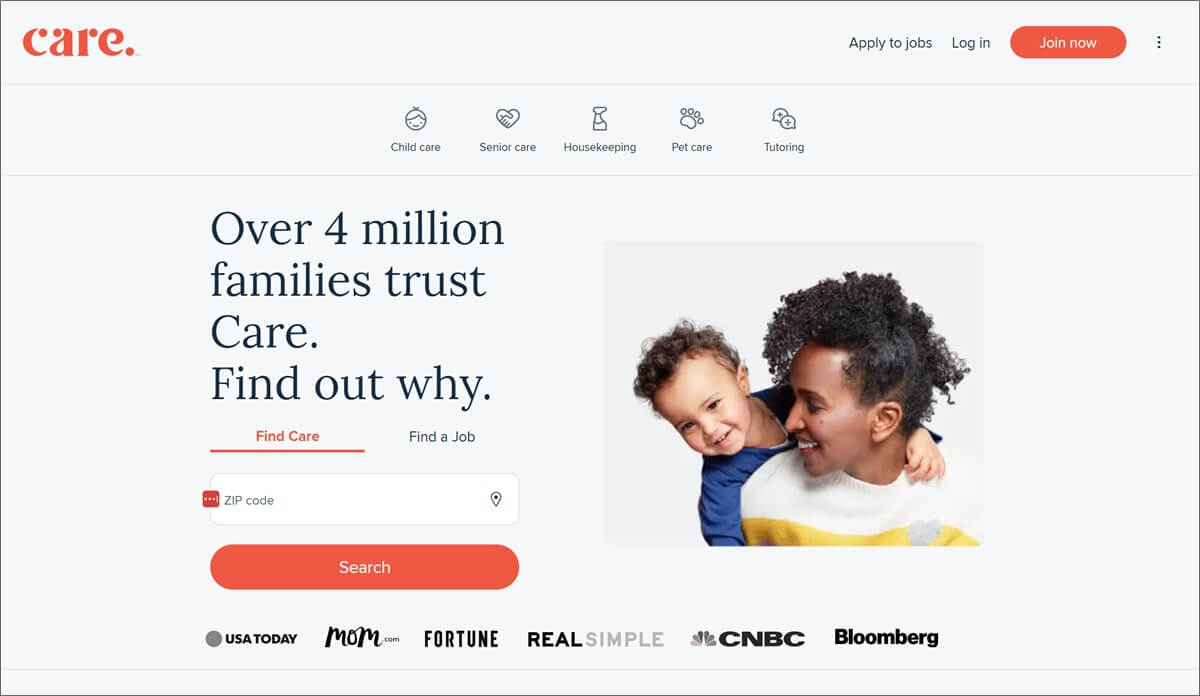 46. Pressure Washing
Pressure washing is oh-so-satisfying and can be a great seasonal way to earn some extra cash. Rates may range from $100-250 or more per house, which is pretty cool considering a high quality pressure washer may only cost $400.
This is one where you can breakeven and start turning a profit pretty quickly.
47. Car Wash and Detailing
A mobile detailing service is a super low startup cost side hustle. You could get clients in bunches at office parks, shopping malls, schools, sporting events, and other places where cars like to gather.
48. Gutter Cleaning
Gutter cleaning is a relatively simple and low cost business to start. You could get clients on an annual or semi-annual recurring schedule like the dentist.
49. Personal Chef Service
Could you picture yourself making meals in someone else's kitchen? This could be a good way to monetize your cooking skills— without the risk of starting your own restaurant.
Some friends of ours pay $180-200 a week for meals delivered to their house.
HireaChef.com connects you with families and events looking for private chefs, or you might just post on Facebook or NextDoor.
With platforms like Eatwith, you could even begin charging to host meals.
Too Many Choices?
Join the Free 5-Day $500 Challenge. I'll show you step-by-step how to add $500 to your bottom line.
50. Residential or Commercial Cleaning Service
It may not be glamorous, but commercial cleaning is something nearly every business spends money on. And since it usually gets done in the after-work hours, it's a good fit for side hustlers.
Anthony and Jhanilka Hartzog built their cleaning business to $25k a month — and contract with other pros to do the work!
51. Cracked Screen Repair Service
People play $150-300+ to replace cracked screens on their phones, but the glass itself usually costs less than $25. Could you teach yourself this in-demand skill?
52. Cover Letter and Resume Service
There is a massive opportunity to help job seekers with their resumes and cover letters, especially if you have HR experience. Since the payoff of landing a new job is so high, it's worthwhile for applicants to get some professional help on their documents.
53. Small Business Marketing Service
Many small companies don't have the staff or know-how to do all their marketing themselves. Could you help them put their best foot forward online and on social media?
54. Dividend Investing
This has been one of my favorite ways of "buying cash flow" lately, and is a simple way to get paid over and over again from work you do once.
I've focused on companies that have a long history of paying—and increasing—dividends, and slowly built up my portfolio. Every quarter they come in like clockwork. Dividends are one my most passive income streams.
Set up a free brokerage account at M1 Finance and get started right away.
55. Pet Sitting and Dog Walking
When homeowners travel, it opens up an opportunity to come by and take care of their animals.
To set up shop, try Rover.com. Several Side Hustle Nation readers report earning $1000 a month watching other people's pets!
56. Pet Waste Removal
It's a dirty job, but someone's got to do it!
More and more homeowners are outsourcing the chore of picking up the dog's back yard deposits. In just a few months, Erica Krupin had landed 80 recurring weekly clients at around $15 apiece.
57. Pet Grooming
Just like their owners, pets need haircuts too. A mobile pet grooming service can be a low-cost part-time business.
58. Private Labeling
In this side hustle, you identify hot-selling products and try to improve them.
On The Side Hustle Show, 7-figure Amazon seller Greg Mercer shared his top 3 Amazon FBA product sourcing guidelines and tips.
59. Renting Out Your Car
In select markets, you can rent out your car on a daily or hourly basis to earn extra cash through companies like HyreCar.
The average car sits idle 22 hours a day, so this is a unique opportunity to capitalize on those idle hours. The company handles all the insurance.
Similarly, a couple friends used the Turo platform to essentially get a free Tesla!
60. Local Rental Business
High school teacher Steve Nadramia began renting out portable hot tubs, and now does $1000s a month in bookings.
These types of "unconventional" rental businesses are exciting because the return on investment is so much higher than traditional real estate. For example, in Steve's case, he might buy a hot tub for $2000, and rent it out for $400-500 a month.
25 Other Unconventional Rental Ideas
What else could you rent out for a profit? Here are some ideas!
Enter your email to download the full list now:
You'll also receive my best side hustle tips and weekly-ish newsletter. Opt-out anytime.
61. Craigslist Gigs
There's a little-known section in the bottom right corner of Craigslist specifically for side hustlers. It's called "gigs":
Check it out and see what kind of gigs you might be able to find nearby or online.
62. Doula Service
Doulas can earn $500-$1000 per birth.
63. Drop Shipping
Drop shippers set up their own storefront, but never touch the actual product. Instead, the items are shipped directly to the customer from the manufacturer or wholesaler.
I had the chance to sit down with Rene Delgado to learn how he sold $300,000 worth of bounce houses in his first year in business.
64. Brand Ambassador
Big brands are always looking for assistance with their on-the-ground marketing efforts, and pay pretty well for the help.
Kenny Azama explained it's a relatively easy (and fun) way to earn $1000 a month part-time, and could even turn into a full-time gig. When we spoke, he was earning $2k a week on a cross-country RV road-trip as a brand ambassador!
65. Estate Sale Service
Estate sales are often managed by third-party companies, who take a percentage of the proceeds in exchange for handling the event.
66. Event DJ-ing
Is DJ-ing a lost art in the era of pre-made playlists? Either way, there are still plenty of events that hire live DJs.
Check out sites like GigSalad to set up your profile and get booked.
67. Furniture Flipping
This popular side hustle involves sourcing inexpensive dressers, desks, and tables from yard sales, Facebook Marketplace, or Craigslist. Next, you fix them up and resell them for a profit.
With a little effort you can turn a $30 dresser into a $200 Pinterest-worthy piece.
68. Graphic Design Service
Quality graphic design is always in-demand, and there have never been so many outlets on which to sell your skills. The most popular design-focused site is 99designs, but you can also check out Crowdspring, DesignCrowd, or other freelance marketplaces.
69. Web Design Service
There's no shortage of crappy-looking websites out there. Pitch the benefits of good design and help them out.
In an inspiring Side Hustle Show episode, Chris Misterek shared how he taught himself the necessary skills and began earning $3000 a month.
70. Handyman Service
This is certainly not a great option for my less-than-handy self, but I'm positive someone else with the right skills can make it work.
You might try setting up a profile on TaskRabbit (where I connected with an on-demand handyman) or Thumbtack.
71. Home Inspection Service
Certification is required, but inspections can be scheduled at your convenience and only take a few hours.
72. Mobile Mechanic
Matt Bochnak of Chicago started fixing motorcycles in his garage to earn extra money. It was a good gig, but it became a great one when he started filming his repairs and putting the videos online.
Eventually, Matt turned this classic blue collar hours-for-dollars side hustle into a $20k a month online business.
If you're comfortable fixing cars, check out YourMechanic.com, which helps match you with customers in need of car repairs — and pays up to $70 an hour.
73. Local Newsletter or Facebook Group
Could you start a small email newsletter or Facebook group for your hometown? Could you sell advertisements or directory listings to local businesses?
Melissa Fassel-Dunn did this for her town (a Boston suburb) and turned it into an almost 6-figure business.
My friend Bill Nowicki took this idea one step further, and started a local podcast for his town.
74. Home Organization Service
After you're done Marie Kondo-ing your own place, maybe others would hire you to "spark joy" in theirs. With some creative local marketing I bet you could build a client roster and help other families declutter their space.
75. Renting Out Your Attic or Garage
The Neighbor self-storage platform connects people with storage needs with those who have extra space. If you've got some excess storage capacity in your garage or elsewhere, list your space here to fill it and get paid.
According to the site, top hosts are earning up to $10,000 a year running their own mini self-storage operations. Check out our full Neighbor.com review to learn more.
76. Junk Hauling Service
This is a great side hustle business if you already have access to a pickup truck or van. Bonus points if you can re-sell some of the junk!
I sat down with Brian Scudamore, the founder of 1-800-GOT-JUNK, to learn how he took the business from a summer gig to doing around $1 million a day in revenue.
77. Transcription Service
Transcription—turning audio recordings into text—is often a part-time work-from-home position. Many transcribers specialize in a given industry, like medical, legal, or podcast transcriptions.
Several sites, including Rev.com, hire transcribers. If you're fast, you might be able to earn up to $15 an hour.
To learn more about transcribing work, check out this free 7-day mini course on how to get started.
78. Flyer Distribution Service
One listener wanted to find a way to get more FitBit steps—and get paid for it. So he approached a local business and offered to distribute flyers door-to-door.
Then he realized it wouldn't really be any more work to drop off 3 or 4 flyers at each house, effectively earning $75-100 an hour for taking a walk!
Too Many Choices?
Join the Free 5-Day $500 Challenge. I'll show you step-by-step how to add $500 to your bottom line.
79. Modeling
Stock photographers are sometimes in need of subjects for their work. Strike a pose!
80. Movie / TV Extra
Your odds are better if you're in LA, New York, or Atlanta, but there can always be "on location" shoots nearby.
Check out Central Casting or Auditions Free to see if there are any movie extra jobs near you. Bonus points if you can get your Screen Actors Guild credentials or IMDB credits!
Movie extras typically earn minimum wage, but then again, you might have a brush with celebrity.
81. Moving Service
Moving is never fun, but can be a good way to earn some extra cash on the weekend if you're strong and don't mind carrying other people's stuff.
Sites like Dolly help connect you with nearby moving jobs.
82. Host Trivia Nights
Bars and restaurants are always looking for creative ways to get customers in the door, especially mid-week. One compelling option is an entertaining trivia game, that you can get paid to host.
83. Party Planning / Wedding Coordinator Service
Put your organization skills to good use. Build relationships with venues, wedding photographers, or other service providers in the space. You might need to do your first couple of gigs for free or a low cost to establish yourself.
84. Personal Training
People are always looking to get in shape and if you have a passion for fitness, this could be the perfect side hustle.
85. Photography Service
Turn your photography hobby into an income stream. This is my wife's favorite side hustle, and earns her an extra $10,000 a year.
Side Hustle Show guest Vincent Pugliese shared how "freelanced his way to freedom" and went from earning $30k a year to $30k in a day.
86. Product Licensing
With product licensing, you sell the rights to your idea to large companies, who then pay you royalties for every sale they make from that idea.
For example, Nate Dallas earned $300,000 from Mattel after licensing them an idea for a Pictionary spin-off.
87. App Development
The mobile app market is hot, but one developer likened it to the gold rush—where the ones who made the most money were the ones selling the gear and the shovels.
Still, if you can learn to code apps or jump on the fast-growing "no code" trend, you'll have a in-demand skill you can use over and over again.
88. Real Estate Wholesaling
In this side hustle, your job is to connect motivated sellers with real estate investors. You earn the difference between your negotiated contract price and the eventual sales price.
The best part? It doesn't put your cash or credit at risk. On the podcast, J. Massey shared some more tips on how to find distressed properties.
89. Snuggling
Yes, this is a real thing, and it has some proven health benefits. So, naturally there's a business angle.
Sam Varnerin's snuggling side hustle has turned into a pretty lucrative business. She told Student Loan Hero, "I work around 18 hours a week, charging between $80 and $100 an hour, and make between $3-4k a month."
90. Teaching Music
With a love for music, teaching, and working with kids, you could start a part-time music teaching business. In our town, we see instructors setting up shop at children's fairs and the weekly farmer's markets to advertise.
91. Music Licensing
Singer-songwriter Cathy Heller found a unique way to "reverse-engineer" her dream job by licensing her catchy tunes to big brands and TV shows.
Alternatively, licensing stock music is a bit of a numbers game, but can be a cool way to earn passive income from your art.
92. Teaching Yoga
Becoming a yoga instructor could be a fun and healthy side hustle.
93. Local Tours
Do you want to show off your city to visitors? You can create your own unique tour experience with the help of websites like ToursByLocals.com.
For example, Alexandra Kenin leads urban hikers through the hills of San Francisco at $50 a pop.
94. Pallet Flipping
Flipping liquidation pallets is a unique "treasure hunt" of a side hustle. How it works is you buy pallets of returned merchandise from local liquidators and resell the individual items for a profit.
For side hustlers like Jamie and Sarah McAuley, this translates into $500-2000/mo in profit.
95. Vending Machines
Matt Miller's vending machine empire started with just $36 and a bag of gumballs. He'd been flipping used books, but found it took too much time. Looking for something a little more automated, he settled on bulk vending.
96. Voiceover Acting
Companies are always on the look for professional voiceover talent. Once you start listening for it, you'll hear voiceover work everywhere.
One Side Hustle Show guest reported turning her voiceover side hustle into a full-time gig in just 4 months, earning up to $3000 an hour in the process.
97. Window Cleaning Service
Window cleaning can be a nice little weekend side hustle with low startup costs; you may already have a ladder, a bucket, and a squeegee.
Johnny Robinson built his window cleaning service to $700k a year — while a full-time college student!
98. Mechanical Turk
Mechanical Turk is a micro-jobs platform built by Amazon. The downside is that most tasks pay pennies.
The good news is they're relatively simple and fast to finish, so you may be able to earn a modest side hustle income in your spare time from home. In fact, one reader reported earning $50,000 in his spare time over the last few years.
The hourly wage won't be anything amazing here, but I wanted to include it as an option in case you wanted to check it out.
99. Yard Work Service
Nearly every yard in the country requires some sort of maintenance.
Plus, more and more homeowners have started outsourcing this chore, which means there's a side hustle opportunity.
100. Storage Unit Auctions
Popularized by TV shows like Storage Wars, bidding on abandoned storage lockers can be a viable side hustle—and a bit of a treasure hunt.
101. Amazon Influencer Program
If you have a bit of a social media following, I recommend applying for the Amazon Influencer Program.
Once approved, you can upload simple product review videos, and get paid for every sale you help Amazon make. With very little effort, I've been earning an extra $50-100 a month, and some "influencers" are earning $2k a month or more!
102. Reader's Choice!
Help me out by adding your part-time business idea in the comments below!
Too Many Choices?
Join the Free 5-Day $500 Challenge. I'll show you step-by-step how to add $500 to your bottom line.
Looking for More Side Hustle Help?
Frequently Asked Questions
What is a side hustle?
A side hustle is anything you do to earn money outside of your day job. However, side hustles carry a more entrepreneurial connotation than merely taking on a second job.
What's the best side hustle for me?
The best side hustle for you depends on your skills and experience, the time you have to devote to it, and your overall interests and goals. Check out our full list and you're sure to find a side hustle idea that sparks a flame!
What are the most popular side hustles?
By raw numbers, the most popular side hustles are freelancing, network marketing, real estate investing, and participating in the "gig economy" through apps like Uber and Lyft. Be sure to check out the full list of ideas to see which one could be a fit for you.
How do you start a side hustle?
To start a side hustle, I recommend the "lean startup" model. That means keeping upfront investments low until you find paying customers. Then, use their feedback to change and adapt as needed. But all side hustles start with an idea. Check out our full list of side hustle ideas for more!
Why should you have a side hustle?
A side hustle can be a great way to build extra income and extra skills outside a traditional job. It can be a way to escape a job you don't like, a shortcut to financial independence, or just a way to practice entrepreneurship in a low risk manner.
Pin it for later: