What are the best side hustles for introverts?
Don't worry — if you don't like talking to people, there are still plenty of ways to make extra money and start a business!
I get it. I identify as an introvert myself:
Walking into a crowded room where I don't know anyone gives me anxiety.
In group settings, even with friends, I'm usually pretty quiet.
I sometimes have a hard time coming up with conversation topics, especially with strangers. (Though hosting 400+ interviews on The Side Hustle Show has definitely made me better at this!)
Yes, there's some irony there. I make a living — in part, at least — by talking to other people.
And I think that's an important note. Interacting with other humans isn't going to kill us, and there's even probably some value in doing things we find uncomfortable. But there are certainly side hustles better suited to those of us on the shyer or quieter side.
Network marketing? Door to door sales? Renting a spare room on Airbnb?
Thanks, but no thanks!
Fact: Introverts are Actually Great Entrepreneurs
There's no evidence extroverts made better entrepreneurs. 
In fact, in Entrepreneur, Jeffrey Hayzlett argues that introverts may actually have a slight edge due to their focus, critical thinking, and unique, empowering style of leadership.
He identifies Bill Gates, Warren Buffett, and Mark Zuckerberg as famous introverted entrepreneurs. You don't need to have a super outgoing, outspoken personality to be successful.
But let's get into the list of side hustle ideas. I'll start with some that have worked for me, and then share lots more to get your creativity flowing.
1. Blogging
I've been blogging since 2009, first as a personal journal and creative outlet, and now as a business.
It's never been easier to start a blog, but it's also never been harder to stand out and get noticed.
The blogs I see having success today focus on creating helpful content on a specific niche. They're not personal journals.
That way, when people are searching for answers or ideas in Google or Pinterest, they can find you.
2. Self-Publishing
Self-publishing on Amazon is one of my longest-running side hustles. I started in 2012 and still remember the thrill of receiving my first author royalty direct deposit.
(It was something like $46.42!)
I've added several more books to my portfolio since then and consistently earn a few hundred dollars a month.
One of my books is actually free on Kindle if you want to check it out:
The Side Hustle: How to Turn Your Spare Time into $1000 a Month or More
If spending hours alone at your keyboard sounds like a dream come true, you're already on your way to becoming an author.
3. Affiliate Marketing
With affiliate marketing, you earn a commission for helping sell another company's product or service online.
The big advantage? You usually don't have to talk to anyone! People can just click a link, and boom—the referral is automatically credited to you.
My first real side hustle was an affiliate marketing business. It was a comparison shopping site that helped people find the best deal on their next pair of shoes.
When someone clicked over to Zappos or another store and bought, I'd earn a commission.
Eventually I earned enough from this business to quit my job!
If that sounds interesting, here's a step-by-step guide to getting started with a simple affiliate website.
Suggested Playlist: Affiliate Marketing
Make money online by sharing relevant products and services with your audience. Here's a killer playlist packed with actionable advice from the pros.
4. Online Surveys
While online surveys won't make you rich, they definitely are an easy way to make extra money. If you've got time to kill while waiting for the subway or watching TV, here are some options to check out:
Now if you don't mind talking to people, my favorite "online survey" company is User Interviews. (If I'm getting paid, all of a sudden my introversion dissipates a little!)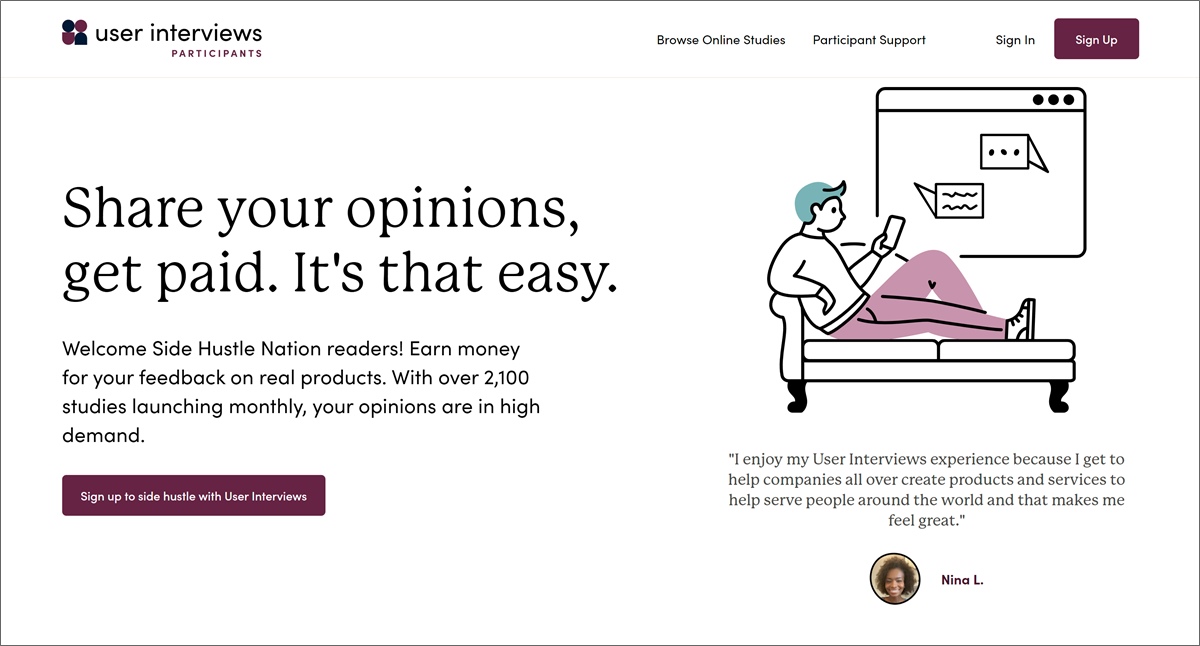 They match you up with paid research studies and focus groups, and new studies are added all the time. With average payouts of $50-200 an hour, it blows the other options out of the water.
The downside is they usually pay via Amazon gift cards instead of cash. Still, in my first couple months on the site, I earned $40 in about 40 minutes.
5. Game Apps
Yes, you really can make money playing video games! Here are some of Side Hustle Nation's top picks for casual gamers.
Bingo Cash
The popular Bingo Cash game app turns classic bingo from a game of luck into a game of speed and skill.
Each game only takes about 2 minutes to play, and you can earn real-world rewards and cash prizes (except in AR, IA, LA, SC, and WA).
At press time, the app had earned mostly glowing reviews — 4.7 stars from over 89,000 App Store reviewers. (Players call it fun and addicting.)
The most common complaint? That the advertising claims that you can win big money with little effort are misleading.
As with all gaming apps, practice for free first. Then, never put more money at risk than you can afford to lose.
Rewarded Play (Android)
With over 150,000 reviews and a 4.1-star rating in the Google Play store, Rewarded Play is another free, legit, and fun, "get paid to play" app.
Rewarded Play is your one-stop app for casual games like Solitaire, Mahjong, Wheel of Fortune, Yahtzee, and more. As you play, choose your rewards and get your gift cards within 48 hours.
Solitaire Cash
I played my fair share of Windows Solitaire growing up, so Solitaire Cash got my attention.
The app pits you against similarly-skilled players, where everyone receives the same deck. The players who finish with the most points win. Of course, I recommend practicing for free first!
Solitaire Cash is free to download and play, but real money tournaments aren't yet available in AZ, IN, IO, LA, ME, MT, SC, and WA.
Mistplay (Android)
With over 10 million downloads, the popular Mistplay app rewards you for discovering and playing new games on your phone.
The more you play, the more "units" you earn. Then you can cash in those units for gift cards to your favorite stores.
As far as Mistplay strategy, check out the games with 3x or 4x unit multipliers to earn gift cards faster.
6. Selling Printables
One of the most interesting side hustles I've come across is selling printables. These are digital files you upload to a marketplace like Etsy. When someone orders, the file delivery happens automatically.
On The Side Hustle Show, Rachel Jones explained how she earned $10,000 a month from her portfolio of printables … and rarely, if ever, had to talk to customers. She shared her product research and marketing process.
7. Freelance Writing
Freelance writing is a fantastic side hustle — you can use skills you already have and just need one client to get started.
In the past, I got paid to write articles on creative ways to save money at Starbucks, or to summarize and re-purpose some of my podcast interviews. I made around $75 an article, but have paid freelance writers anywhere from $10 to $500+ to help me create content.
To learn more, check out this free guide from the American Writers and Artists Institute:
Here's a quick video interview I did with a freelance writer on how she got started:
8. Proofreading and Editing
If you have an eye for detail, there's money to be made as a proofreader or editor.
Like I mentioned above, self-publishing is exploding, and all those authors (at least the serious ones) need help editing their work.
For this side hustle, I found my first clients on Fiverr, but ultimately established positive word of mouth referrals in some Facebook Groups and among students of a popular self-publishing course.
Related: How to Build a 6-Figure Side Hustle on Fiverr
I started out charging $100 for every 10,000 words, but slowly inched up rates as I improved. This was far more successful than my freelance writing income, and all client communication was over email.
(And as a bonus, I got to read some pretty interesting books!)
9. Retail Arbitrage
Retail arbitrage is the business of "buying low" from nearby stores (or online), and "selling high" — usually on Amazon.
I was skeptical that this could actually work, but ended up making a little over $600 from my experiment.
You'll need an Amazon seller account to get started. There's a free personal version, but it can be hard to find. (The Pro level is $40 a month and well worth it once you start to sell 40 items or more per month.)
After that, download the Amazon Seller app on your phone. While you're out shopping, stop by the clearance section and scan some barcodes to see how it works.
The app will tell you what the items are selling for on Amazon — and what your profit after fees would be.
To learn more about this business, I actually sat down with professional Amazon "flipper" Jessica Larrew. Over the last few years, she and her husband have sold over $1 million worth of stuff following this retail arbitrage model!
10. Online Arbitrage
Online arbitrage is similar to retail arbitrage, except you can do it from the comfort of your own home. This side hustle involves finding products with a big enough price spread between Amazon and other online retailers.
If there's a big enough gap, you can make a profit as a reseller. I sat down with Chris Grant, who's been doing this for years and who reported selling $70k+ per month worth of inventory, targeting 20-30% profit margins.
11. Real Estate / Rental Properties
Real estate can be a true wealth building side hustle. And if you don't want to deal directly with tenants, there are property management services happy to help you out (for a fee).
One interesting platform to take a look at is Arrived, especially if homes in your area are too expensive. The site lets you buy shares in cash-flowing rentals — for as little as $100.
It's an easy way to add real estate to your portfolio, without the headaches of managing and maintaining a property yourself.
Still, I like the instant-diversification, professional management, and deal-vetting of a real estate investment trust (REIT). These investments own or control multiple properties, and pay cash flow dividends to investors.
Fundrise is a leading platform where you can add commercial real estate into your portfolio starting at just $10.
I've been a Fundrise investor for years and they've consistently paid dividends every quarter.
(Disclosure: I earn a referral fee if you sign-up for Fundrise through my link. All opinions are my own.)
12. Podcasting
Now it might sound weird to include podcasting on this list, but let me explain why it's a great side hustle for introverts.
First, I'm able to connect with listeners and guests all over the world from the comfort of my own home.
And second, I host a weekly interview show—I let the other person do most of the talking!
The Side Hustle Show has completely changed my life and today brings in $1000-2000 per episode, just in sponsorship revenue.
(Of course to be fair, that's an overnight success almost 9 years in the making.)
You can subscribe on Apple Podcasts, Spotify, or your favorite podcast app.
Related: How Much Does it Cost to Start a Podcast? Less Than You Think
13. Online Course Instructor
Online education is poised to become a $325 billion industry by 2025.
I've created a few online courses over the years, including Start My Side Hustle.
I like this model because you can help many people with the same material (as opposed to one-on-one coaching, for example). The course is an asset you create once and can sell over and over again, as long as it remains relevant.
If you don't want your face on camera, you can do screen recording or voice over PowerPoint. A couple of the courses I bought myself actually didn't have video at all — they were entirely text/image-based.
Since 2014, I've also earned over $20,000 as an instructor on Udemy.com, a leading online course platform.
Related: The Simple Way to Finally Set up and Sell Your Online Course (And Scale to $40k a Month and Beyond)
14. Food Delivery
I've had my share of introverted rideshare drivers, but having strangers in and out of your car all day might not be the most comfortable side hustle.
Instead, you might consider a food delivery gig like DoorDash or Uber Eats. Expected earning potential is in the $15-25 an hour range (though both companies are hesitant to make any promises).
With these apps, you're essentially a takeout order delivery driver. You don't have to worry about keeping your car super clean or making awkward small-talk with passengers.
Related: You might want to check out these other money making apps.
15. Grocery Delivery
I connected with one Side Hustle Nation reader who reported earning $10,000 in his first 6 months as an Instacart Shopper–all on the side from regular 9-5.
With Instacart, you choose what hours you're available to shop. Then, when orders come in, you head to the store and pick up the requested items.
Almost all customer interaction is handled via text message.
16. Virtual Assistant
As more of the workforce shifts to remote and freelance work, there's a growing demand for work-from-home support professionals, or virtual assistants.
A few established agencies hire virtual assistants, but they're notoriously hard to get accepted to. (Most brag about only hiring the top 1-3% of candidates, and even then, may only pay $12-16 an hour.)
Instead, you might consider setting up shop as your own virtual assistant business. My friend Abbey Ashley, who started her VA business on the side, put together a free training that shares:
Where to find thousands of potential clients.
How to make a full-time living working from home.
What clients are really looking for in a VA. (hint: it's not prior VA experience)
Click here to learn more about becoming a virtual assistant.
17. Credit Card Rewards
Credit card rewards are probably less a side hustle than they are an addiction in our house.
But when you're able to earn thousands of dollars in free cash and travel — just from buying the stuff you normally would — you might be addicted too!
If you're brand new to this, signing up for a new credit card and qualifying for the bonus is some of the easiest money you'll ever make.
Credit cards like the Capital One Quicksilver Card offer a $200 sign-up bonus after you spend $500 in your first 3 months — with no annual fee. That's up to 40% cash back!
Learn more and compare this card to other cash back cards here.
If you know you're gonna spend $500 in the next 3 months, that's #freemoney. This card also gives you one of the highest cash back rates, with unlimited 1.5% back on every dollar you spend.
The Next Step: Check out my free course, Credit Card Rewards 101: How to Earn Free Cash and Travel by Spending Smarter
18. Transcription
Sites like Rev.com pay you to transcribe audio or video clips.
Members of Side Hustle Nation report earning anywhere from $5-12 an hour doing this. (Fast freelance transcriptionists can earn more though; as this free mini-course explains.)
19. Graphic Design
Graphic designers know that great design often speaks louder than words. Doing work for clients is one angle here, but another may be putting your designs up for sale online.
With platforms like Merch by Amazon and Redbubble, it's easier than ever to get your creative work in front of customers.
These are print-on-demand platforms, where you can upload a digital file, set your pricing, and never have to touch a physical product.
20. Remote Bookkeeping
Bookkeeping is often one of the first roles new companies hire for. If you have an accounting background—or are just good with numbers—this might be a good fit.
It's work you can do remotely, and virtual bookkeepers can earn $60 an hour or more. Here's a free training on how to get started.
21. Private Labeling
Private labeling is allowing new e-commerce entrepreneurs to play inventor. The typical process is to find a product that's already selling well on Amazon, and then make some tweaks or improvements.
(Or rather, asking a factory to make those changes.)
The biggest challenge is figuring out what to sell. In this chat with 7-figure Amazon seller Greg Mercer, he shared his favorite product research strategies.
22. On-Site Inspector
Insurance companies (and other customers) occasionally need people to physically inspect something, like a damaged property or vehicle.
When they don't have anyone nearby, they turn to sites like WeGoLook to connect them with a local "looker."
The work isn't particularly challenging, and typically pays $15-30 per "look." But it does require getting out of the house.
23. House Cleaning
Most house cleaning takes place when your customers are at work, so you don't have to worry about making conversation.
This is a relatively low startup cost business, and is a super fragmented industry. By that I mean there really aren't any dominant regional or national brands.
That spells an opportunity to build a side hustle or something larger, like Chris Schwab has done with Think Maids in the Washington, DC, area.
Suggested Playlist: Local Business Ideas
Money is already flowing through your city, town, and neighborhood. Here are some actionable ways to get it flowing to YOU!
24. Dieting
This one isn't much of a business, but is an interesting way to make extra money if you're already committed to a weight loss journey.
Sites like HealthyWage will actually pay you (sometimes $500 or more!) to lose weight.
The downside is you've got to put your money where your mouth is (or your scale). HealthyWage collects your "bet" upfront, and only pays you back plus your prize when you reach your goal. Check out their calculator to see how much your prize could be.
Here's more on how HealthyWage works.
25. Vending Machines
If in-person sales is an introvert's nightmare, a silent, automated sales process should be a dream-come-true, right?
That's the promise of vending machines—an always-on, passive sales force.
It takes a lot of upfront work in getting the machines placed though, and can turn into a tedious restocking job if your inventory sells quickly.
26. Furniture Flipping
Picking up pieces of old wood furniture and restoring or refinishing it is definitely a hot side hustle right now.
These items can often be purchased for $30 or less–sometimes even free–and with a little TLC, resell for a nice profit.
One recent guest of mine gave the example of buying a solid wood dresser for $20, adding a fresh coat of paint, and reselling it for $180.
27. Parking Lot Cleanup
Perhaps one of the most surprising and inspiring side hustle stories I've heard came from Brian Winch.
Brian began picking up litter in parking lots back in the early 1980s before heading off to work.
Within a few months, he'd turned it into a full-time business. Today, it's a $600k+ per year operation!
And it makes a great side hustle for introverts since the work needs to be done in the early morning hours or after businesses close at night. You'll have the whole place to yourself!
28. "Faceless" YouTube Videos
In this interview with Jon Corres, he explained how he was making $10,000 a month from YouTube — without filming or being on camera himself. His unique formula of outsourced viral video production was definitely a creative side hustle that doesn't involve interacting with the public.
Related: How to Make Money as a Video Editor
Side Hustles for Introverts: Conclusion
There are tons of side hustle options for introverts!
Don't let that label or self-identification stop you from pursuing your goals of earning extra money and starting a business.
What Are Your Favorite Side Hustles?
Let me know in the comments below!
Pin it for later: