Everybody's working for the weekend, or so the song goes. But would if you could make your weekends work for you by making extra money?
More people than ever are doing just that. Per the U.S. Census Bureau report, about 13M U.S workers have more than one job — and roughly 70 million have a side hustle.
In this post, I'll share some of the most popular weekend side hustles–and hopefully a few you've never thought of too! I'll try and break down the earning potential for each and offer some suggested next steps if you want to dig deeper.
Ready? Let's do it!
1. Tutoring
The online tutoring market is expected to post an annual growth rate close to 12% during the period 2019-2023, which just proves how much potential it has a weekend (or even full-time) job.
Of course, you could always meet with students locally as well. In either case, you get to choose your own schedule.
To start your tutoring business, first decide what subject(s) you'll specialize in. Test prep can be particularly lucrative, and there's a huge to learn English worldwide.
Earning Power: Tutors can earn $15-100+ per hour, depending on the subject matter and location.
Where to Find Gigs
You don't always need a professional teaching certification, but a TESOL/TEFL certificate can come in handy to get hired by certain online English teaching companies.
Here are some places to get tutoring and teaching jobs:
For other subjects, you might consider partnering with local school counselors or parenting groups.
2. Focus Groups and Surveys
Yes, you really can make money for sharing your opinion. However, the most lucrative "online survey" opportunities — like Respondent or User Interviews — usually take place during the week.
Still, if you have extra time on the weekend, there are lots of research companies constantly looking for survey participants. Depending on the website or app, you'll get paid in the form of cash, gift cards, or discounts.
Earning Power: Think in the range of $1 a day, unless you happen upon some higher paying surveys or focus groups.
Legit, but admittedly low-paying, online survey options include:
Watch out for websites that ask you to pay to take surveys — it's best to stay away from them.
3. Flea Market Flipping
The "flea market flipper" side hustle follows the same "buy low, sell high" model as the Amazon FBA business above. The difference is where you'll source and re-sell your inventory.
Rob and Melissa Stephenson of Florida earn a full-time living finding "odd" items and flipping them for a profit. On The Side Hustle Show, Rob explained he aims for at least $100 profit per item, and tries to 10x his initial investment.
Earning Power: $500 a month or more.
Next Steps
Stop by your local flea market or thrift store this weekend to see what's out there. Have the ebay app handy on your phone to see what items are selling for online.
The cool thing about this one is you can get started with whatever level of inventory investment you're comfortable with.
Check out my latest conversation with Rob or watch their free online training for more.
Related: Flipping Books for Profit: How to Make Up to $4000 a Month
Suggested Playlist: Flipping Profits
Buying low and selling high is the fastest way to multiply money. Here's how to get it done.
4. Graphic Design
There's always going to be demand for good design. Regardless of the industry and size, every company needs designers.
So, if you're someone who has an eye for design and is a creative thinker, you should consider taking it up as a weekend job.
Earning Power: Designers can earn anywhere from $5 to tens of thousands for their work. It all depends on the type of design you specialize in and the kind of clients you can attract.
Where to Find Gigs
Once you've learned the ropes, you can turn to websites such as:
The key is to keep taking up projects, hone your skills, and work towards building a compelling online portfolio to secure more clients.
Thinking Beyond Clients
If you have some graphic skills, don't just wait around for clients to find you. You can begin creating designs you love, putting those on products, and selling them online–all with no inventory.
Merch by Amazon is a popular way to get started, as is creating a drop shipping Etsy shop. In both cases, you can create your products once (as digital files), add them to t-shirts, books, mugs, etc., and sell them over and over again.
5. Mystery Shopping
Field Agent is an interesting money making app you can use to connect with local mystery shopping gigs.
There's a bit of a treasure hunt feel to this one, and could be a fun way to turn your regular weekend errands into a side hustle.
Most of these gigs involve evaluating product displays or checking on inventory. They typically pay $3-10 apiece, depending on complexity and the time involved.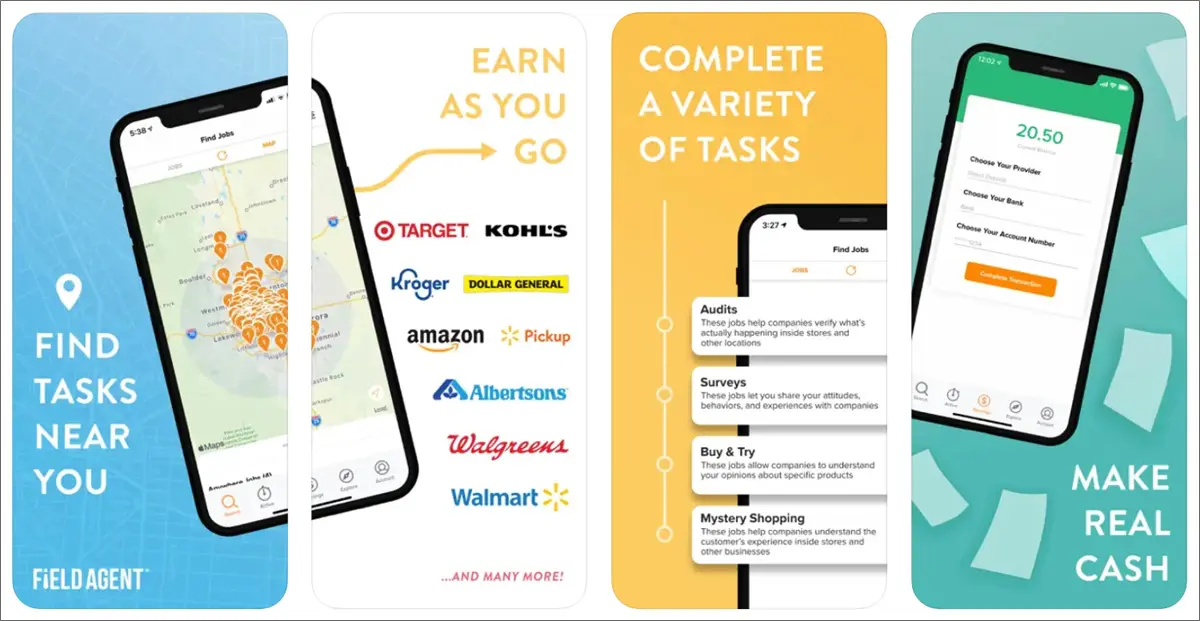 Major retailers like Costco and Walmart are listed for product surveys and audits. No purchases are necessary, unless you sign up for a product testing gig.
Earning Power: $10-25 a day.
6. Freelance Writing
Just like designers will always be in demand, so will writers — because content drives growth.
From blog posts, case studies, and press releases, to advertisements, essays, and business proposals — there is a need for various kinds of content.
There are different genres of freelance writing. You need to first decide where your interests and strengths lie.
After you've chosen a genre, you can start accruing relevant experience and building your writing portfolio. The first thing potential clients will want to see is your writing samples!
Clippings.me and Contently are a couple portfolio websites you can use to showcase your work, but of course I highly recommend you have a "home base" blog of your own.
Earning Power: Freelance writers get paid $50-500 per article. When I did some freelance writing, I earned around $75 for 800-1000 word articles, and now that I'm on the hiring side, I pay anywhere from $100-350 per 1000 words.
Where to Find Gigs
You can find weekend freelance writing and editing jobs on:
Facebook groups that serve business owners are another good spot to hang out and build a reputation. In my case, I noticed that a site I liked to read had a "write for us" link at the bottom, so I pitched them.
To learn more, check out this free guide from the American Writers and Artists Institute:
7. Proofreading and Editing
If you're inclined towards proofreading, you can check out websites such as Proofreading Services and Reedsy that specifically post proofreading jobs.
This type of work can usually be done on the weekends on your own schedule.
Earning Power: Proofreading Services advertises rates ranging from $19 to $46 an hour. When I was doing my own freelance editing, I charged $100-150 for every 5000 words.
I connected with clients initially through Fiverr, and then later through some self-publishing author groups.
8. Blogging
Making money through blogging might sound like a pipe-dream, but when done right, can prove to extremely lucrative option.
I'm living proof of this! I started blogging way back in 2009, and for years it was just a fun creative outlet. Over time though, I found a niche, refined my skills, and started to make real money.
Earning Power: Blogging can be a highly speculative project. Most will probably never be profitable. Still, if you can crack the code, top sites are earning $5000 a month or more.
Early on, focus on knowing your readers and consistently creating content that appeals to them.
Once you have established a loyal community of readers, you can sell advertising, offer sponsored content, partner with brands and influencers, and even sell your skills and expertise.
Related: Here are 15 Ways Websites Make Money
Next Steps
Check out my free video series on how to start a blog, if you don't have one already. Think of a blog niche that interests you and that you can write about.
It might be helpful to start with a mindmap of your broad topic and the various sub-topics you'd like to cover. For instance, under personal finance, you might have subcategories of:
Getting out of debt
Investing
Frugal living
Retirement planning
etc.
For inspiration and actionable advice, you might like my Blogging Mixtape — a binge-worthy series of interviews with successful bloggers making anywhere from $5000-100,000 a month!
9. Affiliate Marketing
This is closely related to blogging above, since most affiliate marketing requires a website. (Though some do very well through other channels, like YouTube.)
How affiliate marketing works is you earn a commission for referring sales and sign-ups to the brands and services you believe will help your audience the most.
You can see examples of this throughout Side Hustle Nation. For example, this single post on the best Udemy courses for entrepreneurs has earned over $40,000 in commissions over the years.
Earning Power: Like blogging, results will vary based on your niche and skills. Top affiliate marketers can earn $5000 a month and up.
Next Steps
Consider listening to a couple affiliate marketing-related podcast episodes. These in particular will help you get a sense for what's possible:
Suggested Playlist: Affiliate Marketing
Make money online by sharing relevant products and services with your audience. Here's a killer playlist packed with actionable advice from the pros.
10. Reselling Furniture Returns
If sanding and painting sounds like a lot of work, this furniture flipping side hustle is a lot easier.
As a part-time Sharetown rep, you'll pick up gently-used furniture returns from direct-to-consumer brands.
Since the items aren't new, the companies can't really take them back and resell them — but you can. The Sharetown reps I've connected with report earning $150-250 per item, and up to $2000 in a weekend.
And the cool part is the inventory doesn't cost you anything until it sells.
Check out our full Sharetown review to learn more.
11. Become a Virtual Assistant
Virtual assistants help businesses and individuals with a wide range of tasks, such as:
customer service support
email management
making travel arrangements
scheduling appointments
making cold call
and tons more
Depending on your clients and the type of work, this might be a tough one to do exclusively on the weekends. But I thought it would be worth including since it's a fast-growing profession and perhaps a gig that starts out as weekends-only could translate into something bigger.
Earning Power: Most virtual assistants (VAs) charge between $15-40 an hour.
Where to Find Gigs
To learn more about starting your own virtual assistant company, check out the free video training from my friend Abbey Ashley, who started her VA business on the side and shares:
Where to find thousands of potential clients.
How to make a full-time living working from home.
What clients are really looking for in a VA. (hint: it's not prior VA experience)
Click here to learn more about becoming a virtual assistant.
If you prefer the relative comfort of working under someone else's brand, you might check out:
(But understand these gigs are super competitive!)
12. Reselling on Amazon
Reselling on Amazon is a popular side hustle, and can absolutely be done solely on the weekends. To get started, all you need is:
An Amazon Seller Account — Start with the free Personal seller account. Once you're selling more than 40 items a month, it makes sense to upgrade to the Professional account level.
A few dollars to buy your initial inventory.
Then, when you're out and about, stop by the clearance aisle of your local stores. Use the Amazon Seller app to scan the barcodes and see what the items are going for on Amazon.
The app will tell you your estimated profit after fees. It's a bit of a needle-in-the-haystack type of search, but I was pleasantly surprised to find some very part-time profit in those aisles.
Once you have a decent amount of inventory, you can send it into Amazon's warehouse for storage and fulfillment.
Earning Power: $500 a month or more.
13. Loan Signing Agent
This particular weekend job has been very popular in Side Hustle Nation the last few years.
Loan signing agents are the Notaries that help walk new homebuyers through those giant stacks of mortgage documents. For their time, expertise, and attention to detail, they typically earn $75-150 per appointment.
Earning Power: $1000 a month and up.
Next Steps
To become a signing agent, you're essentially starting a specialized mobile notary business. That means researching the requirements in your state and probably investing in some training.
Once certified, you can begin to accept signings that fit with your schedule through various signing services (databases of other signing agents), or by building your own direct relationships with real estate and escrow offices.
In this video interview, I sit down with a mobile Notary earning $8000 a month to learn more about how the business works.
14. Bookkeeping
One of the first jobs that many companies hire out is "someone to keep the books." If you have experience in this field, or just love numbers, becoming a bookkeeper could be a good weekend job for you.
Most businesses don't need a full-time bookkeeper so they're open to hiring someone part-time.
Earning Power: $100-300 per client per month.
Next Steps
Network with business owners locally or online and let them know about your service. It might make sense to check out this free training on how to start a remote bookkeeping business.
15. Make Deliveries
For years, a popular weekend job was delivering pizzas. Now, thanks to apps like DoorDash or Instacart, you're no longer limited to just pizza — and you have a lot more flexibility over your schedule.
I sat down with Kevin LaCombe from Minneapolis, and he broke down the ins and outs of driving for Instacart as his side hustle:
Earning Power: $10-25 an hour.
This could be a good side hustle for teens as well, with drivers as young as 18 allowed to sign up.
Next Steps
Sign up with one of the apps listed above, get approved, and get to work!
Unlike some of the other weekend jobs listed on this page, there's no hunting for clients required in this one. Orders come through right on the app, and you can accept or reject them.
Related: Here are our top money-making apps.
16. Sell on Etsy
Etsy is a fast-growing marketplace for unique and custom items designed and sold by real people. (Not that products on Amazon aren't designed by real people, but I think you get what I mean.)
And what's cool about Etsy these days is you can create and sell digital products and print-on-demand products. That means no sweating over production and order fulfillment — it all happens automatically.
Earning Power: $500 a month or more.
Next Steps
Think about your areas of interest or expertise. Could you create products for that niche?
Set up an Etsy store, and play around Printful to create a few sample products.
Check out this post/podcast episode on selling drop ship and digital products on Etsy for inspiration. Of course it takes time upfront to design the products, but after that it just might be your next passive income stream!
Some friends of mine teach a popular course on selling printables on Etsy too if you want to check it out. (It's normally only open a couple times a year but they gave me a secret access link just for Side Hustle Nation!)
17. Knife Sharpening
Matt Rowell earns a few hundred dollars a month sharpening knives as his side hustle. This is an interesting weekend job where literally every house in town is a potential customer!
Matt charges $1 per inch of blade, with a minimum of $5 per knife. For him, that works out to $30-60 an hour, with an average customer spending $20 per order.
Earning Power: $100-500 per month or more.
Next Steps
Of course you'll want to practice on your own knives before you start charging other customers. Matt recommended the Edge Pro Apex sharpening system and said he basically watched YouTube videos to learn how to use it.
It'll set you back around $280 for the basic kit, and Matt has added some other attachments to enable him to sharpen a wider range of blades.
From there, it's all about getting the word out. That could be on NextDoor, at your local farmer's market, or through flyers in your neighborhood.
18. Create and Host an "Experience"
One interesting weekend job is hosting local "experiences" in your hometown. That could be things like:
Beer tasting tours
Guided meditation workshops
Cooking classes
Foodie tours
One Side Hustle Show guest had hosted hundreds of guided meditation experiences through Airbnb — at $50 a pop!
The cool thing here is you can set your own rates and availability.
Earning Power: $50-200 per experience and up.
Next Steps
Take a look at platforms like Airbnb Experiences to get a sense of what's already available in your area. What's missing? What could you improve or pivot on?
A friend of mine posted an "unplugged" (smartphone-free) hiking tour in Tennessee, and began to get bookings right away.
19. Search Engine Evaluator
The importance of search engine optimization has given rise to a new role: Search Engine Evaluator.
Even though it's essential to write content that pleases the Google ranking algorithms, websites also to write for humans and ensure the content matches user intent. This is where Search Engine Evaluators come into the picture.
This easy part-time job requires you to evaluate search results and ensure they are relevant.
Earning Power: $9-15 an hour.
Next Steps
If this is something that interests you, check out companies such as Appen and Lionbridge — they're often on the lookout for Search Engine Evaluators.
20. Translations
More and more businesses are realizing the importance of translation. In fact, the employment of interpreters and translators is projected to grow 19% from 2018 to 2028.
That's pretty surprising in the age of Google Translate, right?
Spanish, French, Arabic and the Asian languages are all in high demand.
However, being a translator is not only about translating. It also requires candidates to have strong writing skills and accurate understanding of the niche.
Earning Power: $13-30 an hour.
Next Steps
To qualify as a translator, you (obviously) need to proficient in at least two languages. Many companies also ask for professional certification as evidence.
For online translation jobs, check out sites like:
21. Transcriptions
Audio transcribers listen to recorded or live speech and type what they hear. One is expected to be detail-oriented, quick, efficient, and accurate in this role.
This is a time-consuming task, which is exactly why many companies (especially medical and legal) outsource it to freelance transcribers or companies.
Earning Power: $8-15 an hour; average earnings according to TranscribeMe are $250 a month.
Next Steps
While there is no specific degree required to start this business, you'll need good quality headphones and transcription software.
You can find online transcription jobs on websites like:
22. Web Development
Businesses of all shapes and sizes need websites, which has meant lots of demand for web developers.
The job of a web developer is to build and design websites in line with the brand's vision. While graphic design and coding skills can help, they may not be necessary thanks to the today's website building software.
The thousands of free and inexpensive themes available for WordPress, Wix, Weebly, and Squarespace make it easy for you to become a weekend web developer.
Earning Power: $250-1000+ per website.
Next Steps
You can find remote web developer jobs on freelance sites like Upwork or Fiverr, but you may have more luck just approaching clients locally.
Walk down your town's main street and check the websites for the businesses you see. If they don't have one — or it looks like it was last updated in 1998 — that's a prime target to strike up a conversation.
Of course if you've never built a site before, it probably makes sense to practice on your own first!
23. Car Detailing
A mobile detailing side hustle is a great way for men to make some extra money on the side, especially if you're a "car guy." Not only can you choose your own hours and work around other commitments, but the job itself is simple yet rewarding.
With the right set-up and some basic knowledge of car care, anyone can get started in this side hustle.
Typical rates are $200-400 per car, and you can stack 2-3 jobs up on a Saturday and make pretty good money. For example, Josh Belk reported earning up to $6,000 a month with the detailing business he started with his brother.
24. Pressure Washing
If I were to start a new business this weekend, pressure washing would definitely be on my short list of ideas.
It's a simple, low overhead side hustle that's just plain satisfying to do!
Scott Anderson reported earning $3,000+ per month washing houses part time, and was able to recoup a good chunk of his equipment costs on the very first job.
To get customers, you can advertise online or put up flyers around your neighborhood.
25. Pooper Scooping
It's not the most glamorous weekend job in the world, but somebody's got to do it. Plus, it turns out that more and more people are outsourcing this chore.
Erica Krupin of Michigan shared how she started her $1000 a week pet waste removal business on The Side Hustle Show. "It doesn't feel like work," she explained.
Earning Power: $10-25 per yard per week.
Related: 40+ Ways to Get Paid to Walk
Next Steps
Post flyers around your neighborhood advertising your service, post in local Facebook groups, post on NextDoor, and network with local veterinarians to begin to build a client base.
Then, schedule all your cleaning sessions for Saturday morning. It's a simple, recurring revenue service business.
Suggested Playlist: Local Business Ideas
Money is already flowing through your city, town, and neighborhood. Here are some actionable ways to get it flowing to YOU!
26. Podcast Editing
Another trend to piggyback on is the rapidly growing number of podcasts. As more and more people are producing on-demand audio shows, the demand for editing services also increases.
You can learn everything you need to know technically for this weekend job on YouTube, and most editors have clients set up on a recurring monthly basis. (I pay a flat monthly fee for my editing service!)
Earning Power: $30-100 per episode.
Next Steps
It probably makes sense to practice producing your own podcast first if you've never worked with audio editing software. That way, you'll be able to understand how everything works and know first-hand the pains other hosts feel in producing their shows.
Then, begin to join the conversation in various podcasting Facebook groups. Or, you might find a niche group that isn't specifically for podcasters, but many members happen to run podcasts.
For example, Steve Stewart has done exceptionally well becoming the "go to guy" for podcast-related questions in the FinCon community.
27. Officiate Weddings
Wedding officiants can earn $100-800 per wedding, for as little as half an hour worth of work. Maria Romano has officiated over 4000 weddings over the last 10 years, and stopped by to share her advice in this video.
Next Steps
Research your local wedding officiating requirements and get ordained. From there, you can begin to network with other professional wedding vendors and venues to begin booking jobs.
Conclusion: Weekend Jobs Abound — Pick One that Works for You!
Clearly there is no shortage of ways to make money on the weekend or part-time side hustle ideas. The bigger challenge is just picking the one or two that make the most sense for you.
Hustle on!
Serious About Making Extra Money?
Pin it for later:
Frequently Asked Questions
What are good jobs to work on the weekends?
Well-paying weekend jobs include lifeguards, rec sports officials, mobile notaries, bartenders, and local tour guides. Check out the full list on Side Hustle Nation for our top ways to make money on the weekends.
Is working a weekend job worth it?
Working a weekend job can take a toll to your energy levels and personal relationships. Still, it can be worthwhile if you set clear boundaries, need to make extra money in the near-term, or don't have anything better to do.
What's the best way to make money on the weekends?
Some of the best ways to make money on the weekends are starting an online business, flipping items for a profit, or starting a local service business like pressure washing or car detailing. Check out the full list on Side Hustle Nation for our top ways to make money on the weekends.